Although for a time they thought they were the most forgotten act in the world, Struggler were becoming a cult band whose first album was being sold for a lot of money. We had a conversation with René Hulsbosch, founder member of the Belgian coldwave band that has proved their validality with two spectacular new albums. They are playing this Saturday at Sinner's Day Festival that will take place in the Belgian city of Heusden Zolder.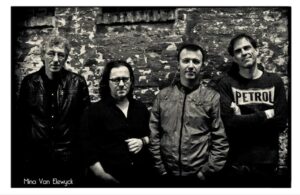 —You first band was called Kashmir, what kind of music were you doing with them?
—A mix of covers and own songs. It was during the mid 70s, we played Rock and pre-punk related songs.
—How did you discover punk?
—At a certain point it was just there. There was nothing to discover, it just came to you.
—Was De Brassers an inspiration for the band? I mean it was the local band that first got famous at the time.
—On the contrary, during the Kashmir period I already created a set of punk songs as well as the name Struggler. We also had the first D.I.Y. punk single here and it was an inspiration for other local bands.
—Although your first inspiration was in punk, the lyrics of the band have been described as non-political and without a message. What are your inspirations for them?
—The lyrics were more suggestive and personal instead of unfundamental political statements indeed.
—How did you manage to record your first single? Was it easy to find a studio at the time who would fulfill the band's requirement or was it more a home recording?
—At that time I just took the Gouden Gids and called a studio that was available. We recorded our first single "Wanted/Don't Care" on the Otari one inch 8-track recorder. It was limited but fun to do.
—There is some evolution from this first work in your second single and the full album It Was A Very Long Conversation But At The End We Didn't Shake Hands. Longer songs, more atmospheric, slower and with a lot of different instruments. What changed in Struggler in the time between the first and second single?
—Looking back I have to admit that every record Struggler produced had this different atmosphere. It was not planned or something must be the fact that we just didn't copy ourself.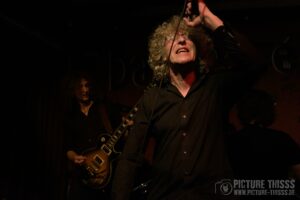 —What do you remember of the recording of It Was A Very Long Conversation But At The End We Didn't Shake Hands? Any chance of a reissue?
—Well, I booked a studio for 3 days. After the first day, our bass player was forced to leave the band after a Police/parents interference. So, most of the bass parts I had to do myself. We had to hurry because we also had to finish the mix within those 3 days. We get lots of questions during the years for a reissue but that will not happen. I love to look forward instead of backwards. The price they ask is horrible for that 1982 record, it was a very long conversation but at the end we didn't shake hands. They even went up above 800 euro. We re-recorded some of those songs [to kill the prices they ask for it these days] on our latest record The Gap [2017] and Wilma, Determined Protector [our pandemic record from 2020]
—In a list of your favorite albums you named Cabaret Voltaire's 2x 45. Now that Richard H. Kirk has sadly died, what do you find remarkable in the band and this work?
—I was always wild about Cabaret Voltaire. They had potential, identity and used this ring modulator on the voices. For that time it was this unique project with a remarkable sound. For me, this was eargasm and it still is!!!
—The first singer of the band was Danny Stevens, right? What happened to him? When did you start singing too?
—He left the band in 1987 and became a business man. Nowadays, from what I heard, he lives in another city. We don't see each other anymore. I started singing from the beginning as well and for the second single we had this guest vocalist. In the future I'm planning to work with other vocalists, based on invitation.
—The other famous band from the time is Siglo XX (we also interviewed them), and you toured with them. How was the relation with them?
—We did the "Straatlawaai tour" together indeed. As far as I remember that went very well. I believe they are going to quit now and play their last gig on Sinnersday. Let's see about that.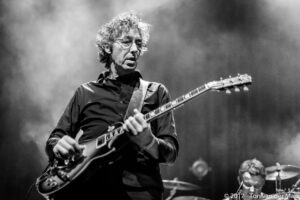 —What happened to the band that was not very active after 1985?
—We kept doing rehearsals but also had these side projects. Every now and then we did gigs without mentioning it by name.
—You said that it was the time of side projects and you were in Da Capo, anything else? With Da Capo you released an EP. What can you please tell us about it?
—It was a single called Face to Face/She'sLow recorded at the Tango Studio in Eindhoven. Normally we used a Rhythm box but for that one it was that beautiful Linn drum machine they had over there. Other projects were: Beaucoup De Cadavre, BassCamp Wolf and Tribe Guru. The last 2 of them were purely electronic. My good mate Kurt is still on Tribe Guru, you'd better check this out, he's very talented.
—As you say, another of the side projects was Beaucoup De Cadavres. What can you please tell us about this band? Honestly, I could not find any info about it.
—We used horns and sample machines and made 2 CDs. However I didn't play the guitar on the first CD only at live gigs. On the second one, I recorded the guitar parts as well. I still believe we were too early with that project.
—The BDC label, was run by you or any member of Struggler?
—It was Beaucoup De Cadavre's own label. In 1999 we released Struggler's Life Update + on it. 
—The band came back in 91, how did it happen?
—They asked us for a few gigs so we did it. At that time I believed we were the most forgotten band ever. We never screwed with the boss or licked some heels.
—Your son has been playing in the band since 2014, right? Is it easy to have a member of your family as a band, mate? Especially when it is your son.
—He has his own projects as well and only does a rehearsal before a gig. He's adding the harmonics on the second guitar but also takes over all the parts when I become too tired to sing and play a whole gig. He's extremely talented and plays much better than I do. He made me kind of lazy. However I can still run it on my own.
—In The Gap you re-recorded old songs. Did you want to give an idea of how did they sound live or just wanted to update them?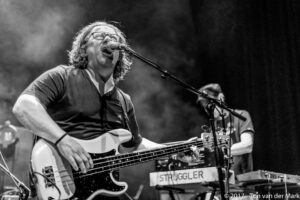 —Well, it's a mix of both and I strongly believe we do it better now than in the old days. However, I don't like to compare, I stick to the facts.
—The band got rawer and sharper with this album, although bands tend to go softer with the years. Why is Struggler different?
—We [the world] are dealing hard times and I felt the need to put a light on it. [Do you have a light?]
—The last album of the band was Wilma Determined Protector. As usual, it's quite different from the previous and I would add that it's your darker album so far. How would you describe the evolution of the band so far? Do you think a pattern can be found?
—It's in our genes, it happens by itself. In the future more electronics will be used again.
—What can we expect in the future of Struggler? A new album?
—It will take some time but I already unpacked some old synth. The album is on its way.
—How has Covid affected the band?
—In a positive way. You know the words of that Monk about resourcing and meditate. You have to do 15 minutes each day, if you don't have time for that, you have to do an hour.
—What can we expect of your concert at Sinner's Day?
—We have surprise acts, of course, and we're gonna give our soul to the audience. There will be sensitive moments but we also gonna bomb the venue with a powerful sound. Just be there, it will be memorable.