Thanks to the last W-Fest, we had the opportunity of seeing Siglo XX live, and of interviewing Klaas Hoogerwaard about his career and his experiences during the festival. The band said that they were going to quit in September of this year, and we are already in October! From El Garaje we hope that the band will continue, we don't want to hear that It's all over now.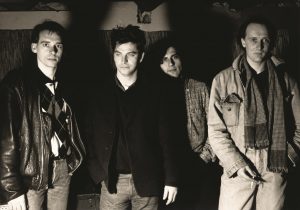 —Where does the name of the band come from? I read it comes from a mine in Bolivia, right?
—Yes, that's correct.
—What made you start Siglo XX back in the 70s?
—We started out of boredom back in 1978. Punk was alive and kicking at that time.
—You have been called the Belgian Joy Division, was the band ever tempted of becoming the Belgian New Order?
—We never called ourselves so, but most people need to put labels on bands apparently. And NO certainly not!!! 
—The band covered some Joy Division songs under the name of The Sunshine Boys, right?
—Yes, we played a few times as The Sunshine Boys, not only songs by Joy Division, but also of The Doors, Jimi Hendrix, Lou Reed, Iggy Pop, The Troggs…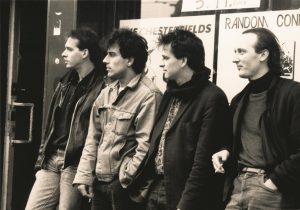 —The Naked and the Death was your first single released in 1980. Were you thinking in the novel "The naked and the dead" when naming it?
—Yes.
—You played in Italy last year with Crisis. Were you influenced by them back in the day or just shared the same influences?
—We were not really influenced by anyone in particular. Things just happened at that time. 
—In 1981 the band released a cassette, called Siglo XX and like most of your records, it was produced by the band. Were you always happy with the result? Would you have done things in a different way, knowing what you know now about studios?
—Each release was at that moment what and how we wanted it. With no regrets whatsoever. The same songs in another period would sound different, that will always be.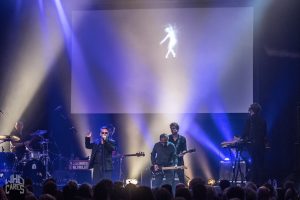 —The Art of War (from 1982) has been released with the mini LP Answers and Dreams of Pleasure (both from 1983) together in a box recently. Do you think that this 12″ marks a change in the sound of the band?
—Each record is/was something else and hopefully we changed every time and not only in sound. 
—You had already signed with Antler Records when your mini LP Answer was released in 1983. There is sax in this album, did you get a bigger budget for the record?
—The Sax player was somebody Roland Beelen knew and he just had to ask him to play something on our song. 
—You have been labeled as dark wave, post punk, gothic rock and cold wave, which one do you think that fits more?
—Emotional music… We don't like "labels".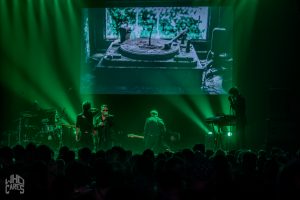 —What's the story behind your Dubbel Album from 1984? The band also released the live sides and the studio sides separated, right?
—It was an inspiration of the moment and we thought it would be a nice idea because we had some good live tracks. 
—In Flowers for the Rebels from 1987, we have "Sister in the Rain" and "Sister Suicide" Any relation between these songs?
—These are two different sisters 😉 Just purely coincidental. We even have a song "My Sister Called Silence" :-).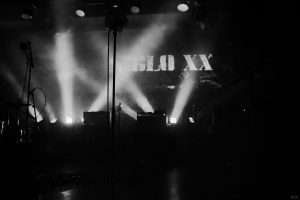 —For Fear and Desire, your album from 1988, some fans say that it's your best record, do you agree? What do you think made it special?
—Difficult question, we released almost 100 songs… Each one is special for us and hopefully also for the fans. 
—Under a Purple Sky from 1989 was the band's last album. When you were recording it, were you feeling that it was going to be your last record? The band said that the stop was because of artistic differences, were they present in the making of the record?
—Our last album was also the end of our contract with the record company. We didn't stop because of artistic differences, but because we didn't want to have a contract at that time anymore. After 13 years we were a bit tired of making music and just wanted to do some other things in life. 
—Where do you find inspiration for your lyrics?
—Everyone found his inspiration in his own way. 
—Why did you reunited after such a long hiatus?
—We were asked to do so and we said YES 😉 
—Klaas, you and Antonio Palermo have another project, Honeymoon Cowboys, how is it going?
—For two years is was fun, at this moment nothing is going on.
—One of your songs is featured in a Prada announce. How did it happen?
—The producer of the spot contacted us with the question and we said why not? 
—Is the band still going to split after September 2019 as you said in an interview?
—Normally yes, but with us you will never really know 🙂 
—Siglo XX created their own label Straatlawaai Prod. to release their music. Was it difficult to manage it while being in the band?
—In the beginning, we wanted to do everything ourselves therefore we created our own label. Of course, it was a lot of work, but we loved it. 
—How would you describe your experience at W-Fest?
—Fun, great, crowded and well organized.