If you started partying in the 80s, for sure you must know the songs of Robotiko Rejekto and Microchip League. They were floor killers that made generations dance and will still do it when we find ourselves counting worms. We talked with Ralf Henrich, who will play live the music of both bands in Madrid, at the DarkMad Festival, on Friday 25th October. Just a piece of the history of Electronic Music.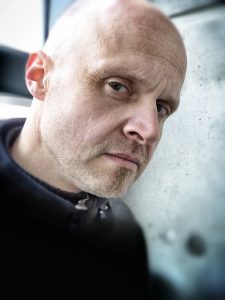 —Your first project was Axodry with Talla 2XLC in 1983, whom you met at, let's say, work, right? What were your influences back then?
—In the 70s my favorite bands were Sweet, Rainbow and Kiss. Especially the harmonic structures of Sweet impress me to this day. Later, my musical approach was influenced by Funk, Soul and R & B like Grandmaster Flash and the Furious Five, Sugarhill Gang, Isley Brothers, Cameo, Shalamar and many more. In the early 80s, I opened my musical identity to the New Romantic Wave movement. Sounds such as Clan Of Xymox, Dead Can Dance, This Mortal Coil, David Sylvian, Japan, Peter Nooten and Michael Brook (with the fantastic masterpiece Sleep With the Fishes) and Depeche Mode are my all-time favorites. Artists such as Gary Numan, John Foxx, Front 242, Yellow Magic Orchestra, Front Line Assembly, Brian Eno, were also very important to me. With all the different musical styles I mentioned, the song and the harmonic structure behind it are the decisive criterion for a composition that touches me.
—Why there wasn't a full album of Axodry after the big success of the singles?
—At that time, Talla and I produced a lot of different music. I think it was a question of time. Also the label Westside didn't want that.
—You released a new song under this alias, "Be a fashionista" just two years ago. Any plans for playing this music live too? Are you going to release more songs?
—And also "This Is My Light". The Last Days, the new Robotiko Rejekto album, is finished. Now I'm working on a new Microchip League 2.0 album. After that in Spring 2020 Axodry is my next target 🙂
—After Axodry, came Moskwa TV, again with Talla2XLC. You recorded with them the classic Dynamics and Discipline. Thirty-four years later, how do you see this album?
—The album was created with Kurt Ader, Alexander Henninger, Talla and me. Duration time: 5 days. Most of the material was preprogrammed in my home studio. I love this album because it was created very freely and creatively. We had a lot of fun in the studio. But… I wish there were more tunes like "Gen 7/8" on it.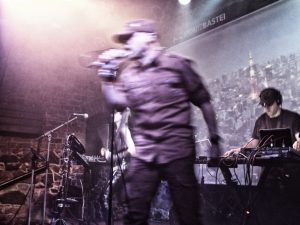 —Checking Wikipedia about The Sound of Frankfurt I mainly see your name and the names of your bands, what can you tell us about this scene?
—I was the guy who made the music. Do not think about names and movements. Today, I see it differently. We were a couple of musicians who were doing a lot of new and good electronic dance music. Talla had a very good sense of new trends and was a very good networker and DJ.
—You have also released a few singles under different alias and with different musicians: The S:Sense, Sons of Nippon, Technoid, Project One. Which one do you find more interesting?
—S:Sense was a one-time project. The song was composed and produced, but did not fit in any other project of us. So we gave him the project name S:Sense, knowing that we din't want to continue this project. In principle, these were all projects with different guest artists, where initially no album or further project was planned. We just had fun on different projects and music.
—We spoke with SA42 about the use of a lot of different monikers/alias. What were your reasons for releasing so many singles with so many names? 
—Like I said before…. this was great fun. There was no agenda. But from today's point of view, it would have been better to focus on a few and successful projects. But what can I do now with my projects Robotiko Rejekto, Axodry, MCL 2.0 and Pyrrhus Rage. By the way… for SA42, I had done a remix a while ago.
Robotiko Rejekto
—When did you start your project RR? What's the meaning of the name Robotiko Rejekto? It sounds quite funny in Spanish.
—Why funny? Maybe someone can explain it to me 🙂 Robotiko Rejekto is based on a fictitious Romanian sci-fi story and two Romanian guys. It was the idea of Talla 🙂
—In the first single, Rejekto! the lyrics are in Romanian. Why did you choose this language? Now it would be a non-very commercial choice.
—We wanted to do something different. A friend of Talla was Romanian and so, the idea came up just to try it with a not typical Pop language. The success proved us right.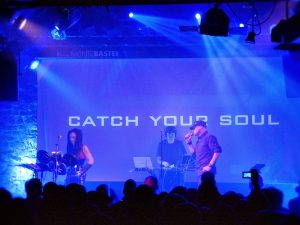 —In 1990, the first album by Rototiko Rejekto was released: The Cyber Space (although the name of the LP was wrongly spelled as Cyper Space). How was the recording of the album?
—The wrong spelling was a mistake by ZYX and the graphic guy. But it did not really bother anyone. Tascam tape machine and a very old Allen and Heath recording mixer. The sequencer was my Roland MSQ-700. My buddy and old-time friend Kurt Ader brought his synths in my studio and we recorded a lot of songs and material for that album.
—Do you know that the music of Robotiko Rejekto was really big in Valencia? In what was later called La ruta del bakalao, your music was really popular.
—Really? Wow! In the past, I had no idea. I was working in my studio every day and was not the network guy like Talla. Also there was no internet. So information came from the label sometimes and delayed to me. But the last years I have realized that the Spanish music fans are so incredible and amazing. Also the Latin American fans. I'm very grateful about that. And we are ready to play for our fans. But we are still looking for other professional and trustworthy offers from promoters.
—After RR, you made two albums with Whispering Colours. They are less electronic and more pop/rock. Were you fed up with machines? Do you think they are a step towards what you did later?
—It was a completely different thing. With my buddy Rainer Horneck (now Wagner), we were very influenced by 4AD music and David Sylvian, Brian Eno, etc. So this was our new experience for more melodic music.
—What happened after 1995? Did you stop making music?
—I've never given up producing music and I have worked in different directions and with different musicians. During this time, I also gathered song ideas, sound collages and musical fragments that in parts have found their way onto the Corporate Power album.
—As you have just said, in 2012, you released a new album, Corporate Power. How did you get the idea of bringing Rototiko Rejekto back?
—Due to the contact with Ava Nima, the idea of producing a new Robotiko Rejekto album was formed in the first place. We exchanged more and more ideas about the music and the creative process and practically hopped on the project step by step. This has been an independent, self-development process. And there was an American fan, who had created a Robotiko Rejekto tribute site on MySpace, on which fans from all over the world posted positive messages. So we took on the MySpace site and – concerning media – the project also started rolling.
—Any plans for a new Robotiko album?
—Well done 😉 Release of the upcoming new single "Show Me Your Record" with Marco Drago incl. video at 09/15/2019 on YT. The album will be called Adventures in Cyber Space and will be released at the latest in the spring of 2020.
Microchip League 2.0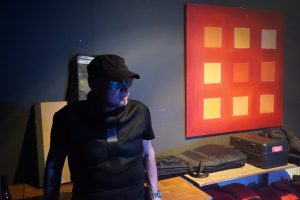 —What's the genesis of Microchip League? Checking the credits, you and Talla 2XLC appear under the alias of The Megatron Team. 
—First, it was only a project. Our first song "Communicate" entered the dance floors worldwide. After that we've started with an album. BUT… Talla and I were not the guys who finished the album. Because we had some issues with the label Westside. So they decided to finish the album with other guys. Especially in the States we had a lot of success. After completing the RR album recently, I'm now on a new MCL album. In the next year, we will return to Brazil and Texas USA. Seriously meant concert requests are welcome.
—With MCL you recorded another classic album, Code numbers, released in 1987. Were you interested in the techno made at the same time in Detroit or the acid house scene in the UK?
—As a DJ, Talla introduced me to a variety of new music. So also Detroit Techno and Acid House. He was my buddy for inspiring music 🙂
—EBM, Electro, Industrial, Early techno, Synth-pop… What style do you use when you have to explain the music of MCL?
—In the past it was Techno. Also RR. This is what I read in some articles about the time and music. For me it was simply Electronic Dance Music.
—The last two singles of MCL were closer to euro house. Did you want to do something different?
—That was not a conscious decision. We just felt like doing it that way.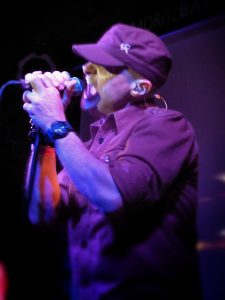 —Another of your projects is Pyrrhus Rage, where you make ambient, right? How many records have you released under this name?
—Yes, it's a side project which I want to focus on next year. The name of Pyrrhus Rage is an idea by Ava Nima. For me it is dark ambient music. I have released 6 albums only as downloads and streaming. In the future I would like to play a DJ set with only dark ambient and electronic stuff 🙂 Without any commercial boundaries. This would be great.
—You also make some spiritual music under your own name, and have released six albums like this. Something really far from what you did with your previous projects, can you tell uf something about this? 
—Over the years, from time to time, I have been working on them. This music evolves to compensate for the more monotonous dance music of RR, MCL or Axodry. I love meditative music since Brian Eno. So in 2020 I would like to play some ambient concerts with meditative and spiritual music. It is in progress.
—How is going to be the concert at Darkmad? You are going to play both the songs of both projects, right? Alone?
—Yes, both projects and no, not alone. First I wanted to strictly separate the songs of both projects. Now I have decided to mix RR and MCL songs. They harmonize and complement each other well. I will play the show in Madrid with my old companion and good friend Markus Marcella and Verity Vian, my new RR singer. Ava has withdrawn for family and personal reasons. But she is still very close to RR.