Belgian producer Radical G has been in the electronic music world since his early age and has made several generations dance. In addition, together with Peter Mastbooms he created one of the most interesting bands of the current EBM, The Juggernauts and from Keylogger, he began to be part of the essential Neon Electronics. As a solo artist he has signed works that mix experimentation with social criticism, such as Mankind, while in The Deserted Kingdom he delivered an ambitious project on four vinyls. We will be able to see his impressive live at the avant-garde Ombra festival that will take place between the first and third of December in Barcelona.
Photos:  Kovasphotography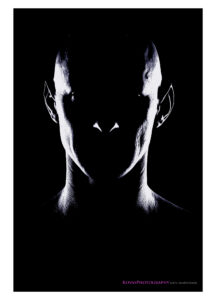 —How did you get interested in electronic music?
—I went to a classic music school, to learn the notes. In my fourth year, I chose to be a drummer and left the notes aside for a while.
It was the rhythm triggering me at the very beginning of my life. Also, as a kid I didn't started playing out with Star Wars or Masters of the universe action figures. I took all kinds of cooking gear and smashed them in the kitchen pretending I was Peter Criss from Kiss.
At the age of 12, I sold my drumkit to get my first electronic drum machines. I guess that's where it all went wrong 🙂.
—When did you become a DJ? You worked at Baccardi's in Belgium, how was the atmosphere in the Belgian clubs of the 90s?
—Yeah, at that time I appeared to be the youngest DJ out there on Belgian grounds. I was still in secondary school and was forced to make a choice very early in my life: stay in this circus or leave. I stayed in the circus and left my schoolbooks.
At that time, the club scene was wild. We didn't have any mobiles to capture moments, we were there at the moment, at the time. We lived every minute in full reality, very little things were fake back then.
They happened in front of you or they didn't happen. Simple as that.
Baccardi's was a rather small club, like 500 capacity, nothing shocking in the lights or front of house system. The focus was on dancing like nobody's watching. Every night was a celebration, a once in a lifetime one and different every single week.
—If I am not wrong, your first production was released under the AKA DJ Glenn and called Joke 1. It was 1995 and it could be labelled as Trance. What did you find interesting in this style of electronic music? Do you still enjoy it?
—Well, genres had very little meaning when all started out. Besides that, back then it was a sort of ghost production like many others. I wasn't able to produce any music on my own. At the time, I didn't own a studio place so I was sitting next to producers, telling them what I wanted to hear and how I wanted it to sound like, no more. At least I'm honest about it, a lot of clowns these days still claim that music is theirs but in the end 95% of those were made by the same producers. If you check credits on labels info, you may spot the same names over and over again. So that's the first myth, it wasn't better back then, the info of how things worked was more classified .
Unfortunately, many still work like this, but I couldn't stand the fakeness and decided to do all by myself. I saved some money and went to an electronic music shop in Germany and stuffed a friend's car to the top with boxes and gear. It was Peter Luts, a respected producer over the years in more mainstream genres who helped me out. I never forget where I came from and people who deserve credit, will get it, that's me.
So, thanks again Peter for that trip in 1998. And yes, thanks to Christoph Chantzis for producing my first releases.
—Honestly, I never heard of the Jumpstyle genre before checking your first works, was it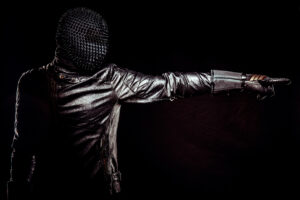 popular at the end of the 90s? You did a few works with this name and GK. At the beginning of the 2000s you were DJing in Calais, at Le Duplex together with Thierry Gest. With him you were in four projects, Duplex Trax, Minimal 421, Excalibur Trax and Carnaby ST. What can you please tell us of this collaboration?
—Same story, I was a resident DJ in Calais, Duplex, back then in 2000. Harder music was getting more popular. Hardstyle might be more specific. Artists like Mauro Picotto became popular. So yeah, I started out working for other artists as a (ghost) producer.
GK was a simple alias to get productions out there under another moniker's name. Thierry and I lost contact over the years, but we still call each other when we need it. We had so much fun.
—With Frank Struyf, you created Dirty Jackers, a techno project. On the dedicated discogs page, I read that you made some live performances with this duo. Was it the first time for you? How were the experiences?
—Dirty Jackers… well, we did some releases, we played some shows. We had a lot of fun. But I was doing most of the music part and I believe it was the first time that producing for other artists got a bump.
I felt I was ready for my own baby and Radical G was born. If you listed to "Chateau" or "Stop the madness", you could already hear what was next.
It wasn't a coincidence that Dave Clarke was actually spinning "Supersonic" and "Chateau" in his sets. I guess he was triggered by the Radical G sound and from then Dave supported me throughout my career.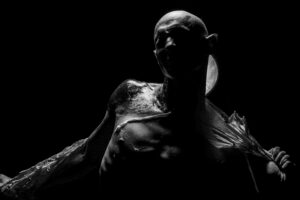 —You already started to use Radical G as moniker in 2002 with the Volumatic EP. In these first EPs you were making techno, a style that since then, have been part of the sound of Radical G. What´s your approach to this style? What would you say that's your "touch" in techno music?
—Correct, it was my first EP on Subsounds. Well, I grew up with 80s sounds, Talk Talk, Talking Heads, bands as Front 242 and The Neon Judgement are in our genes, even if we did different things. It's no secret that Belgians have an important role in the darker side of the music spectrum over the years and I'm probably no other. In that era, I was hooked on Gigolo records (DJ Hell) and artists like Terence Fixmer and David Carretta got my attention. They did techno but with a slightly different sound, the sound of the dark 80s on techno/ electroclash beats.
—But I guess that the real Radical G starts with Unleashed. Compared with your first years in which you released a lot of music with so many different projects, the years before Unleashed were a bit quiet, weren't they? What were your intentions with this new life of Radical G?
—I wanted to have my own project, something which was really me, radically me. My baby was born. Very few liked it, to be honest. I didn't have many supports from radios, so I had to do it on my own. I produced Unleashed and released it by myself on CD.
My first Radical G album. Thats when I met Dirk from The Neon Judgement. He was working at my distribution back then and one day he contacted me to do a remix for The Neon Judgement's "We are confused".
I was surprised and honoured, I was going to remix my heroes.
—You have talked about the influences of the 80s in your music and I also read some praises in one interview. What do you find interesting in that decade?
—Nothing specific, I just had my childhood back then. So, my evolution and life were fed by everything from that decade. It was that decade when music meant something to the crowd. People got their spirit in life through music lyrics and vibes from bands.
Music had a very significant influence on a society in the 80s and 90s. For some it was the only thing that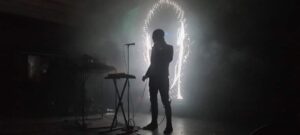 mattered, something which is hard to find these days among zombies watching their mobiles all day and installing apps.
Radio had also an important role, it was the only thing where new music could be heard. So, most radio stations became popular because of their good taste in music. Now I'm willing to pay money to turn the radio off. What a crap out there and the worst thing is, people seem to like a lot this crap. It's like a megamix with 3 or 4 songs mashed up into one, and it keeps coming. I'm expecting another Eiffel 65 rip off very soon, it's been a while now since the last.
—In the previous answer you said that you met Dirk Da Davo. When did you join Neon Electronics?
—On a later stage in my live I was lucky to join Dirk indeed as band member. We found ourselves complementary in the studio, as friends but also as band/project members.
—How do you remember being in Neon Electronics? Dirk Da Davo said that he worked really hard with you to find a special sound for the band.
—Correct, NE was a solo project by Dirk in the early stage, but I do know being a one-man act isn't that simple as it looks.
You have to do it all by yourself and with some help from friends, things get suddenly more exciting. I do remember recording "Over and Over" for the Keylogger album. I played a basic sequence on a synth riff with a moog bass, some lyrics topped, and we felt both that that was not just a song. That was the start of something interesting.
—Together with Peter Mastbooms, you also created The Juggernauts and had to leave them a few years ago because you did not want to tour anymore, right? Was it fun to be in a band like The Juggernauts?
—Well, The Juggernauts story. Peter asked me once to do a track together. It was at the backstage at a Neon Judgement concert. As he was mixing the band and had been part of TNJ family for a long time I decided to give it a chance.
I did some Radical G sequencing and Peter added vocals. Simple as that, we did "Phoenix" in no time. And more followed. Suddenly we had another band to take care of. We did our first EP with "Phoenix", "Damaged Illusions" and "Infected". Later I signed for the entire Juggernauts are coming album.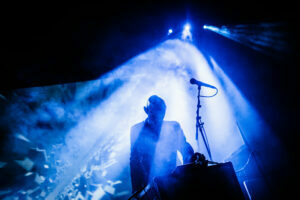 But yes, being in many projects was really difficult, I had to pay attention to multiple rosters and was forced to decide which one to let go. By then I already said goodbye to some of my projects as well because of the same reason.
For example, we left on Friday to play a Juggernauts show on Saturday and return on Sunday evening. So, I was off an entire weekend to play 1 show and blocked all other projects to play that 1 show. It wasn't possible to combine all as we only have 24 hours in a day.
Here's when I passed my helmet, vest and drumsticks to another band member. But then they were 3 anyway.
We always had fun with Juggernauts, maybe too much fun. I don't want to hurt anybody involved in the band, nor Peter nor any new member, but I can't lie about the fact that I prefer to hear new music instead of the songs we did back then, 8 years ago.
I wouldn't feel comfortable with this when in a band, playing a repertoire of somebody else. Or I would make it a prior to have new material with the new members along and just keep some originals as encores. But don't get me wrong, if they ask me again to join the band, I would refuse because of the reasons I left. Not because I don't want to be part of the band anymore. Like it or not, in the end, Peter and I were the creators if the band and I still like what we did back then.
—So being in so many projects took its toll?
—It was killing me, I had to disappoint promoters and on the other hand I didn't feel comfortable in this chameleon skin.
—When did you become interested in EBM? You have always named Front 242 as one of your influences.
—Front 242 is probably the Belgian band who changed more in music history in the world, they became godfathers of the electronic body music.
During the years I was lucky to perform along Front 242 as support act. And in 2013 we did an EBM night in my hometown where we brought, Front 242, Radical G and The Neon Judgement on the same line up in a sold-out concert. We are very far from each other when it comes to genres but still, we are family when listening to them. I guess that's the meaning of being influenced by something.
—Your second album was Darkness Falls, you said that you were living one of the toughest periods of your life. Can you tell us what happened?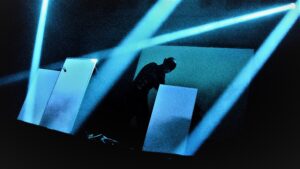 —My dark age. Yeah, I had very little left in my life. I almost never talk about it when people ask about it. I was very depressed when producing Darkness Falls. I had some friends, a part of my family, my Bordeaux dog Simba and a studio place. No job, no girlfriend, no money. I wrote the album in a week, just like a real band in a rented studio. After that week I lost all control over my body and mind.
It was Christmas evening when my friend Koen brought me a Christmas meal. I couldn't leave my place because of the heavy snow. One week later we did a photoshoot with Michele Feyaerts, a make-up artist. She painted me in black and white, and we started the Radical G gimmick with the ears etc… It started out as a photoshop task but then latex took over… 🙂
Crazy times for sure, we did a lot of experiments with lightning and video in my house. We shot a "0 euro" video for "Dinner with Satan" in an empty room upstairs, we flipped the bed and used blankets as contrast surface. The strobe was one from my childhood, Tandy stuff. It still gives me headaches when using it now. But also, the video of "Lucifer" was pure fun. It was shot by Unleashed Visuals (Jeroen Buytaert) at my place.
I rented an empty farm back then, so we had plenty of room and many options. We went for the cow barn and I still remember Jeroen saying, "action!, lets light up this place… with gasoline…! I will save you the rest of the story, but the video turned out pretty well. The album itself was supposed to be released on the former Sonic Angel label. I joined Lords of Acid on their US tour in 2012 for 26 shows in a month but after our return back to Belgium it turned out into a nightmare and the album was never released. It's still really good though, even if it was produced more than a decade ago.
—There is a kind of pop sensibility in some of the songs of the album, more melodic than most EBM. I read that you can enjoy metal and pop artists as Sade. What are your references in terms of composing a good "pop" song?
—Yeah, I never personally put Radical G in the EBM box. I wanted to do something radically me, and I was much more than 1 genre. Also, on Unleashed many tracks have another vibe, let's say more mainstream sounding.
I never made an issue of this, I want to be an artist, with a unique sound. Not a specific genre. When I listen to music it's definitely not like mine. Not my genre. I like to be surprised when I listen to music. Sade is just an example of something completely different. I was and I'm still surprised by her vocal timbre and performance. Nothing wrong though, I can listen to a drone synth for hours, so would that make me an ambient lover? I don't think so. Listening to sounds for things you like has nothing to do with genres. It's a state of mind at that particular moment in life.
Recently I went to see M83 live in concert, it was one of the best moments I had listening to a band. I became quiet, it was a weird feeling. Music is something extraordinary, even when the song is out of your comfort zone.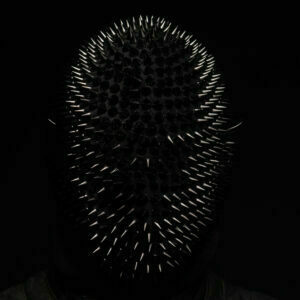 —I would say that Manking and The Deserted Kingdom mark another phase in your career with a more sombre sound and more conceptual albums. More ambitious and complex I would also say. What took you in this direction?
—Correct, but both very different.
Mankind was produced with very little gear and a lot of creativity. The entire album marks animal abuse. I'm a freedom fighter when it comes to all animals. For sure dolphin slaughter and capture is my focussed item over the years.
I still cry when a family of dolphins is cruelly slaughtered in the cove of Taiji, Japan on a daily base, or when a grindadráp takes place on the beloved Faroes (Denmark) or whales are harpooned in Iceland. It's just an inhumane cultural thing which kills approximately 2000 dolphins every year, 1000 whales etc… we do seem to forget that these are the basic of our existence. If the ocean dies, we die. Read this again.
If many artists would speak out and refuse to play in those countries until these atrocities come to an end, we would be at a different stage for sure, but most don't care, they refuse to see the reality, they refuse to see footage. I don't. Until I die I will be speaking out to my friends, family and people out there. Even if they don't like it.
—In Manking there is the song "Canned Hunting", against this horrible practice, it's one of the tracks where the animal abuse criticism is more evident. Do you think that is possible to make people think with music?
—For sure, I had many messages over the years from fans who feel the same anger and sadness over these issues. If you listen to the spoken words in the song by Chris Mercer, we should be ashamed of ourselves as human beings.
To me, people taking lives of harmless animals have no meaning on this planet, it may sound rude but it's the way I feel about it.
—How did you do the concept of The Deserted Kingdom, I guess your project more ambitious so far?
—It's my last album as Radical G, there won't be a successor or follow up. This is the final curtain. So, I wanted it to be special. Limited, red vinyl, gatefold cover and artwork by my deceased uncle. It took me over a year to get it to the stage the way I've always wanted it to be. But it was all worth it.
—Together with the original album, there were two more vinyl with an incredible line- up of remixers: David Carretta, CJ Bolland, Arnaud Reboniti or Imperial Black Unit to name a few.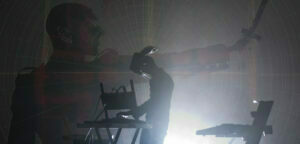 How did you select them? Any artist who could not participate that you can say?
—Yeah, I was/am super happy with this team of remixers. Most of them are my heroes from over the years. Carretta, Rebotini and yes, Thomas and Pablo as Imperial Black Unit. Amazing guys, I was lucky to share the stage a few years ago with them.
But yeah, some didn't make it to the final release because of other priors in their life.
I was sad when I hate models and Hector Oaks and later Inhalt de nacht had to cancel their contribution. From some artists I didn't get answer, to be honest. I have no problem when you don't want to remix a song, but I do have a problem when no replies come in.
Also, when you remix, please support the release when released, if not your contribution has no meaning. We are all humans, all artists, and we all have our issues but my mother teached me to be polite. Even when the answer is not what they expected to read. Don't get me wrong, I'm super happy with the final result, I'm just disappointed in some artists.
—We have been following B1980 and even interviewed him a few years ago. How did you get in touch with him? Do you follow his music?
—A huge inspiration in the Radical G career is Belgian band GOOSE. Not really techno, not really pop, like I said in early replies, a band with a certain sound. And Bart is part of that splendid quartet.
I do follow his music and yes, I will remix for sure one of his songs when the time is right. B1980 has this Zone sound which I like a lot. Gesaffelstein and The Hacker are still in my sets when spinning records in a DJ set and so is B1980.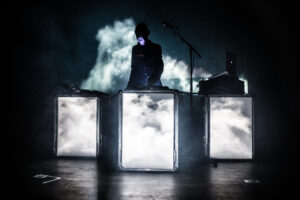 —You have also been doing some remixing of great artists such as Front 242, Lederman/ De Meyer, Implant or Hørd (another artist that we like a lot). What do you try to express with your remixes?
—Over the years I did a lot of remixes and tried to maintain my RG sound. It's always fun to remix your favourite artists. Just to do your interpretation of a song you like is like heaven. It's like cooking your favourite meal with all ingredients nicely in front of you.
—Before the pandemic you created another AKA for the more techno productions called Linear Straight. Has it developed into Linear Search with Jeroen Search? What can you please tell us of these two projects?
—Linear Straight was created 8 years ago when I felt the needs to do pure intelligent techno productions. I didn't wanted to use RG for this.
I was very lucky to play very good events when starting out and release on quality imprints.
Working for Roland that time brought me into ADE, and I jammed at the Roland booth and meet one of my personal techno heroes from my childhood, Jeroen Search. We continued the jam together and afterwards we decided to have a go in the studio. We planned our first jam session, and we derived some tracks from that jam. Still today Jeroen and I are really close friends. We had so much fun during the years and we are still jamming as a team. Yes, we will release some ep's when the time is right as Linear Search, obviously.
—What can we expect in the future of Radical G or are you just quitting the project?
—Some remixes I did over the years which aren't released yet. Some will never see the daylight. Cherish the things we love; at some point everything comes to an end. Are you quitting Radical G? No, I am not.
When promoters contact me to have me performing, I will take it and go for it 200 %. But I wouldn't be in this stage by myself. I was surrounded by friends, motivated artists and crew members over the years. I will not specify names here but you all know who you are. Thanks for that and I really mean this.

—What can we expect of your set at Ombra?
—A lot of energy and a "best of" show. I usually get wind up when performing as Radical G, don't ask me why. It just happens, and when it happens, you better be ready. See you on the second of December.