Consuming a lot of music doesn't increase your weight but with some bands you need, first to sample a bit, and after to digest and settle. Portion Control is one of these bands. It may be a bit difficult to swallow for the public used to fast food, but, doubtlessly, a fair portion will satisfy the most demanding gourmet. Part of the first industrial generation, EBM pioneers, and electronic masters, their long discography can be documented with two excellent box sets: Progress Report 1980-1983 y Archive. We talked with John Whybrew about the band's long career. They will play on the 17th of August at the W Festival.
—You took the name of the band from your days at catering school, it's quite a weird band name, don't you think?
—No weirder than many band names. We didn't want a name that suggested a certain style or took inspiration from books or art, certainly nothing pretentious. Strangely, portion control has become a topic that preoccupies the world in terms of eating patterns and rising obesity levels.
—What were you listening to when you started the band? I guess there were not a lot of bands like yours at the time: early Cabaret Voltaire, Throbbing Gristle, NON…
—We had grown through early U.K. punk, progressing to bands like Wire and The Pop Group. Chrome and Metabolist were starting to incorporate electronics into shorter compositions, so this had an influence on us. It's strange, but punk kept much of the established song structures and this influenced us also. We still favour a verse, chorus style.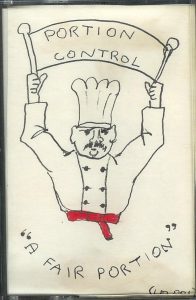 —How was recorded your first record, the cassette A Fair Portion? It really sounds DIY. Who drew the cover, any of you?
—Yes! It certainly was DIY, played live and recorded directly on a cassette player placed in the centre of the room. Ian Sharp drew the cover image.
—Your second album Gaining Momentum was released in 1981. Which technology/gear were you using at the time?
—This was really at the advent of affordable electronic instruments. A shop in Euston Road called Chase Music had opened and was selling the ARP Synthesizers. The most affordable was the ARP Axxe Which we had alongside the CR78 Roland drum computer.
—Especially in your first albums, I can appreciate the influence of dub in some rhythms. How did you get into dub, maybe through The Pop Group?
—Yes, partly through the Pop Group whom we loved and partly through listening to John Peel who introduced us to some of these methods and styles. Pat Bermingham of In Phaze Records, who released our early recordings, was also influential and was the sound engineer. In this period, a genuine spring reverb and Roland space echo were as important to our sound as our drum machines and synthesizers.
—How were your concerts during these days?
—Concerts were chaotic and we often featured on bills with guitar bands. At this time, the few burgeoning electronics or more experimental groups were all working in isolation. I think we were seen as an oddity, appearing on stage stooped over boxes.
—You are considered pioneers in the use of samplers. When and how was the first time that you used this tool?
—We somehow discovered the Greengate sampler which was a home-made sampling system using an early Apple Computer. Shortly afterwards came the akai S950 and then the S1000HD. We absolutely loved these units and immediately saw the creative potential.
—The same year, in 1981, you released your third cassette, Private Illusions. Why did you not release it as an LP? Do you think that here you can start hearing a seed of what will come with I Staggered Mentally?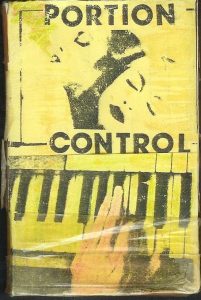 —Private Illusions was a collection of half-finished songs on our Teac Portastudio. We liked the idea of releasing sketches as opposed to fully finished songs. They also allowed us to begin to find our direction which was leaning towards a darker, more aggressive sound
—I read that you say that the industrial scene was quite small in the U.K. and that you were more successful in the rest of Europe. Sometimes in continental Europe, we tend to see England as the paradise for any style of music. Where do you think your music was better received?
—The U.K. music press, NME, Sounds and Melody Maker were, at the time, reasonably favourable to the more experimental and industrial bands but the live scene less so. Europe, particularly Germany, Netherlands, Belgium and Spain were offering opportunities for short sorties. We're not saying the U.K. didn't offer opportunity as we played alongside SPK, Chris and Cosey and 23 Skidoo to name but a few during this early period.
—And we reach your most famous album, I Staggered Mentally, considered proto-EBM, where you add anger into electronic music. What inspired the creation of this album?
—Equipment wise we had now progressed to the Roland Drumatix and TB303 Bassline so we could sequence our music. This along with our slide into darker compositions and continued dub experimentation just seemed to culminate in the recordings. Dean started to use his voice more gutturally to add to the darker sound. At the same time, the artwork was developed to underpin the overall tone and intention.
—How do you write your songs?
—Our tracks are either based around a one-bar bass line or constructed from sound design samples. We spend hours and hours creating one shot samples and short loops from plug in synthesizers routed through effects. These are then cycled into the tracks. At an early stage, a long loop of drum and bass will be vocalized and then the rest of the track added around the vocal.
—You have said that you were living in the eighties very close to other industrial bands, was there a sense of community between all of you?
—It really was a good period in South London in the early/mid 1980s, SPK, Lustmord, Chris and Cosey, Nocturnal Emissions, Funky Porcini and Alien Sex Fiend were all nearby and we shared a sense of community.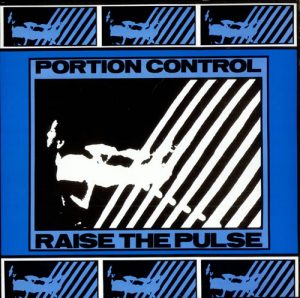 —Your 12″ from 1983 and 1984 Raise the Pulse, Rough Justice and Go-Talk are more dancefloor-oriented. Were you interested in dance music at the time?
—When we joined Illuminated records the 12" single was being established as a longer dance-orientated product, and we felt our sound was moving in this direction. During this period, we worked with record producers for the first time and they had a slightly more commercial/mainstream notion than we did, so this reflected in these products.
—Instead, your following album Shot in the Belly from 1983, another cassette-only release, is again a very experimental one. It was released in Third Mind Records, the label that released some work by Nurse with Wound and Legendary Pink dots. Did recording for them influence you in any way to record again an experimental album?
—Once again Shot in the Belly was a collection of half ideas and experiments recorded both at home and occasionally on European visits. We felt our true heart was with this darker more uncompromising style and it seemed fitting to return to this. We also liked the DIY ethic of a cassette release.
—In 1984 you released  …Step Forward. This time, it's almost an electro record. Did you like the electro and techno coming from Detroit?
—Ha, ha, we had no idea of the Detroit scene, we were just trying to develop our sequenced synthesizer lines and had moved onto using the Roland MC-202. We started using 2 sequence lines with notes on counter steps… probably most noticeable on "Havoc Man" or maybe "Refugee."
—Your last studio record from the 80 was Psycho-Bod Saves the World. Why did you stop the band and changed to Solar Enemy?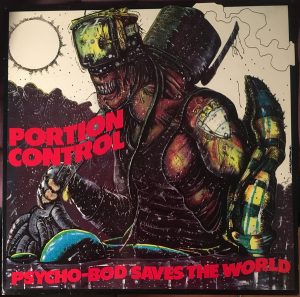 —We just felt that Portion Control had reached a natural end, and wanted a reboot with Solar Enemy. We imagined it would be easy to just switch—but we lost direction and disbanded after the first couple of Solar Enemy products.
—There is a record by Frank Zappa called Does Humor Belong in Music? It's easy to see some humor at least in the way you name your songs, how do you use it in your music?
—We use humour to both normalise things and add a certain level of intelligence without losing the darker undertones at play… we cannot take ourselves entirely seriously, after all we are just making a noise. We have always inserted "in-jokes" into our titles, sounds and samples. It's just another tactic to create a whole.
—Portion Control came back in 2002, how was it? Your album from two years later, Wellcome, is quite different from everything you did before. How was the recording of the album?
—We decided to restart Portion Control but had no idea how it would develop. The industry was totally different with self-publishing/releasing, etc., of course, this greatly excited us as it was a return to the punk DIY ethic that first influenced us. The other deciding factor was that we determined to produce Wellcome with software only. Previously we had only used hardware. This restriction and being back creating music was the catalyst. We knew we had to be true to our roots so sculpted a mixture of darker experimental pieces with more trad PC sequence driven tracks. We were and still are proud of Wellcome.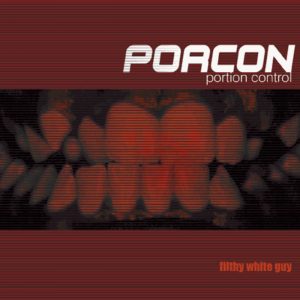 —The cover and name of your following album, Filthy White Guy seems to make a reference to Swans' first album although this time the music can be labeled as EBM. Do you find any relation between your music and the music of Michael Gira's band?
—By now, we had returned to playing live and the more EBM-orientated pieces worked better for us and so these become the bedrock Filthy and consequent releases. It seemed to us the risk of more experimental music had all but disappeared so we determined to add this element into our products. I realise now how the cover resembled a Swans' cover but we had no idea at the time. I've always admired the Swans for their uncompromising approach.
—All these albums were auto-released. Do you feel better or with more freedom releasing your records or do you prefer to do it with a label?
—We much prefer self-release although we hate promoting and trying to distribute our material. The physical product is coming to an end so this debate will be irrelevant.
—Can I ask you what do you think of Lou Reed's Metal Machine Music?
—Considering this was 1975 it has to be considered as an early form of machine noise. It is rumoured that it was recorded to begrudgingly fulfill a recording quota. I first heard this in the late 1970s when US punk was invading the U.K. and it began to open my mind to what was possible and what could isolate a listener.
—Your last album with original material, Pure Form, sounds a bit more techno. How do you choose the style you are going to use for your songs?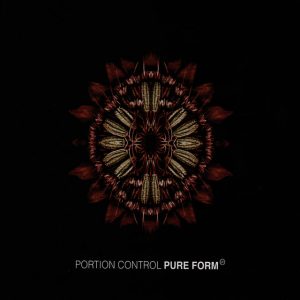 —I'm not sure Pure Form is any more techno than previous releases, although we played with the notion of techno-industrial pioneers. Again, advances in technology have an effect on the resulting material. We believe we are now at the stage with electronic music we dreamed of when starting. Everyone, for a modest outlay, can use highly competent professional sounding equipment. We don't deliberately choose a particular style it just evolves as we create the material.
—You have released several live albums: Assault, Live in Europe or the last Live Granada 1985. It's not that usual for electronic bands to release live albums, although Throbbing Gristle released almost every show that they did. Are these records a good way of approaching Portion Control?
—No, not a good way. These are bootlegs and we weren't particularly pleased they were released, although like the TG material, I guess they add historical context. I think live recordings of electronic bands can seem flat. For us, we prefer our material to be listened to with a high-quality audio system with plenty of sub bass…
—Are you going to release any new material soon?
—We certainly are, we never want to be a band just playing old material. I remember seeing Wire play live immediately after Pink Flag was released, and they only played one track from that album!
—How your concert at W Festival is going to be: old material, new one?
—Not sure at this stage what the set list will be, but it will certainly feature a good number of unreleased tracks and darker ambient sketches.
Header photo: © Marquis(pi)X