Contra, the second album by Darkwave/post-punk band Paranormales, has eclipsed most of the releases of this 2020 thanks to a great collection of songs. Today, we have David and Jc talking about the career of a band that has proved to be truly phenomenal.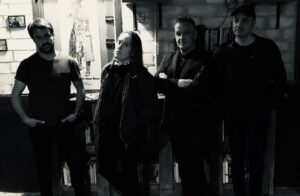 —Paranormales started in 2016 as a trio, right? What bands had you played in before?
—David: We don't like to talk about previous projects, we had coincided in some project Ana, Jc and David, we decided to get together and do something different from before.
—The name Paranormales comes from your love for horror films. Is there a soundtrack that has influenced you? I guess you'll like John Carpenter's work as a composer too.
—Jc: Many of them, both horror and other genres. The list would be endless, from Tangerine Dream's Thief OST to Klaus Shulze's Angst to Paul Williams' glam songs he did for The Phantom of Paradise or the work George Delerue in Le Mepris.
John Carpenter reflects a whole philosophy, not only because of his way of filming and showing fear, but also because he does it very well trying to lower production costs by creating the music tracks himself. At the end he created some pieces that designed a whole sub-genre.
—Your music is very visual, would you like to make a soundtrack? Any director you would like to work with?
—Jc: We have already done a few things, both individually and as a group. We don't rule it out, because the sequences of images inspire us to keep creating, so if an interesting opportunity came up, we would surely consider it.
As working with Kubrick is impossible at the moment, we could work with any director specialized in fantasy.
—Your first album, entitled Belona, was published by Buen Día Records, a Mexican record company. How did you get in touch with them? Do you have many Mexican fans? You plan to play there next year, right?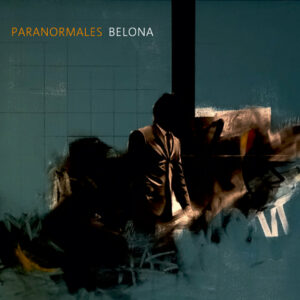 —David: With Paranormales we have always looked for a label outside of Spain, the Indie scene here is depressing. Yes, we have a lot of fans in Mexico and if everything goes well, we'll go there in September to play.
—What's your opinion of that first album today?
—David: We still like it. It's what we wanted to do at that moment. Before composing we always worked a lot to find a certain sound, but finally we let ourselves go and flow to what comes out naturally, we don't care if it sounds more post-punk or more pop. It's what makes us feel at that moment.
—How do you compose the songs, all together?
——David: At the beginning, it's usually JC who works with all the synthesizer machinery, then we work between the three of us the vocals and lyrics and finally David adds the guitars.
—Your two albums have been produced by Maurizio Baggio, what do you think he has contributed to the Paranormal sound?
—David: He brings us comfort and power. We understand each other perfectly, he is one more paranormal. We tell him where we want to go and he takes the sound of the album there, he's great.
—As we mentioned at the beginning, you were a trio, but Diogo Santos joined us for the concerts and became the fourth member. How do you think he has contributed to the sound?
—David: Diogo has brought a sense of security to the band. We know we can always count on him, he has been 100% committed to Paranormales and that's why we decided to have him be one more in the band, all 4 of us equally.
—Among your influences you have mentioned Philip Glass. Wendy Carlos or Suso Saiz. How have these musicians influenced you? What part of Suso Saiz's musical career interests you most?
—Jc: These musicians are part of us in terms of sound memories. They are memories that come from childhood. The melody of the first act of The Photographer or the soundtrack of Tron is something that takes you back to when you were a child and marks you forever. On the other hand, Suso Saiz is an example of a certain courage as an author not being afraid of experimentation in a country that is not so risky in the musical field. To be put in the same bag as Spanish new age was something predictable. We are interested in the sound achieved as a producer, with impeccable pieces of music such as the Dragón Negro by Esclarecidos. Now you can tell me that he also produced Los Piratas… all right, anyone can have a bad moment.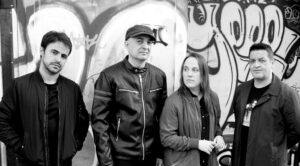 —How was born the idea for the remix album, with remixes by Antoni Maiovvi, Maurizio Baggio, NRZ & SIMØNE and the Mexican Wolfside?
—David: One day while rehearsing we were thinking about how would sound "Permanecer" in a more danceable way, so we talked to Wolfside and they loved the idea, from there we decided to tell some bands and DJs and that's how the Juno EP came about.
—We previously asked you about the label that released your first album, but now we'd like to know about Cleopatra Records. How did the contact come about? Do you think it has promoted the album quite a bit outside of Spain?
—David: We are very happy with Cleopatra Records' efforts, especially with Benny Cardenas, who signed us and is taking care of everything by himself.
—Talking about Contra, there is a great evolution in many aspects with respect to Belona where there is nothing as electronic as Doctrina. Have you become more interested in electronic music after the first album?
—David: Yes, we would say that we now have a clearer idea as to what kind of sounds we feel more comfortable with and what kinds of bands and audiences we want to connect, without a doubt.
—Ana's voice sounds more pop in songs like "Gem", and even the chorus is very pop. Have you ever put a limit on how much electronic or melodic you want to sound or do you let the songs come out as they do?
—David: We let nature take its course, "Harakiri" and "Gem" can live together very well, for example.
—A curiosity, where does the text in Elugelab come from?
—David: It is a nuclear bomb warning, we almost made a Covid warning hahaha, and this song is previous to this disgusting pandemic that is destroying almost everything around us.
—What can you tell us about your experience within the Girando Por Salas circuit?
—David: It has helped us to be able to present Belona as it deserved and has given us strength to go on and record CONTRA, so the experience has been good.
—What can you tell us about the ROOM SESSIONS?
—David: We are not friends with streaming. During these months we have been offered several opportunities and we have refused, but with all the concerts being postponed, one day we decided to record a rehearsal and show that we are alive and eager to play live.
—What plans do you have for the future that you see possible today? Is the March tour in Europe still on?
—David: I hope so, but it's getting more complicated and everything is being postponed, so we will post the info as soon as we know it, right now all of Europe is in the air.
—What can we expect from your next concert with Lebanon Hanover?
—David: A happy, energetic and at the same time angry band because of everything that's happening, in short, a band giving the best of itself.
Translation: Joanne Gagnon