The first time that we listened to the music of Nico Nightingale, better known as Neud Photo, was in a couple of releases of two Spanish labels: Soil and Fill-Lex Records. The next step was to immerse in his interesting discography and discover all his different projects: Ceci N'est Pas, INTRZ, Neud, Polymer or Wall $Treet. If you still haven't listened to his music, we would like to recommend you his last EP, DREAMZ, a really powerful work that you won't forget. Neud Photo will be playing live at the Ombra Festival that will take place in Barcelona from the 26th to the 28th of November.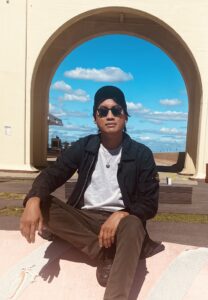 —When did you start being interested in music? Growing up in Detroit, did you have any contact with techno or early electro?
—Music has always been something I've gravitated towards since early childhood. I don't come from a family of musicians per se, but my parents have a bit of a vocal background and I recall them playing the piano and singing quite often. As far as coming from Detroit, techno was a subconscious influence, but electro caught my attention more significantly. New Wave was probably the first type of music that I was really able to identify with.
—I read that you were in a band called Consort, although I could not find any reference of this. What kind of music were you doing with them?
—Consort was a project I started with my friend Jack Blake (Transient Sun) in Brooklyn. It was my first serious venture into vintage synthesizers and the process of synthesis in general. It was a short-lived, yet prolific project jamming, experimenting, and recording almost every day for an entire summer. The noise scene was huge in NYC at the time so we incorporated a lot of that vibe within our process as well- racks of guitar pedals, old dusty synths and raw frequencies. We focused more on the live experience as opposed to the recording process.
—Your first work as Neud Photo was Synthetix, recorded in 2010. It was also your first work at all, right? What gear were you using at the moment? I read that you bought a lot of vintage synths during those days.
—After Consort split apart, it was an essential springboard for my next project, Neud Photo. My previous partner in Consort was more of the synth expert and I learned some techniques in the studio from him. When I started Neud Photo, I tried collecting as many vintage synths as I could get my hands on- mainly Roland and Korg machines- 808, 909, 707, 606, CR-8000, etc. The Korg MS-20, Juno 106 and Jupiter 4 synths were essential as well.  The brain was a Roland MC-50 sequencer that took floppy discs. I would also examine the liner notes of my favorite minimal synth bands and try to buy similar gear. Now, I sequence everything with the Digtakt.
—Your second work, Open-Air Cinema, added a lot more influences to your music. What happened during the year between this album and the first one?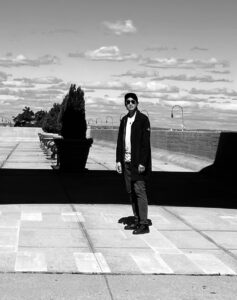 —That's an interesting observation- it was around that time I discovered IFM, and that radio station really opened a wide spectrum of music to me. My hunger for electronic music really began to take flight.
—There is an important influence of the eighties in your music. What do you like in the sound of this decade?
—To me, the 80s was the best period for music. It was an explosion of many interesting bands and producers. It was a unique period of time where the evolution of electronic music took many interesting routes and the gear began to evolve as well. Lots of the music during that time period had a really fun and enjoyable aspect to it as well – both musically and visually. The 80s have always been a huge inspiration for me in terms of film, music, and fashion. It was a very artistic time period that seems to resonate with me.
—Martin Pscherer has been the voice of some of your tracks although you have worked with other singers. What do you look for in a singer?
—Martin is a great singer and complements my music perfectly. I've worked with him since the very beginning and hope to collaborate more in the future. I really like his understated vocal style and his cold, stoic delivery.
I tend to be drawn towards charming vocals with pathos.
—What kind of images do you want to transmit with your music?
—I don't necessarily focus on projecting images, but I think the moods of the tracks induce some type of visual imagery.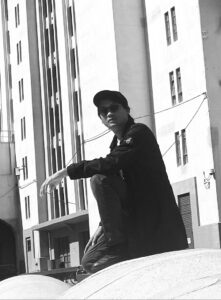 —You had a beautiful collaboration with Croatian producer Zarkoff in the split Dimensions/Famous Grouse how did you meet him? Are you interested in his work?
—I met Zarkoff through the Kraftjerkz label and then I met him when I went to Croatia for the first time. He's a very skilled craftsman in terms of composing music and playing live performances… not to mention also just a very cool dude.
—Is Italo disco a real influence for you? Are you interested in any artist of this genre?
—It used to be. I was obsessed with it for a number of years. It helped launch my Italo high-NRG projects- Neud and Wall Street. Now when I listen to italo, I'm more drawn towards the uniquely strange and repetitive instrumental sections that are juxtaposed with pulsating bass lines and hypnotic layers of synths.
—One curious project was Neud, with Iva Viskovic and Pierre Klein that released a 12″ in 2014. By keeping the Neud part in the name, did you want to link it to your main project? What can you please tell us of the collaboration?
—It was a really fun project with Iva Viskovic and Pierre Klein. The "Neud" aspect of the name gave it a sexier feel to the project.
—With Pierre you have also been in Ceci N'est Pas, a more synth pop project and Wall $treet. During these years (2014-16), you focused on these side projects. Did you need to take a pause from Neud Photo?
—Yes, it's always a good idea to take a fresh break from projects so you can revisit them again with a new approach.
—In 2016 you released Dystopix. How was it received? Did you see yourself inside any electro scene?
—Dystopix seems to have been received fairly well. I don't think this project has ever been viewed as part of the "electro" scene, although I certainly have elements of electro within my beats and rhythms.
—You recorded a cassette for Soil Records, a Valencian label. I am just now writing an article about them, so if you can please tell me something about this collaboration I will be very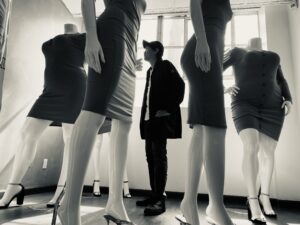 grateful.
—I met Ian (Soil) in Valencia when I played a live set with Orco from Fill-Lex Records. I remember it was his first live set and it was really good. He asked me to submit some unreleased tracks for his label.
—Do you think that your sound is harder in your last EP Dreamz? How have you evolute to this? (After writing this I read that you said that now your sound is "much more brutal, raw and relentless.")
—I began using a sampler for the first time, and I added many punchier drums and arrangements to my new tracks. I found the layering synthesis of beats to really add depth and variety to my songs. My sound also got a lot meaner during the beginning of the pandemic which was a very prolific period for me. I would escape the darkness of it through music production.
—I want to ask you about the status of some of your side projects, now that you are not living in New York: what happened with Xerox (your band with Chris Campion from Multipleman)? And Polymer?
—That was a very EBM /industrial inspired project. Both of those projects are on hold now that I'm residing in Europe. Chris had a much harder approach to his musical sound and that influenced me in a more brutal way to making music- especially playing live.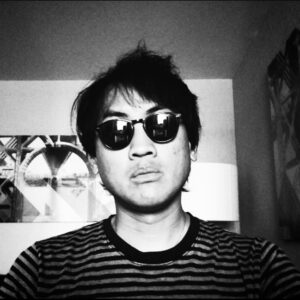 —I was quite surprised when I read that in your last visit to Spain you bought a lot of Bakalao albums. Can you please tell me the name of some of them? What do you like of this genre?
—I've always been fascinated with the late 80s/early 90s rave scene in Manchester so when I recently discovered the Bakalao scene that was happening in Valencia I was really drawn towards it. The sound of Valencia tended to be influenced by a variety of darker styles of music – with a groovin', edgier pulse.
—In 2020 you DJed in Madrid. How do you remember this experience?
—Madrid is one of my favorite cities – I love the vibe and musical community out there, so when I was asked to play the Fantasia party I was really thrilled. I played a live set and DJ'd afterwards. Super fun night!
—How have you lived through this pandemic? Did you have many gigs canceled?
—When the pandemic hit, I was really bummed because I had a slew of tour dates in the EU planned already- especially in cities that I'd never been in before like Brussels, Vilnius, and Zurich.
 —As we could see you in Hor Berlin djing, I can assume that finally you moved to Berlin. How do you find the city so far? Why did you choose to come to live in the old Europe? How different is Berlin from New York music-wise?
—Berlin is a very nice city with many parks and a huge community of artists. Music-wise, it's a great place to collaborate and network with other musicians. There are many benefits to living in Berlin as opposed to NYC. Firstly, it's easier to play nearby EU countries since they're very close by.  Secondly, the variety of music here seems to be much more diverse than the music scene back home. One of the benefits of living in NYC as a musician is that vintage gear seems to be less expensive and more accessible there.
—What are your plans for the future?
—I have a few VA releases coming up and a full-length EP in the works. One is a VA on Frigio Records (Madrid) and another is on M.U.S.A. (Barcelona).
I may even move to Spain later this year- I'm just waiting for the Digital Nomad Visa to come through soon.
—What can you please tell us of your future live at Ombra? What kind of live show are you preparing?
—I'm really excited about playing the Ombra Festival. I attended it in 2019 and had a great time. I was pretty blown away by the live acts there and knew that if I ever played it I'd have to really give a very strong performance. So far it's my favorite festival with a great lineup and I'm honored to be able to play it live!