In the weekly comic strip Little Nemo in Slumberland, the main character lives incredible adventures but at the end, he always awakes in his bed. In a similar way, the band from Paris has taken us to incredible worlds without having to leave our rooms. We talked with Nicolas Dufaure, who was first bass player and now plays the guitar in this Coldwave band. They will play in Barcelona during the Ombra Festival on the 2nd of December in a concert that we will make us dream.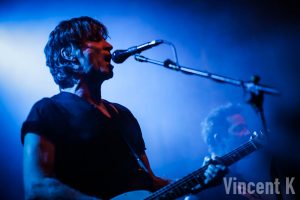 —Let's start with the origins of the band. Some of the members of Little Nemo were first in Stain of Sin, a post-punk act. "The Fall," later covered by Little Nemo, was written by this group. What else can you tell us about this band?
—Yes! Vince and I created this band in 1984 in Lyon, with a singer called Olivier Leymarie, and a drummer called Philippe Meurier. We were all students in engineering in Lyon, by the way. This very obscure band (inspired by The Smiths and Theatre of Hate) played in Lyon and did also a gig in 1985 in Paris, together with Little Nemo at the Cithéa, a club located rue Oberkampf. The band disbanded in 1987, and there remained only Little Nemo.
—Why did the band take the name from a comic strip? Maybe because both share the same oneiric feeling?
—Olivier (Champeau) was a fervent fan of the comic strip. Past, art, dreaming, and a very recognizable name are the main reasons of this choice.
—What other French bands influenced the band, apart from Marquis de Sade? Did you like new wave acts like Telephone o Dogs?
—I don't think Telephone or Dogs are new wave bands, but preferably rock and roll bands! Regarding music, our influences are not located in France, but rather in England. But Vince likes French Poetry, and the particular cabaret atmosphere also! 😉 We can mention Taxi Girl and Étienne Daho, though.
—Did you think that singing mainly in English made things more difficult for the band?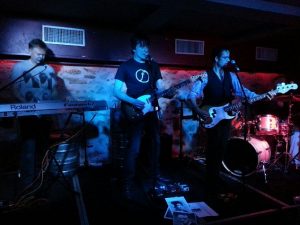 —We produced records during the 88-92 period (except our last one, recorded in 2013), as English was not a very common language for French bands. So indeed, it was more difficult during that particular time. Now, French bands can sing in English, because music is globalized by the Internet.
—How was the term of "Touching Pop" coined?
—The term "touching pop" was initially conceived by Laurence Pierre, a French journalist (France Inter) to qualify our music.
—The first reference of Little Nemo was La Cassette Froide (cold). Was the term Coldwave already coined? Did you feel part of that scene?
—Coldwave was and remains the French adjective to qualify post-punk. When I was listening to Joy Division in the mid 80s, I used to say that was a pretty good Coldwave band ;). So yes, I think we tried to be part of this movement because our influences were Joy Division, The Cure, The Smiths, The Sisters of Mercy….
—In your records, you put music to poems by Villon or Baudelaire. Which other writers have influenced the band?
—ALL Romantic poets, like Rimbaud, Verlaine, Antonin Artaud….
—Past and future was your first album and your first conceptual work. Which elements do you think helped giving the album a unity?
—It was not an album but a demo made on a 4-tape recorder by Olivier and Vincent in 1987 (apart from "À une passante" that was made in a studio in Lyon, in 1986). This demo was so great that New Rose label decided to release it as it was. The 1000 copies sold out fast.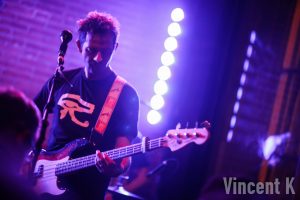 —In 1988, the band releases Private Life. The beautiful cover and the melancholic of the music would fit perfectly in any Sarah Records release. Do you find some connections between Little Nemo and the bands of this label?
—I did not know this label, but the music of these bands is quite similar to ours! By the way, it's our first studio album. I joined the band in 1987.
—How were created the songs from Sounds in the Attic, your last album from the 80s? I read that for some albums the band wrote the songs in groups of two or three, but in others the songs were written by each member. How did you proceed for this one?
—At that time, we used to rehearse in Nanterre, in the same studio as Asylum Party. One of us would come with a rather worked idea, and we would complete this idea during the rehearsal. We finalised the ideas with a 4-tape demo which included all the songs before entering the studio.
—In 2019, Thierry Sobezyk from Asylum Party, sadly died. His career was close to yours as you said in the interview. Any special memory that you would like to share with us?
—Yes, it's very sad, I knew Thierry well with whom we shared great moments, concerts and afters (which sometimes degenerated in the dressing rooms as in Lausanne in 1990 after the abuse of apparently lawful substances as part of the catering). We also attended parties and birthdays at each other's homes within the Touching Pop "tribe" during a productive period between 1988 and 1992. A very affectionate guy, with a lot of talent and sensitivity, who could be as funny as his music was cold, he will be greatly missed.
—The supergroup Teepee was created only for singing one song at the end of the concerts of the Touching Pop bands?
—Yes, that's it. It was during the concert Touching Pop Night at Elysée Montmartre venue, in October 1988, where Little Nemo, Asylum Party and Mary Goes Round played.
—In The Turquoise Field from 1990, the band includes some songs in French, the first ones, apart from the poems, right? What made you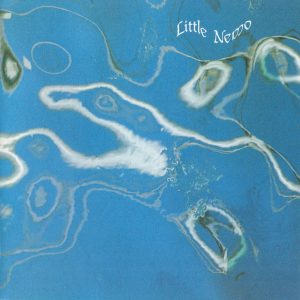 take this step?
—Yes: "À une passante" (inspired by Baudelaire's poems) and "La ballade des pendus" (François Villon's poem) were included on Past and Future from 1987. Vincent is fond of French romantic poetry, and this gives a cabaret touch to our music.
—Turquoise Fields has been reissued for its 30th anniversary in a limited edition of 500 copies. Any plans of other reissues of older material?
—No other re-release for the moment. We were planning to revisit a track (it could be an old track called "Mad Master" which dates back to the 1986 Cassette Froide but is not included in it) for a North Shadow Records compilation which was going to be released during the Label 2020 Festival which was going to take place in Auchel but was canceled due to the COVID situation. Nazaré Milheiro contacted us concerning that project in which we would have liked to participate.
—How did the arrival of House music and the Madchester scene affected the music of Little Nemo?
—You can feel this House influence on "City Lights," but also on the Biologic EP from 1991, where we used for the first time samples in the eponymous tune.
—The World Is Flat is the album from 1992 and this time there are influences of the 60s and even a cover of the Byrds. Was the band listening to more music from that decade? I read that you were jamming to Nico and Led Zeppelin songs.
—In 1992, we chose to move away a little bit from new wave. With the participation of Georges Remiet, our guitarist on the Turquoise Field tour, we included more guitars. When I was young, I used to listen to Led Zeppelin a lot, that's true!
—The band split up was due only to the bankruptcy of the label Single Ko or did the solo projects also helped?
—Olivier's and Vincent's solo project began after the bankruptcy of the label. But some other family reasons played in the decision of splitting up.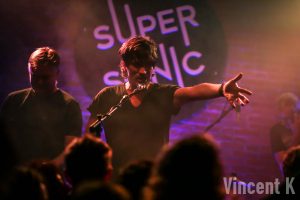 —What happened with Aqualites and the unreleased albums? Are they going to be published in the future?
—Maybe!
—What made the band reactivate in 2008?
—We wanted to play our songs again, together on a stage. Plus, at that time, there was a certain renewal of the new wave scene.
—The band created Artefact, your own label. Is it difficult to play in a band and at the same time manage all the record process?
—Today it's more common than before, of course!
—Out of the Blue is your last album from 2013 and the Mediterranean its theme. There is a song sang in "Greek" and another about Pompey and Troia, why did you choose this theme?
—Vincent is passionate about ancient Greece!
—Last time we saw you live it was just before the pandemic. The band wasn't very active during the following years. How did you live that period?
—It was an opportunity for us to have more time to ourselves: I took advantage of it to take a course in music production (Computer Assisted Composition, musical harmony…), and I'm using it to produce our next LP. Vincent, for his part, pursued his personal Poisson Solo project. Ronan has also been composing songs, and Yves has taken up painting!
—What's the concept after your new 3-EPs series? To present new live versions of old songs?
—Yes, but not only that: the latest EP will consist exclusively of new songs.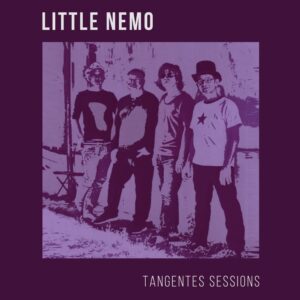 The first EP, Hérouville Sessions, was recorded at the famous Chateau d'Hérouville, renowned for its extraordinary acoustics (where Bowie, The Bee Gees, Elton John and others have recorded). The 2nd EP was recorded at Tangentes studio in Malakoff, (which I frequented during my training as a producer), in a live spirit, and mixed at my home in Fréjus.
—How have you selected the songs?
—For the first EP, the tracks were all Vincent's, and he chose them for their romantic character, in keeping with the general ambience of the château, magnified by the quality of the acoustic recordings and the contribution of Virginie Constant's cello.
In the second EP, the idea was to rework some of the tracks originally recorded in 4-track format into versions closer to those played live. "Alan's Waiting" was chosen to convey the rock vibe of the track, which obviously doesn't appear in the 4-track version of Past and Future. This is also the case for "Les Vallées du Songe", which was part of the Cassette Froide.
—In Tangentes Sessions you have included the song "Mad Master", that you mentioned before. Can you please tell us more about it?
—It's a track that was composed by Olivier and Vincent around the time of the Cassette Froide (1984), but which remained in demo form, The original version was never released.
—When can we expect the third EP? Is it going to be released with the other 2 in vinyl?
—As I was saying, this 3rd EP will feature 3 new tracks. The tracks exist in demo form, and the drums were already recorded at Studio Tangentes.
I'll be in charge of producing and mixing these 3 new tracks, hence the title Esterel Sessions.
The EP should not be released individually, but together with the other 2 EPs as a 9-track LP, which will be released both digitally and physically (also on vinyl).
—Some time ago, you said that you were going to record a new album in 2023. Are you still planning to do it or did you refer to record the 3 EPs?
—This is indeed the album that will bring together the 3 EPs! So it will be a 9-track LP 😉. Then there will certainly be more to come 😉.
—What can we expect of your concert at Ombra Festival?
—It's always a joy for us to play in Spain, with such a warm and connoisseur audience! And playing at this festival gives us the opportunity to make ourselves known to a wider audience. And, of course, it gives us the chance to meet other artists…😉 We can't wait to get on stage and do our best!