KMFDM has been pushing the boundaries of industrial music and at the same time making it more popular for more than 35 years. Twenty-one albums have been published in this time (the last one Paradise, just a few months ago), in which the band has known how to update its overwhelming sound and keep the sharpness of the lyrics. We talked with Sascha Konietzko, who will play with his band on the 21st of May at the W-Fest. Are you ready for the Ultra-Heavy Beat?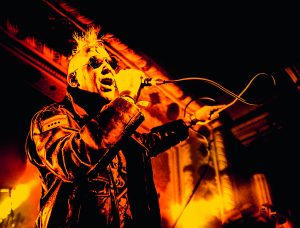 —KMFDM started as a performance art project. How were the first concerts of the band? Did you really play the vacuum cleaner?
—The first concert of what later became abbreviated to KMFDM was on Feb. 29, 1984 at the Grand Palais in Paris, France. It was a collaboration between me and a group of painters/sculptors from Hamburg and Cologne that went by the name of Erste Hilfe (First Aid/Premier Secours). I was asked to do some audio accompaniment to the grand opening of an exhibition at the Palais. So I went and got what I could get my hands on from pawn shops along Rue St. Denis.
Among the stuff I was able to procure were some vacuum cleaners, a broken synthesizer (ARP 2600) a bass guitar and an (Ampef) bass amplifier. I did my very best to come up with some spontaneous sonic chaos. It didn't go over too well once glass panes from the ceiling of that structure started to fall down, shattering on the floor amongst the (few) visitors. The sculptors had smeared concrete all over the glass entrances and some people fled in somewhat of a panic. It was quite an uproar. Though I really enjoyed it…
—You started this rumor of KMFDM meaning Kill Mother Fuckers Depeche Mode, right? Have Depeche Mode ever known about this?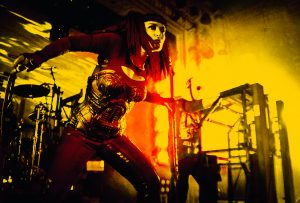 —I am pretty sure that they must've heard about it 😉
—In your first cassette Opium, (1984) Raymond Watts already plays. How did you meet him? He has been in and out of the band during a lot of years.
—He was an expat from the UK living in a broom closet at a friend's house here in Hamburg, at that time. He had access to a WWII air raid shelter in which were stored a bunch of instruments belonging to members of ABWÄRTS (a notorious punk band from Hamburg) some of which had recently joined Einstürzende Neubauten in Berlin. We used spare time to record weird things there. Over the years since, he's popped in and out, our schedules were quite different.
—What do you know, Deutschland? (1986) It was the first collaboration with artist Aidan Hughes and he has done almost all the covers of the band. What do you find in his work that suits the music of the band?
—At first I didn't really think much about it, I simply liked his style. Over time it became the visual brand, a recognizable image of the bands visual appearance.
Having been an adept follower of Frank Zappa's work, I liked the "conceptual continuity" aspect of it more and more. Although the continuity had to be interrupted sometimes just for the hell of it.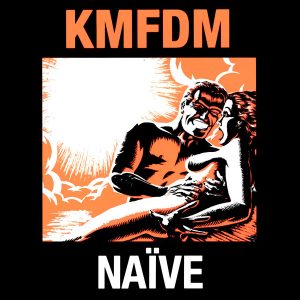 —How was the influence of Adrian Sherwood in the production of Don't Blow Your Top? (1988) You were already interested in dub and reggae, right?
—I'd been into dub and reggae since the late '60s, and was a huge admirer of Adrian's body of work. I was friendly with the guys from Mark Stewart and the Maffia (who came from being the house band at Sugarhill Records) and finally simply hit up Adrian, saying something along the lines of: "Hey man, I really like your shit, would you be into mixing a few tracks for my project?" And, to my surprise, he agreed 😉
—What happened with Naive? (1990) Was it retired because there were some samples of Carmina Burana? Was this the beginning of the problems with samples? A different version Naive/Hell (1993) to go was released later, right?
—Yeah, some people got wind of the samples being used and they threatened the record label (Wax Trax!) with a huge law suit, so they took the thing off the shelves, I could have given two shits, never had anything to lose anyway…
—How was Chicago in the early nineties? I read in Laurent Garnier's biography that it was a bit dangerous.
—Yes, quite so. Where I stayed there were frequent drive-by shootings, every Friday and Saturday, once a guy got shot dead right underneath my kitchen window. I spied on the pigs as they collected all the bullet casings….. They shot him 16 times, but only found 15, I found (and kept to this day) the 16th one
—You lived in the offices of Wax Trax! at the beginning of your stay in Chicago, right? How was the atmosphere and everything related to this now-legendary label?
—Complete and utter chaos was the daily regimen, I loved it there. I lived there from early '91 until late '92. It was quite an experience.
—You said that Money (1992) was made in a hurry and that you did not like it that much, but for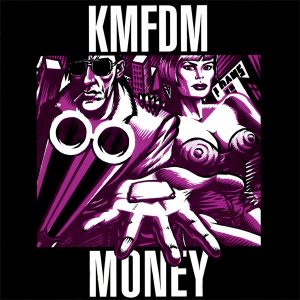 some fans it's one of the best albums. What do you think now of that work? It was supposed to be a double album, right?
—It was initially supposed to be an A-side made by myself and a B-side made by the other guys in the band at that time, but the label owners (Jim and Dannie), they laughed when they heard it first and thought that the pressing plant had printed somebody else's music onto the B-side, not anything like KMFDM.
So I had to rush and come up with some more material in order to have an album worth of materials, since we had already planned and booked KMFDM's first "real big" tour of the US. We had toured in '91 as headliners already and with good success, but the tour in '92 was going to be BIG, and the label wanted the album ready in order to support the tour and the release, vice versa…
—Angst (1993) is considered to be the "heaviest album," thanks to the great guitar work. You are a fan of metal music, right? Which bands do you like?
—In my mind, ANGST wasn't all that heavy, but it might have been to some … and btw, I was never really big on metal, I simply liked the speed-riffing which I always found to go along great with dance beats.
Thinking of "heavy" KMFDM albums, WWIII, HAU RUCK and TOHUVABOHU come to mind.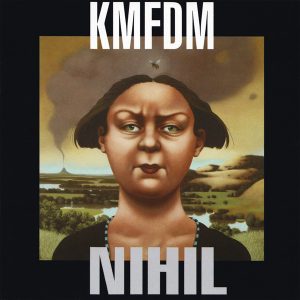 —Some songs of Nihil (1995, for some people the best album of the first part) are featured in movies like Bad Boys or anime like Street Fighter II. Do you think they are specially cinematographic? Or were they chosen because the band was quite famous at the time?
—They were chosen because the synch department at TVT Records (who had effectively swallowed up Wax Trax! at that time) were doing a stellar job!
—The recording of Xtort (1996) was without any doubt something unique in KMFDM history. You counted with the horn section from Tower of Power and included a lot of studio musicians. Was it difficult to work with so many people?
—Not at all, it was one of the most enjoyable productions I did in the '90s. I knew the Tower Of Power guys already, they were hanging out at a session in another room at Chicago Recording Co., so I simply asked them if they were up for it. XTORT came together in a few short months, it was probably one of the fastest productions I ever did.
—Adios (1999) was the album of the break-up, was difficult to record?
—Nope, it was super-easy, just didn't invite everyone into the studio at the same time, we did it in "shifts" so people could stay out of each other's way.
And in hindsight, it wasn't really a break-up, more of a strategical move to give everybody some space and time in order to find perspective and think about a future, perhaps.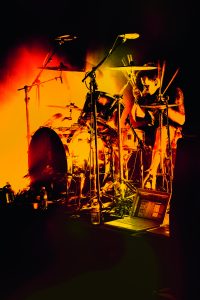 —Attack (2002) is the first album with the new line up (you and Lucia Cifarelli). How did you get the idea of coming back? How was the recording of the album?
—Actually, ATTAK featured a lot of people, all from previous incarnations of the lineup, Lucia was the only new-ish name, she was a natural addition since we had worked together for 2 years prior to the reformation of KMFDM.
—The recording of WTF? (2011) took the band 14 months and everything was redone. What happened with the first version of the album?
—I seriously do not remember, 14 months of work to make an album isn't so remarkable, ain't it? I know of some albums/people that took much, much longer 😉
—In Kurst (2013), the song "Pussy Riot" is written in support of the band of the same name. Did you have any problem with censorship or politics during the long career of the band?
—MTV was giving us a hard time about some things although we never asked them to play our stuff in the first place, so when they contacted us and wanted us to self-censor in order for them to play our stuff I simply told them to: FUCK OFF!
—Hell yeah (2017) got really good reviews, and is considered to be one of the best albums of 2017 by Allmusic. How do you manage to continue delivering good records after so many years? What do you think the public expects from a KMFDM album?
—It's most likely the fact that we don't really think about WHAT EXACTLY is expected from KMFDM; thus we're enjoying complete freedom. In fact, I am just now finalizing a new KMFDM album that is 100% old school dub reggae. Just because I CAN 😉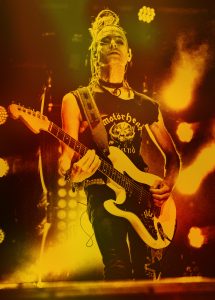 —Paradise (2019) is your last album from this year. You released just a few months ago. What can you tell us about the album? It's a very politic one, isn't it?
—Aren't they all for the most part? Well, we're just simply not into writing lyrics about weird shit, like what hurts us in the depth of our underpants/souls, etc.
We're straight shooters. And politics are more important than ever, we believe.
—Have you ever thought of working again with En Esch or Gunter Schulz or make an original line up tour?
—Who are they ?  Hell no, not over my cold dead body, I will never ever deal with them again. They declined my invitation to rejoin forces back in 2002, to restart KMFDM on fresh terms, on a clean slate so to speak. Instead they dragged me into some bogus lawsuits and started badmouthing KMFDM. It was quite a short-sighted act of self besmirching on their part, hahaha
—Can you tell us a bit about your side projects, Schwein, KGC, OK•ZTEIN•OK and Excessive Force?
—They were all ore or less just that, one-off side projects. Sometimes it's fun to work with people outside of the safe haven that KMFDM usually provides, to step out there and throw stuff against the proverbial wall, just to see what sticks 😉
—What happened with the second album of your other project MDFMK?
—Nothing happened to it, it's stored away in a safe deposit box.
—What can you tell us of your future concert at W-Fest?
—We're looking very much forward to playing gigs here in Europe again, hell, I can't even remember when the last time was that we played shows over here.
If you want more info about KMFDM, you can check this interesting interview in ElektropSpank magazine.