I was really surprised when I saw that the Wikipedia page of Invisible Limits was only in Spanish, but I realized that it was a proof of the fame of the German band in Spain. Some groups are big in Japan, others in our country. We have talked with Marion Küchenmeister, singer and leader of Invisible Limits: they will be celebrating their 35-year career with some very special concerts. The tour will stop in Spain: the 12th of June in Madrid and the 13th in Valencia.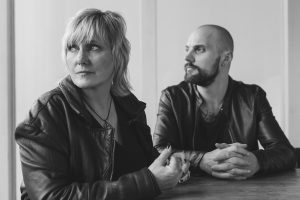 —The band started in 1985, Marion what can you tell us about those beginnings?
—Yes, we started in 1985 with four musicians: Ralf P. Schauf (Bass), Andreas Küchenmeister (Drums), Thomas Lüdke (Keyboard) and me as vocalist. Together we recorded the first two Maxi-Singles which were very successful in the German Wave-Scene.
Thomas left the band one year later in 1986 after he produced Push! as a solo project (The Invincible Limit, later renamed to The Invincible Spirit when he left the band). He wanted to go with a harder EBM style which was not compatible with the direction that Invisible Limits wanted to follow: more melodic and with guitars. Due to these musical differences, he decided to leave the band and we continued alone with our more melodic Wave Style. Later we left Last Chance and got in contact with our new label Fun Factory! Together, we produced all following Invisible Limits albums and many singles.
—What were your influences back in the day? I read that listening to the song "Fade to Grey" was an important moment of your life.
—When I was 16 in the early '80s I was fascinated by the new electronic sounds, until then I was listening to The Alan Parson's Project, David Bowie and Jean-Michel Jarre. But then I found bands like ABC and DAF. The New German Wave in that time had a deep influence on me. "Fade to Grey" for me was the perfect song in those days, I love the melody, the emotion in the song and the production. I think I heard the song more than 100 times per day. It was an important time for me, I went to the clubs for dancing and found Joy Division, Anne Clark, Siouxsie, etc. That was like a "little wonderland" for me and my friends. There, my best friend Micha brought me in contact with Andreas and Ralf who wanted to start a band. 
—Demand for Supply, the band's first album from 1987, is also the darkest of all the albums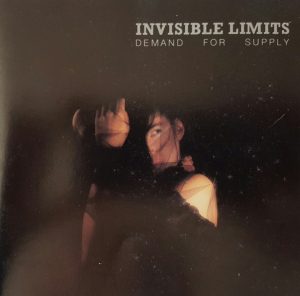 (from the cover of the album to the sound of some songs), don't you think?
—We produced our first album with Micki Meuser, who had already worked with quite a few successful German bands from the early '80s (Die Ärzte, Ideal, etc.). We needed some help to find the right sound for our songs when we started to work with the MPC 60 and our AKAI-Keyboards. Together with Micki we created the sound of Demand for Supply. In 1987, most of the journalists did not understand our kind of music, they had no label for us. I think we have the most powerful songs on that album, that's why I like to play them in our live set.
—A Conscious State, the band's second album from 1989, with songs like "Golden Dreams", "Natalie's" and the Joy Division's cover song, is considered by a lot of fans to be your best album. What do think that made that album so special?
—This album has a very clear and unique sound, that together with our emotional songwriting became a very "alternate popular" sound. We worked in this album with Janez Kriszay (producer of Laibach) and we did a lot of work over months in different studios. In Germany our version of "Love Will Tear Us Apart" was very successful, I did not expect that, it was really a surprise. Later we published the album in Spain with KONG-Records and we started to play concerts in Spain. And something what I'm really proud of: This album is still in the clubs after 32 years—this is unbelievable 😃.
—Was it difficult to approach such a great and anthemic song (Love Will Tear Us Apart)?
—First, we performed the song live in our concerts, it was the last song we played. The people loved it and we celebrated Joy Division by singing the chorus together. So, our label had the idea to record it for a single—which was really a great idea because it turned very successful in Germany.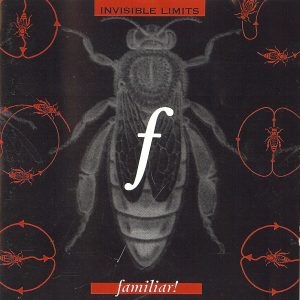 —In your third album Familiar! (from 1991), the band worked with the famous producer John Fryer. How was working with him? Were you happy with the result?
—John Fryer creates his own atmosphere in his productions like he also did in our songs. We were very creative during the recording sessions: "Moments" was an incredible experience with lots of vocals-layers and many tracks. In 1991, we had no digital recording, so it was really hard to create this choir-sound with one microphone on the mixing desk. Of course, that album was a huge break from A Conscious State in terms of sound, and today I still think that maybe it was a mistake to change the IL-sound like this. On the other hand, we have songs like "A Message," "Liars" and "Insight" which I think are great. This album takes some time to love it but, in the end, it touches you very deeply. This is the "John Fryer-effect." It was a real pleasure to work with him, he was really cool and very creative with our songs.
—Ralf P. Schauf and Jürgen Jaeger left the band before Violence (from 1993), right? Was it difficult to make the album without them? Who helped doing it?
—Yes, we played a fantastic tour together and had our first concerts in Spain which were an adventure for us. But the pressure was too high, we had a lot of work to do. Ralf decided to go back to his hometown to take over his family's vineyard, and until now he is still producing one of the best white wines you can get in Germany. Later on, Jürgen got a very good offer from another successful band and decided to change. So, since 1993 and until now Andreas and I are running Invisible Limits alone. Anyway, we wrote most of the songs of Invisible Limits, and we found some guest musicians for the concerts.
For the Violence production, Len Davies, who was working with Alien Sex Fiend at that time, Andy Faulconer and Nigel Butler helped us with the studio work. Darrin Huss from Psyche was singing with me on some songs too. Until today we have a very good friendship with Ralf and last year on tour, I met Jürgen again too.
—I read that the band had problems with the label SPV, can you please tell us more about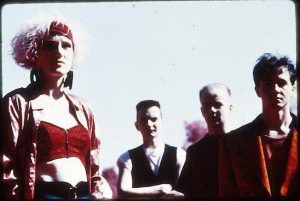 this?
—No, that was not only SPV, we had more problems with Fun Factory! instead.
We changed to SVP and they wanted to turn Invisible Limits into a more commercial "product." They really forced us to produce Violence in a Euro-Dance style. I did not want that because I knew that if we change our sound so drastically, we will end up losing our scene, our public. But they didn't want to give up that idea, so I had to say: "I don't want to do that with Invisible Limits." Finally, they took the name Invisible 2 instead for that "Euro-sound." The remixes were made by Andreas Küchenmeister in the studio, who became an excellent producer over the years.
The album Violence was really successful in Argentina—so, the album was at least worth the "fight" (to call it somehow). We had a really interesting time in South America.
—Was it during this time that you discovered the Peruvian Cajón, used in the following record? How did you come across this instrument?
—Yes, we discovered the Cajón during our stay in Argentina in the '90s. It was a birthday present from me. Andreas took some classes and played it later live on stage.
—I read a lot about your album from 2005: that it was the final album (as the title seems to suggest), that it contained unpublished songs from 1993 to the date. Can you tell me if any of these statements is right?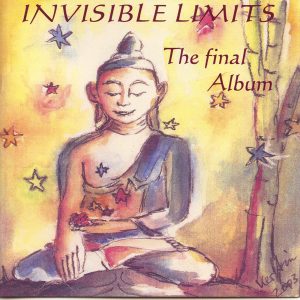 —We called it The Final Album because we wanted to publish all the songs we made during the '90s and which were too "underground" for SPV to publish them. After this experience with SPV, we quit our relationship with our label Fun Factory! and decided to do everything by our own. We published the CD, we were on tour with Psyche and we started to play in Spain again. The digital times were taking off, so we created our homepage back in 2001. A bit later, we also started with all this social media stuff.
We thought it might be our "final album" but, on the contrary, we were much busier than ever before. In 2005, we played our so-called final concert (which was a pun using the name of the album) and we celebrated "20 years Invisible Limits" with a legendary concert in Bochum, with many guests and former band members on stage like Ralf and Jürgen, even Thomas was invited to sing the two songs that we recorded together back in 1985. Darrin Huss was there too, and our son Max played the guitar with 17 years! He has stayed since then as the guitarist of Invisible Limits and he really does a really good job in our actual concerts! It was really the beginning of a new dawn for Invisible Limits, and not "the final of everything." We just moved on with Invisible Limits until today with our "35-Year Celebration Tour" in 2020.
—Were you into Buddhism at the time? Did you change your names to Assema & Basera? How did this influence your music?
—Andreas and I had a period of finding ourselves through meditation and self-inquiry, which was not religious at all. Eventually we found some silence and we were open for new ideas and collaborations with other musicians. On our Final Album, we emphasized that in the songs; we worked with very different musicians in the production and, as I told before, on stage with our guests.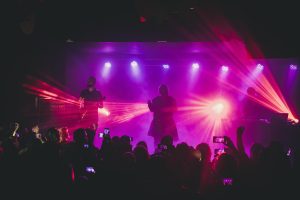 —As you said, you play with your son Max on guitar. When did he become part of the band? He also has a band called Glass Promises, right?
—We involved Max very early in our band. His first concert with us was in 2004, where he played some keyboards. Meanwhile he became a really good musician. He loves the original guitar sounds from the '80s and he fits perfectly for Invisible Limits. About his band, yes, he is also a great singer/songwriter and plays acoustic guitar. He will record his second own album later this year. When I listen to his songs, I feel extremely proud. You know, first of all, I'm his mother. 😂
—Is it difficult to play in a band that is also a family?
—I am used to playing with friends and family and I still do it. It's much easier and it gives me more confidence in everything. Andreas now is not interested in playing live anymore, but he is still a member of Invisible Limits. We decide everything together concerning the business and music of Invisible Limits, and I go on tour with the current lineup. Currently, I am working on a new album and we also discuss every new song.
—Marion, you also had a side project, called Mari Chrome with one album released: Georgy # 11811. What can you tell us about this project?
—Mari Chrome was an experience with my friend Kai Otte, a very good and very talented German composer and musician. I loved his songs and so I wrote the lyrics and created, like always, the vocals. John Fryer was mixing the tracks in his studio and Alfa Matrix in Belgium was interested in the album and finally published it. I am still very thankful for this.
We did not go on stage nor produced a second album because the style of the new songs turned into a direction which is not mine: too gothic and EBMish. So, I decided not to produce a second album with Mari Chrome. But I am a singer and as such I worked in many more projects, not only with Invisible Limits. Modern Slaves is a collaboration with José Luis Macías (Comité Cisne, Ultima Emoción, Inhumanos, etc.) and Salva Ortiz (Armas Blancas, Presuntos Implicados, etc.) from Valencia, with a post-punk-new-romantic style. We published a small EP called Second Life, which I really love. I think (and hope) we will be publishing more songs soon in the future.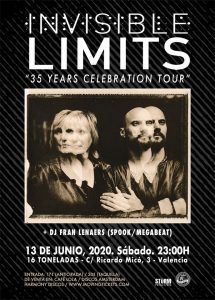 —Even in your web, there is a mention of the band's fame in Spain. You have also played here a lot of times in the past years here. Any special anecdote of your concerts or relation with Spain you want to share with us?
—I remember one of our first concerts in Spain, in Murcia around 1989. Our soundcheck was at 11 p.m. in the club and nobody was there. Showtime was very late at 3 a.m., what is very unusual in Germany. So, we went back to the hotel, very sad because nobody was there, no one was waiting in front of the club and we thought no one was coming to see us. And what a surprise when we came back 3 hours later: the club was full of people: Sold out! I will never forget this feeling, in Spain with our music and everybody knew us. We learned that party time in Spain is very different than in Germany. 😂
—As you have already said, you have worked with Darrin Huss from Psyche a few times: he worked on Violence, in the Soft Cell's cover of "Torch" and also did some remixes. How did you meet him?
—I know Darrin since 1991, he traveled with us as a friend on our "Familiar Tour" in Germany. Later in 2002 we were together with our "Legends United Tour" and also since a few years we are playing triple concerts in Germany together with No More. We became close friends with a lot of respect for each other. He is a kind of "soul brother" for me, we are giggling like kids when we are together. It's not very professional but, in our age, we should not take everything so serious. We try to have as much fun as we can. In the end, that is what it's all about: having fun with friends and music.
—The third part of your remix album from 2018 it is called Remixes from Spain, with remixes made by Spanish artists. Apart from Interfront, who else was involved in this? How did you have the idea of a full collection of only Spanish remixes?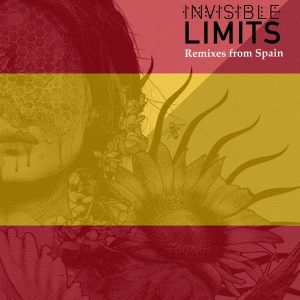 —The 3 parts belong together, we will publish all parts in one Remix Collection middle this year. There are more remixes on the way from some more bands and I will publish one or two new Invisible Limits song as well. I really like it when other bands and musicians work with our songs to make their own versions and remixes. This is very exciting for us. It's an honor and a pleasure when other musicians want to remix our songs. It's something we are very proud of.
Some other bands included in the collection are: No More, Último Destino, The Eternal Afflict, Per-Anders Kurenbach, Psyche, Len Davies, EGOamp and many more.
—What are the band's plans for the future? Any new album in the making?
—We are working on a new album, and we expect to release our first song in a few weeks. We go on tour to celebrate "35Years Invisible Limits" in Germany and Spain. Since 2020 we are working with Sturm Promotion in the management and booking side, so we expect to have much more work than ever. The first dates in Spain are already fixed: 12th of June in Madrid, where we have been in 2005 for the last time and 13th of June in Valencia. Also, we are planning concerts in Murcia, Tarragona, Alicante and Barcelona for October and December.
It is like it always has been: Once we start new things everything starts growing and we are always surprised about this feedback coming from everywhere. Even after all these years the fans are still there (and new young ones too). It's very satisfying.
—What can we expect of the band's Spanish tour?
—The band comes with 3 musicians: Javier Coloma, our sound engineer is on the keyboards, Max on the guitar and me on the mic.
We have a very good live set, we are playing songs from every album, we have a very powerful sound with new versions and new arrangements, and together with Max on live guitar it will be an emotional experience. We invite everyone to join us through this journey. It's going to be a big party, celebrating life, friendship and the music of the '80s. In the end, that is all that matters.