Owners of quite a long discography with a constant evolution, Inertia is one of the bands we really want to see how they sound live. We talk with Reza Udhin, founder member of the band that is playing this Friday at the W-Fest. Although they are called that way, don't listen to them by inertia, use all your senses to appreciate their music.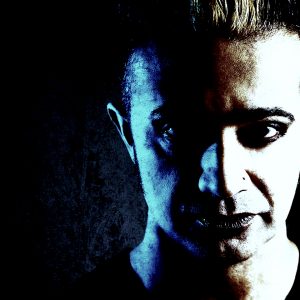 —Black Metal Jesus and Mutagenic were the first, let's say, incarnations of Inertia. What can you tell us of these bands?
—I started Black Metal Jesus first, as an idea of what I wanted to create musically. I put adverts out in NME to audition band members. We released a couple of tapes with both bands and played quite a few shows but then the other band members started going in different directions to my ideology. They wanted to become a techno act.
So, I left that project to them, they changed their band name to Omni and I renamed this band as Inertia.
I think Omni had one release then disbanded.
Within months of changing to Inertia, I signed my first record deal with Celtic Circle Productions in Germany.
—Which are the industrial bands that have influenced you? Do you like Portion Control? They are also going to play at W-Fest.
—Yeah, I love Portion Control! Awesome band. I am mainly influenced by the earlier industrial stuff. Cabaret Voltaire, DAF, Nitzer Ebb, Depeche Mode, etc.
—Infiltrator is the first EP published in 1995. How did you record it? What gear were you using at the time?
—I recorded it on a Seck mixing desk with R8 8-track reel to reel tape recorder.
I also had a Roland SH101 synth, Yamaha SY22 synth, Yamaha CS5 synth and a Cheetah Sampler!
—A few years later, in 1997, we got your first album, Programmed to Respond. What kind of electronic music were you listening to at the time? There is a bit of acid, electro, EBM in the record.
—At that time I was mainly listening to things like Front Line Assembly, Die Krupps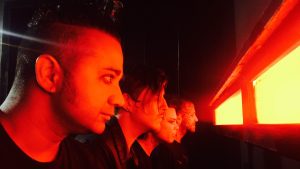 type Industrial and also more dance stuff like the music from the Fax label, plus Prodigy, Information Society from the US and bands like that. I was also hanging out at early Goa Trance club nights and getting inspiration from that side too.
—The following year, the band released a remix album, Demagnetized/Remagnetized. Which are your favorite remixes?
—My favourites on that album were the New Mind remix and Das Ich remix.
—Negative Prime was published in 1999 and I think it's a better album, compared with the first. Did you feel that you had grown up as a composer? Angel is quite complex, and you even try things like Believer.
—Yes, by that point I had spent much more time in the studio and started to learn newer things as a composer. Trying different ideas and really manipulating samplers.
I was recording quite a few drum and bass bands at that point in my studio, so I took some elements from what I was learning there too.
We had also completed Two USA tours by then, so we're really getting experienced!
—The remix album of that record was called Positive Angel, and there is a remix by Psyche. How did you meet him?
—Funny story actually, I met Darrin at Zwischenfall club in Bochum Germany, while we were recording a few tracks for Programmed to Respond at a studio in Geldern.
We went out one night to party at Zwischenfall, then we heard for the first time played a cover version of the song "Goodbye Horses" by Q Lazzarus. My guitarist at the time, Mark Barrett, was in Q Lazzarus and co-wrote that song.
We asked the DJ who covered it and he said, "Psyche, well actually the guy from Psyche Is here tonight!"
He introduced us and we have been friends ever since! He also paid Mark is his royalties for the song directly haha!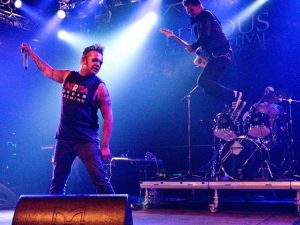 —In Advanced Revelation, from 2002, there are a lot of short pieces, working as interludes, making quite a long album with 18 tracks. Do you think that they give a sort of unity to the album or did they have another function?
—With that album I wanted it to be a kind of disjointed unity! Not a traditional album but a little bit different to the norm, hence the interludes.
—In 2004, the band released Black Ice Impact. Where did you get the idea of covering a song from a Bollywood musical? And the cover of the Cure?
—We did The Cure cover for a Cure tribute album which was released in the USA on the Cleopatra label. We started playing it live and it was going down really well, so we included it on the album.
Bollywood, myself and Alexys B were heavily into that scene for a while, from producing music and dancing, so we took an influence from it. We covered the sing "Shakalaka Baby" from the musical show Bombay Dreams. It was received really well, especially at our live shows!
—By 2007 and your album Inertia, the sound of the band has changed a lot. There is still room for old tracks like "Repent," but there is a more rock feeling in the album, especially in songs like "The Preacher." How happened that you moved in this direction?
—I feel I was developing as a song writer and was getting bored of the harder edged shouting songs! I wanted to add more melody and proper singing into the songs, so I wrote the album as a natural progression of how I was feeling and I think, since that album we have gradually evolved that sound on to the more recent stuff.
—The band recorded a cover album, Kloned in 2010. How did you choose the songs to cover? Is there any song that you would like to cover?
—They were just songs that we liked from a variety of artists from Depeche Mode to The Beatles to Elvis and Jesus Christ Superstar. Just a fun record really. Our cover of T-Rex's "Children of the Revolution" is still popular at our shows today!
—In your work from 2010, Deworlded, we can see some lyrics about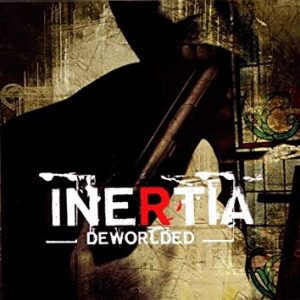 stepping beyond the world. Where do you find inspiration for your lyrics?
—That particular album was focused on getting outside of yourself and seeing life from a different perspective. Deworlding your mind to see things in a better light.
—In 2012 the band released Universal Blood and your former drummer, Alexys B, was attacked by some women for looking alternative. Can you tell us more about this sad incident? Later on, the lyrics of Lies were changed to talk about this, right?
—That's right, she was sadly attacked outside of a pub that she was DJing in by a gang of about 8 girls, simply for the way she looked. Alternative pink hair, etc.
It was a very sad incident and it was also covered by all the big TV stations in the UK including the BBC. The footage of her being attacked is in the music video we recorded after the attack. This was shown on national TV and still, no one has been arrested for this crime.
—Is Existential from 2015, the first album without Alexys B? Why did she leave the band? Was it difficult to continue without her?
—Alexys left to concentrate on her rockabilly band Lady Luck Lexy & The Riverside Boys. Plus I was married to Alexys and we separated at that time. No hard feelings, in fact, she still joins for us for the odd live show!
—In some songs from your last album, published in 2017, Dream machine (and in some previous albums) like "Only Law," I can appreciate the influence of Depeche Mode. When did you start listening to them and how have they been an influence?
—I have been listening to Depeche Mode since the mid 80s, I loved their old stuff and yes, it was a huge influence. In fact, I have recently joined the UK's number one tribute band to Depeche Mode, The Devout!
—You played keyboards with Killing Joke for 11 years. How was it? Why did you stop playing with them?
—Yes, I did 11 years of live shows and 4 albums with Killing Joke. It was just a natural split really; plus I needed more time to concentrate on my own projects, Inertia & Black Volition.
It was fun while I did it, though, I had some great times with those guys!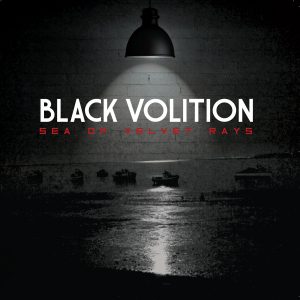 —How is your side project Black Volition going?
—Black Volition is also going really well… it is a different sounding project, more influenced by the atmospheres of David Lynch and Twin Peaks. Dark Vampiresque Spaghetti Western, Delta Blues with Sombre electronics!
—What happened with your label Cryonica Music? Any album released that you could recommend to us?
—Yes, the Black Volition albums are released on Cryonica Music and I think we will restart releasing more material on the label very soon.
—What happened with your campaign to release your records in vinyl?
—Still working on that! Hahah!
—Any new album in the making? Or tour?
—Yeah, we are currently writing our new album which should be released in early 2020, then we will head out on tour again, probably, UK and USA and European shows where we are wanted!
—What can we expect of your concert at W-Fest?
—Our full energetic Inertia show. It's been a very long time since we last played in Belgium, so we are very much looking forward to it!