We already chat with Hélène de Thoury last year, but on that occasion we focussed on Minuit Machine, the project that she shares with Amandine Stioui. Today, it's the turn of talking about her fall and rise in an interview that tries to complete the previous one. Also, after a tour that did not stop in Madrid, she will be moving us with her darkwave in the DarkMad that will take place during the 15th and 16th of October.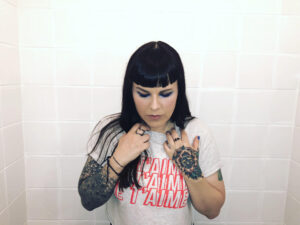 —Your musical career started when you moved to London. Did you go to the UK just because you thought it was easier to make music and get some recognition there than in France? How was your "English" life? Curiously, we have a common friend of those days.
—I moved to the UK because my English was terrible and I wanted to learn the language. Also I was tired of my job and I thought it was the right moment to do it! Once I was there, I thought it would be amazing to find an English band to play with and I put an ad online. I was very fortunate that Nathalie and Jake from Phosphor answered! For me, this was the beginning of a new life, it opened so many doors. I liked my "English" life. I was working as a localization tester in a video game company (where I met our common friend 😉 ), rehearsing every week with Phosphor, playing shows from time to time, going to the pub a lot lol. But London is a huge city and you can feel isolated and lonely very easily.
—What happened with Phosphor? The band split up in November 2013, just half a year after releasing Youth and Immortality, their only record. Is it because you formed Minuit Machine?
—Because I missed my friends and family a lot when I was in London, I decided to move back to Paris at the beginning of 2013. However, we decided to make it work anyway. I was going to London to rehearse before going on tour and it was pretty nice. I formed Minuit Machine during the summer of this year to have another project in Paris. But a few months later, Jake announced that he wanted to leave Phosphor and we decided that it wouldn't be the same thing without him so we split up.
—And in 2014 you started Hante. on your own as a side project. Have you ever felt the need to add someone to the project or for you, Hante. has to be only you?
—I thought a few times about having someone on stage with me, because it's really hard to not have someone to share the experience with. But this project is so personal, I never found the right person and also for a while, it was more convenient, financially speaking, to be alone. Now I can manage to have someone with me to travel with, someone to take care of the merch but above all, someone to share those crazy adventures with.
—About your first album, can we know whose fall and rise are you talking about? Did you see the album as a story?
—It is mine! My Fall And Rise. It's how I feel constantly, like I'm falling but I always find the strength to pick myself up again. The whole album is not one story but each track is a little story itself. My lyrics are usually pretty cinematographic, especially in this first album.
—Reading your lyrics, they seem very personal, close and real. When you write about a day of November, I think that the date is not casual, that something really happened to you in a day like that. How autobiographical are your lyrics?
—I tell stories, some really happened, some not, but they are all part of my fantasy. I like to tell stories that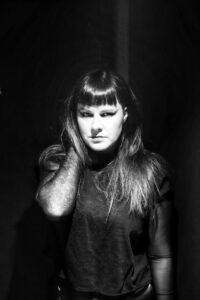 moved me and there are also a lot of songs that describe metaphorically how I feel. I'm sharing a lot of myself in the music and the lyrics. I guess the song you're referring to is "This Morning of September". Actually, I had the idea of the lyrics when I was driving back to Paris, after some nice Summer holidays. I was on this straight road with lots of trees on the sides, the kind of road you think must have seen some fatal accidents and it scared me a little. On one side of the road, I saw one red flower. And I thought that maybe something happened there. And the metaphor was so beautiful (sadly morbid though I admit), I had to write some lyrics about it. So no, nothing happened this morning but this is the kind of stories that go in my mind all the time.
—In your following EP, we can find a track called "Living in a French Movie". Being French and knowing your love for cinema, in which French movie would you like to live?
—Haha, actually this is quite the opposite. I'm singing "I don't want to live in a French movie" and "Nothing's gonna happen, I cannot stand reality". I don't like French movies, they feel too real for me, too close from my reality. When I watch a movie, I want to dream, I want to be somewhere else. I just realized my favorite movies have French directors though Le Grand Bleu by Luc Besson and Eternal Sunshine of The Spotless Mind by Michel Gondry but the production is American and even a part of the cast or all the cast is American…
—In all your albums there is an equilibrium between songs in French and English. How do you choose the language of every song? Have you ever changed from a language to another because there were words you did not want to use or you did not like how they sounded?
—I think it's really hard to write good French lyrics, it always feels a bit stupid. I would say that most of the time it feels easier to write and sing English lyrics. With simple ideas, it can sound very powerful. From time to time, if I've got a good idea, I try to write in French because it's part of who I am and should be part of Hante.
—In your following two albums, This Fog that Never Ends and Between Hope and Danger you continue opening your soul to the world. Which one do you think that has been more difficult to compose/record?
—I'm not sure. I don't remember struggling with the compositions on those. But I composed Between Hope & Danger in a very particular moment in my life, where everything was changing around me so it will always be special to me.
—Fierce, in general, sounds a bit happier or in peace with yourself. Was it a good period when you were writing it? Is it more difficult to write personal lyrics when someone else is going to sing them?
—I don't know, I think that "Serre-moi Encore" and "Waiting For A Hurricane" are two of my saddest songs. Maybe the mix between the emotions is more balanced! Also as you said, there are a lot of collaborations on Fierce so maybe it puts a different feeling to the album. I didn't write the lyrics of the songs featuring other artists. I asked them to sing and write on my compositions. It would have been so weird to give them personal lyrics. Those songs are their stories, I invited artists and friends I admire to share their visions with me.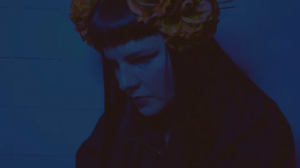 —As you just said, Fierce is an album with a lot of collaborations. How do you do to play these songs live? You do all the vocals?
—That's simple, I don't play those songs live! Apart when I toured with Sólveig Matthildur last year, I invited her to sing the song with me 🙂 it was really nice to be able to play this song on stage because this is one of my favorites from Fierce!
—I remember that tour with Sólveig Matthildur, that sadly skipped Madrid. How did you meet her and get the idea of doing something together?
—I was opening for Kælan Mikla in September 2017 in Paris. Sólveig came to me and said that she really liked my music and I said, "I like yours too"! I loved both of her projects, her solo project and Kælan Mikla. When I started composing Fierce at the beginning of 2018, I knew I wanted to do some collaborations and I thought about her right away.
—And this year you have released Fierce (Remixes & More) with some remixes and a couple of new tracks. What can you tell us of your new songs?
—I had this idea of remixing "Respect". I don't know what is happening with this song but I struggled so much with the composition! There are like 20 different versions of it. The lyrics are so important to me, I wanted to write a really good song and felt it was never enough. And this new version I was trying to create happened to turn into "In Raptures" haha. And then, I wrote another version of "Respect" I really liked and started thinking it would be great to have some remixes from other artists I love. It felt like the perfect add-on to Fierce.
—We are curious about two artists that you have chosen for the album: we were supposed to see Hørd in Prague but we could not go due to the restrictions to Spanish travellers. And some friends have recommended us the music of Kontravoid. Why did you choose them to remix your music?
—I played a few times with Sébastien/Hørd, we started our projects at the same time and I always felt like he was the masculine version of me as an artist. I absolutely love his music and our emotions seem pretty close. I really don't understand why he doesn't get more attention, if you don't know his music, go check it out now!!
I met Cameron from Kontravoid the night I was playing my first ever show in the US in August 2018. He was playing right before me, so I was listening to his music while preparing to go on stage and live an absolute dream of mine. Also, the second time we saw each other was a night he played in Paris supporting Boy Harsher. I tagged him in an Instagram story and after the show, he answered something like "I didn't know you were here" and I met Boy Hasher thanks to him. Which led me to tour with them in November 2019, another dream come true. Long story short, I love his music and I listen to it a lot while travelling. So all this made him someone I had to include in the Fierce Remixes & More album lol.
—You are going to play in Roadburn to a more "rock" audience. Is it challenging to play to people who cannot be used to your style?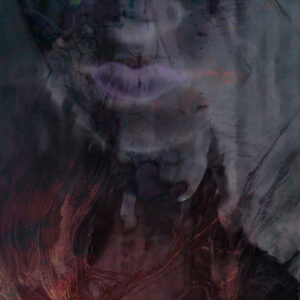 —Actually, I think they are opening a stage more specialized in the electronic music so I don't know if they want to attract another kind of audience or if the audience there is super open-minded and like to discover new things. Maybe both. It will be very interesting either way 🙂
—You also create the artwork of some of your albums, right? Any artist in that field that has influenced you?
—I've created all the artwork albums except the one for Her Fall And Rise but I don't have any references to be honest… A bit like the songs, I'm trying some stuff on Photoshop with pictures and textures I like and it happens to become my covers lol
—In our Minuit Machine interview, we asked you about Hante. Now it's the time of asking you about Minuit Machine. You are going to release a new EP, right?
—Yes, we're releasing a new EP on October 16th. It's called Don't Run From The Fire. We are super excited to share this! Because we love it, of course, but also because it feels good to have some fresh news during those really hard times. As an artist, without touring, it feels a bit like you're disappearing…
—At the Garaje we are big fans of the Unknown Pleasures Label and we know that you have sang in one of their records, Damage by Kill Shelter. How was this collaboration born?
—Pete sent me an email and I really liked the song. I had some ideas for the lyrics right away so I said yes and here it is!
—You have often said that OK computer was your favorite album. Do you like Radiohead's following records? What do you think of Thom York more electronic music?
—To be honest, they lost me right after OK Computer. I didn't like the next albums but OK Computer is still one of my favorite albums ever. I like a few songs of Thom Yorke project, the most emotional ones like "Dawn Chorus" or "Suspirium". I absolutely love his voice, makes me feel such deep emotions.
—In the last interview, we already talked about your label, Synth Religion. Any news? Have you signed any new band? I guess you must receive a considerable amount of tapes.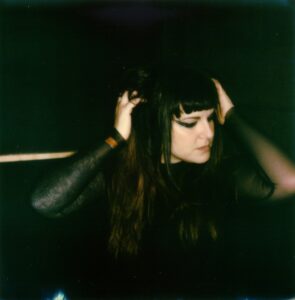 —For a while, it's only been Hante., Minuit Machine, Box and the Twins, Fragrance. and Marble Slave on the label. But it's gonna change soon, we would love to release some new projects. For now, nothing is signed but we're talking about it with some artists we love. We receive lots of demos yes and we don't always have the time to answer all of them so we apologize for that… But people can, of course, continue to send us their music 🙂 This year changed our perspective a bit. We know we have to focus more on the label side.
—We want to ask you about one of the bands of the label: you have been touring with Box and the Twins and released their albums, the last of them from last year. What can you please tell us of them?
—They are the most amazing people. They are kind, super talented, you couldn't wish for better friends. They're even like family now and wish we were living in the same city. We lived so many crazy adventures together, for example we toured in the US together, it has truly been two of the best weeks of my life. We met when we did our first European tour with Phosphor in 2013. Mike was promoting the show and we slept at their place. So they have been part of all this from the beginning, they witnessed everything. Also, when I heard their music, I couldn't believe how good it was! So emotional! The first thing I did when we were able to travel after lockdown was to go see them in Cologne <3
—How has the pandemic affected your career? I know that a lot of gigs have been cancelled.
—It's been tough. And still is. Lots of disappointments and frustrations. Last year has been an amazing year for me, I've been touring a lot, I felt like I was starting a new chapter of my musical career this year and "pow!", everything stopped. Financially it's complicated since I don't have any other job besides music. Like lots of us, I just wait, try to focus on music, virtual promotion, label works, etc. We have no perspective, we just wait until someone tells us it's over. Will it be back to "normal" after this? We have no idea.
—What can you please tell us of your future concert at DarkMad?
—I JUST CAN'T WAIT! I will enjoy every minute. Hope you will too 🙂