From almost every bad thing you end up getting something good, and so, thanks to the first lockdown, the EBM/minimal synth duo Hammershøi was born. The French band, which publishes on the prestigious label Swiss Dark Nights, shows us their problems and experiences as a couple in danceable tracks with the power of Electronic Body Music and the sensuality of the best minimal synth. We will see them live in Barcelona on December 2nd during the second day of the Ombra Festival.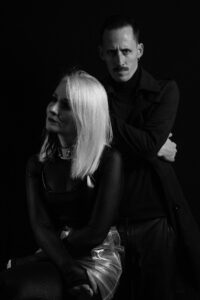 —The name of the duo is a reference to the painter Vilhelm Hammershøi, right? Is there any special aspect of his work that you also try to capture with your music?
—You are right ! We absolutely admire this painter and want to pay homage to him by bearing his name. This painter has enormous talent and he manages to make us feel a lot of feelings and emotions, in a fair and strong way. We try, through our music, to express these feelings and perhaps, we hope, to touch the people who listen to us.
—Ben was in different bands before Hammershøi, can you please tell us more about this?
—I was in fact a singer in several groups. Always musical groups using electronic instruments. For several years I was notably a singer and composer in a Synth Punk group called Perm.36. The only similarity between this group and Hammershøi is the exclusive use of a drum machine and singing in French.
—The two of you started the band during the first lockdown. I guess it had at least one positive consequence. How was it? How do you decide to create a band during that time?
—It was a bit by chance, to occupy our days, that we started making music together. We liked the exercise and the result and continued. From there was born the first album, entirely made in our kitchen. As a result, we experienced the first confinement quite well.
—What were your first inspirations? In an interview you said that German synth-pop band Nacht Analyse was an influence. Honestly, I did not know that band, can you please tell us more about them? You said that you have more influences from German bands, right?
—We were very inspired by German electronic music mainly. Indeed, we designed our first album by listening a lot to Nacht Analyse. This is a wonderful musical project that unfortunately no longer exists. Their album is very rich and presents many influences also with very powerful singing.
 We are indeed very influenced by German groups. Maybe because we don't understand anything about the lyrics!
And in Germany too there are a lot of great things happening at the moment: go listen to Mängelexemplar, Oberst Panizza, Tilly Electronics, Infant Sanchos, and the work of all these incredible guys: Carlos Grabstein and Miseria Records, Young & Cold, Kernkrach…
 —Being French, which French influences do you have? Coldwave maybe?
—I believe that the French groups that please us and inspire us the most are those who play minimal wave, and who sing in French. Cold wave too of course! French works well with these musical genres.
It's not like rock'n roll in French! it sucks, no ?
—Are you interested in this new way of understanding EBM of bands like Leroy Se Meurt or Maman Küsters?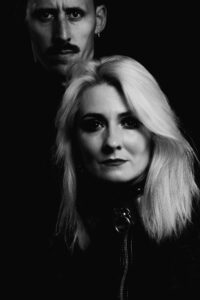 —Yes absolutely! Leroy Se Meurt, we played with them on stage. They are very talented and have a very edgy approach that works perfectly. They are also very friendly and approachable. Maman Küsters, I think they don't do lot of live. But I remember that during the making of our first album, we listened a lot to their song "Liebe Hat Keine Preis", remixed by Years of Denial. This track is fucking killer! There are a lot of things going on at the moment in France in any case!
—In some songs, the influences from the 80s is quite evident, like in Ich Hatte einen Freund. What do you like of that decade?
—We love this decade's ability to provide many bands who made hits with very few instruments and super minimalist lyrics! Let people know, it's super difficult to make a simple song that works !
—How was the recording of the first album? I guess that all the process was done at home as it was released during the first times of the pandemic.
—We made the entire first album in our kitchen where we spent all our days. Of course, the album is very DIY. We called on Daniel Hallhuber from Young and Cold for mixing and mastering.
—In an interview you said that Cathédrales described the history of your union, and it was an album about introspection. Can you please tell us more about this?
—Indeed, our texts speak about us and therefore necessarily about our relationship. We approach significant stages in our history such as our meeting but also more complicated moments involving darker emotions. Writing allows for introspection since it requires returning to feelings, emotions or the past in order to put it into words.
—Being a couple, is it easy for you to speak about your problems or situations in the lyrics?
—Yes, it's quite simple in the sense that we choose the words. We can choose to be transparent or, on the contrary, to make a less explicit text, allowing everyone to make their own interpretation. Life's difficulties are a wonderful source of inspiration. I find it much more complicated to write the positive.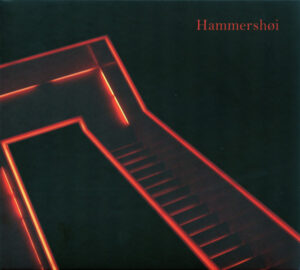 —How do you think that the duo has evolved musically with their sophomore album?
—Already, it's obvious that we've made progress!
I think we mostly knew where we wanted to go! Which wasn't always the case with the first one. We also thought of this album as a whole with a single subject: us. It's very egocentric but it was also a way of exorcising what we had experienced as humans. We thought a lot about rhythm and continuity. The first song, "I see you" talks about our meeting, and the last offers an opening to the future. Between these two songs, melancholy, storms, happy mornings…
—Ben's voice gives to the songs a more EBM sound meanwhile Anne gives a more synth/minimal vibe. Is it something natural or is it linked to your musical tastes?
—We love both. Our voices fit into these registers naturally. We have two distinct comfort zones that complement each other quite well!
—Why did you make a cover of Visage's "Fade to Grey", does this song have any special meaning for you?
—There's no particular reason, just that we like this song! What I can just see is that even if it doesn't have specific feelings for us, this Visage song is timeless and pleases everyone, right? You can listen to it with your grandmother or your children I think. It's minimal wave for the general public.
—What gear have you used for the albums?
—For the albums we used a Roland SE-02 for all the basslines and a groove box Roland MC-505 for all the drums.
We used a lot of synthesizers around this basic configuration. I'm not going to list them all but the most important thing to know is that we never use a computer in the design of the music. We are from a school that programs each button movement step by step. It's long but it's our method.
—What are the plans of the band for the future?
—We have a lot of projects coming up. Already, for Ombra Festival, we produced an EP with our Italian friends from ZUG (Zona Utopica Garantita). We are really proud of this project! It was hard but the result is a very interesting mix of our musical approaches. They play on Sundays, go see them, it's always a show on stage!
Then we have to finish an album, more minimalist. We already have a lot of songs, and it won't be much longer.
Finally, many collaborations will arrive very soon.
—What can we expect of your concert at Ombra?
—I'm going to adapt this famous line from the film "Le bossu", since that's always a bit like our concerts: "If you don't come to Hammershøi, Hammershøi will come to you!
See you in the pit…