Last year we saw Spanish darkwave act DILK twice, once in the presentation of their first album Hardship and the second one as support act of Italian band Hapax. At that moment, we could not expect what was going to happen and the interview planned for March had to be delayed, as many things in our lives, one year. But finally, coinciding with their concert on the 27th of March, we met the band at their rehearsal and had this little chat. They will be playing in Madrid together with the The Stirrings during the first day of the Polar Shoegaze Sessions. 
Fotos: J. J. Sánchez Perales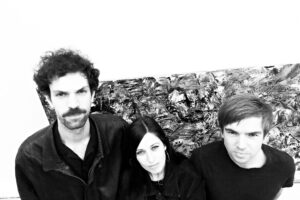 —How did you meet and start making music? Two of you were in Vladivostok before, right?
—Espe: We met in 2016. I wanted to play with someone and I started looking on Atiza's website and saw an ad where they were looking for a bass player for a post-punk project with songs by Joy Division and The Cure. They called me and off I went.
—Jaime: I formed Vladivostok with a former co-worker in Barcelona, an Italian guy who was a drummer and wanted to form a new wave/post-punk cover band. So we put the band together. The bass player we had left and we found Espe. It was a very good experience.
—Espe: We were together for only one year and in that time we played about five gigs. We even played at a festival. It was great and we got to record at Abbey Road.
—Jaime: Then Espe moved to Madrid and two months later I moved too. We decided to start another project, not so much covers but our own songs.
—And you Carlos, did you already have experience with other bands?
—Carlos: Yes, I'm from Guadalajara and I played with another band there, but it wasn't post-punk, it was more stoner, and also I do my own solo songs, more dream pop and also a little bit post-punk. But I moved to Madrid and here I wanted to start a band, but I couldn't find people. I saw an ad that they were looking for a singer and I said to myself: -I'm going to try it out. And I went to the audition: they were very desperate and…
—Espe: He was already the fourth singer, or the fifth one… It was horrible!
—Carlos: From the first day, it's true that we got along very well, both in attitude and musically. Also with the lyrics, everything was very fluid, there was no pressure or anything. There was mutual understanding.
—Jaime: I also remember that you came in July, back in the summer vacations. You were worried because we didn't call you. We were all on vacation.
—Carlos: I went to the audition, and hell, it was already September and they hadn't told me anything. I was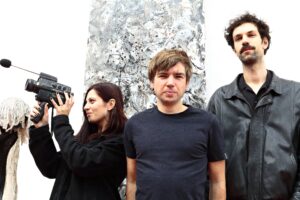 all worried and I wrote to Manu, who played with them before, and I asked him what was going on and he told me that yes, they were counting on me, but that they wouldn't be back until after the summer since everyone was on vacation. I was a little bit confused for a few months.
—What music has influenced you? You usually say coldwave.
—Jaime: We carry over the influences of Vladivostok, but we are moving more and more towards electronics. Now we are experimenting a little bit with shoegaze, and mixing those two styles, a fusion of electronic and shoegaze.
—For a while there were four of you, the band had a drummer, what happened with him? Did the sound change when you became a trio?
—Carlos: There were internal problems among the members and in the end, Manu decided to leave the band.
—A couple of years ago you opened for The Chameleons, how was the experience?
—Esper: There were some problems…
—Jaime: In the soundcheck there was a pedal that had the volume adjusted wrong and it almost blew out one of the speakers.
—Carlos: The people in the venue were a bit rude. In our opinion they were not very nice to us compared to other venues in Madrid where we have played like Café La Palma or Trashcan where they have been super nice. It was a bit of a weird day. As for Chameleons and the promoter, Sturm Promotions, super nice, very nice.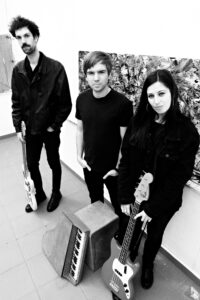 —Espe: With Mark Burgess everything was very well. In the backstage they put a very cool catering and we were drinking wine with him, he's a very friendly guy.
—Jaime: The experience was very good. I don't think anyone really knew us in the venue, everyone had gone to listen to The Chameleons, but the audience received us very well.
—Carlos: The audience was very nice. The audience was very polite and also came to see us because people can arrive early and say they don't care about the opening act, but they came to see us and appreciated our music. We left very happy.
—During 2019 you played live quite a lot, do you have any special memory of a concert?
—Carlos: There was one in the summer, on Gay Pride Day when there was nobody there. It was the worst date ever. Besides, some colleagues from Barcelona were coming to play and the poor guys found themselves with only two people, friends of ours. The colleagues were SERCH.
—Espe: The one in Malaga in March in a cultural center, with people at the same level as us was good. A lot of people came to see us and we felt their eyes were on us.
—Carlos: The one in Barcelona with SERCH was really cool, we played in a festival. It was really cool because there were other bands from Barcelona playing, mainly post-punk, dark music bands. It was good because we met other bands of the scene, who had also been listening to us for a long time and said: -"DILK are here, wow! Then we all went to parties together and it was really cool.
—Jaime: El Café La Palma is where we have played the most times, about three times. And there have been days that were pretty full by our standards, which was the presentation of the band, not the album. About sixty people came.
—How did you sign with Cold Transmission?
—Espe: It was Andy who wrote us on Facebook. We had released the EP with three songs and he wrote us asking if we could send him five more songs and that he was interested in producing the record. We agreed to record ten songs, including the three we had already released. We signed with them in September and finished recording the album in November.
—A couple of years ago, we interviewed Mark E Moon, another band from the label, do you like them? What other bands from the label are you interested in?
—Jaime: Yes, for example SYZYGYX.
—Carlos: Mark E Moon are also cool, it's a similar vibe to what we do. Now they have signed a lot of bands.
—Espe: Wow, now they are almost signing a band a day, they are taking over the whole world market.
—Carlos: They've signed a lot of new people and some of the ones we've been able to listen to actually look good. They are becoming a pretty solid post-punk label, I think.
—Espe: I was looking at coldwave labels the other day and Cold Transmission has almost all the European bands. There's another label, Dark Entries, it's from the US and it's very powerful, but in the European market Cold Transmission it's the one that has the most bands, the most followers and the most impact.
—What can you tell us about your first EP released in May 2019 with three songs that later appeared on your first album?
—Jaime: The first EP of three tracks was recorded in the studio that a friend set up. I gave him all the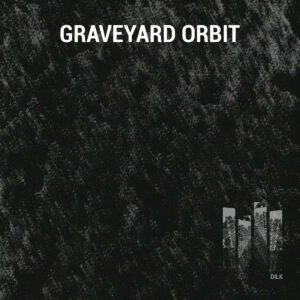 tracks already recorded and he did the mixing and remastering. It wasn't the sound we were looking for and then I asked the people at Pandora, who recommended Brazil Studios, which is where we recorded the LP. And I love that studio, I love Javi, he's very good and we get along very well with him,
—Espe: He's even made us cry sometimes…
—Jaime: We connected with this studio quite well. It has more of a rock essence, it's not as electronic as the music we make, but the good thing about Brazil Studios, apart from the material it has, which I haven't seen better material in my life in a studio, is that Javi is very demanding with everything and that is very noticeable. When you listen to the album at home, you notice that everything is very clear, very well defined.
—For two of your videos you have used images from old Disney movies, do you think that the spirit of these movies fits well with your music?
—Carlos: I made them. First I did the one for "I Can't Figure It Out." I was really hooked on Disney videos from the fifties and I also found out that they are no longer copyrighted. And I don't know, I find them very creepy: the Disney era, everything behind it, the stories, Snow White herself. The black and white animation shorts are super cool, and that one about the skeletons, a mixture of horror and comedy, seemed to me to fit the theme. Then I kept researching and for "Graveyard Orbit" I saw this video of Life on Mars that they used in Tomorrowland, the Disney World attraction in the fifties that was about space. I thought it would be a good idea to make a montage, plus the video is very inspired by Dalí and it was very cool. I really liked it and it fits very well.
—The release of Hardship was delayed for four months because you wanted a certain analog sound on it. It's not very common for a young band with such clear ideas of what they want to sound like. Can you tell us more about your experience in the studio?
—Espe: Jaime and Javi's level of demand was tremendous. Sometimes Carlos and I would look at each other and tell each other that we didn't understand anything. It was difficult to get the sound out and for all of us to be happy with it.
—Jaime: What happened is that initially we delegated all the sound, let's say the production, to Javi. We found that when he had already mixed almost everything, around eight songs, we found a sound that didn't represent us at all and we had to redo the eight songs. We even had to re-record some of them. We spent a lot of money but we have learned from it.
—Carlos: The two new songs we're going to release, we did them quicker. We've learned a lot and now we're working more efficiently. We haven't been like: -here I would put a guitar, here maybe a synth…. We've got the hang of it with Javi and he's got the hang of it with us.
—Jaime: On the first album we recorded, all the synthesizer sounds were purely analog, all from Brazil studio. They had the ones I was looking for, the SH-101, the 909 that we put in some tracks…. And then in terms of guitars, pedals, basses, reverb, everything they have is amazing. And, of course, I spent a lot of time on all that. Some synths were out of tune, I had to tune them well, they are very classic synths. They keep all their electronics in good shape. Marcos, who is like Javi's helper, is pretty good at electronics and fixes everything. But getting the sound I'm looking for takes time, because many of the sounds I get are from retro synth emulators since I can't afford to buy them. To capture those sounds is difficult, some parameter always changes, it's not enough with copy/paste.
We are somewhat guilty of having too many sounds. And we have learned from that and we tend more and more to minimalism, to use fewer sounds to make the mixes easier.
—Carlos, you wrote the lyrics, right? What inspires you?
—Carlos: It was a stage in which I was a bit fucked up because of my job, a lot of anxiety, money issues too, a bit of everything. It was a way to release that anxiety, that mini depression, to release the pressure I had on myself. I managed to capture it in the lyrics, it helped me to improve a lot. The group helped me to correct certain points of them. They are very sincere lyrics of how I was at that moment. Maybe it is not how I am now but it is a reflection of the moment in which I wrote them. Now the songs are almost all written by Espe, both in terms of composition and lyrics.
—And what are your lyrics about, Espe?
—Espe: Depression. The lyrics were written during the pandemic. I had a shitty year and the lyrics came out by themselves.
—How has Hardship been received outside of Spain?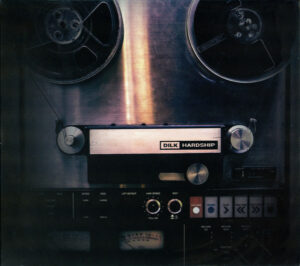 —Jaime: Well, better than in Spain. We've had reviews from all over the world, reviews from the United States, Japan, Germany, Holland…. We have had very good feedback in general. But we think that maybe we don't fit much here, I don't know if it's because of the culture or the lack of bands.
—Carlos: In Spain, to give you an idea, we haven't even been played on Radio3, which is a more alternative radio station. We are a bit "preoccupied" with Spain because I don't know if it's not the sound that is listened to or if the public hasn't found us… I don't know, because abroad it has worked, we are happy with the product we have, what we don't know is why it doesn't fit in Spain.
—As KLID you have remixed your "To Escape Myself" and you talked about a Hardship Reworks project, but as far as I know you only released this track. What happened that you haven't continued? Are you interested in techno or any artist of the genre?
—Espe: Jaime is into techno.
—Jaime: "To Escape Myself" is meant to play a little bit with improvisation. In the concerts we tend to play it in a different way each time, we always play it at the end to close. It's the heavy one, the most techno. It refers to bands like Front 242… I've always listened to industrial techno, dark techno, a lot of German bands. When I was a teenager all I did was electronic, techno, minimal techno, experimental, drill 'n bass. Groups like Autechre or artists like Aphex Twin are the ones that have inspired me a lot when it comes to composing. What I'm looking for in DILK is to detach myself from my techno side and focus more on post-punk or dark sounds. I also like rock, new wave, The Cure, New Order.
—And are you planning to do more remixes?
—Carlos: There are more.
—Espe: Jaime has some great tracks.
—Jaime: There are several problems: Cold Transmission must not like this electronic stuff and we are quite cautious with the remixes. We did a test with "To Escape Myself" and they seemed to like it but it's not what they expect from us. It didn't really fit.
—Carlos: That's why we put it out as KLID, a side group. We are also there waiting for some DJ to do some remixes to promote the songs. If there's a cool remix that the three of us like, we won't hesitate to release it even if it's not with Cold Transmission.
—Jaime: I love the sound of Phase Fatale, an artist who makes a very industrial sound, very dark, a sound that fits very well with what we do. We've also experienced a bit with that kind of more acid and industrial sound. Maybe at some point we'll release some more remixes.
—Espe: We are a bit lost, we don't know what strategy to follow.
—Jaime: We are defining our style. We always keep an identity trace but we are trying to define a more homogeneous style in our new tracks. We are now between shoegaze and electronica We can't advance much either, we still have to define ourselves.
—For the compilation of our friend from Other Voices, you have made a version of "Als Wars das letzte Mal" by DAF. Why did you choose this song? Was it because Gabi Delgado died on those dates?
—Jaime: Probably more for that reason than anything else. Gabi Delgado has that Spanish ancestry and we wanted to make that fusion because Carlos really wanted to sing in Spanish. That's why we made him sing in German. He sings in Spanish and German.
—Carlos: We were asked to do a version for a compilation of that label, and the truth is that we were very hooked on this song and "Der Mussolini", and it coincided with the death of Gabi Delgado. It was really hard to sing and to get the lyrics out. Very complicated.
—I have seen that the artist Charlie Scerri has made some works inspired by your music, can you tell us more about this?
—Espe: Two years ago I went alone to Vietnam and Laos and met this Australian nurse in his fifties whom I met on one of the four-hour bus rides. As he was getting on, we smiled at each other and he sat down next to me. We talked for the entire trip and became colleagues. Our relationship lasted five hours, we told each other about our lives. He knows I played in a band, listened to it and was inspired for his paintings.
—Live you did a version of Molchat Doma, a band you like. Have you thought about recording it?
—Espe: I think we only did that one in the disastrous concert with SERCH.
—Carlos: It was Manu's idea: he re-created the base and it was pretty cool, similar to the original. We did it in Spanish, but since no one was there, there was no repercussion about it either. Molchat Doma had not yet become as famous as they have now. We have talked sometime about recording it but we have somewhat forgotten.
—Jaime: In fact it all came from the trip we made from Madrid to Malaga, we spent the whole time listening to Mochat Doma. They are very catchy songs. We also came up with the idea of doing the Spanish version.
—Espe: "En mi botella no queda alcohol".
—Jaime: It was translated from Russian into English and then into Spanish.
—Carlos: I had to ask the singer for the lyrics and he responded with a link to YouTube.
—Espe: Then we met them at a concert and they were very nice.
—You were also going to tour with Ploho, another Soviet band. Are you interested in more Russian bands?
—Espe: I love them.
—Jaime: Ploho's sound is one of the ones I like the most. I also enjoy the music of Brandenberg and Super Besse. I have the impression that Ploho are becoming more and more similar to Mochat Doma, that their sounds are converging. Although for me, their albums are more complex and transmit more than those of Mochat Doma.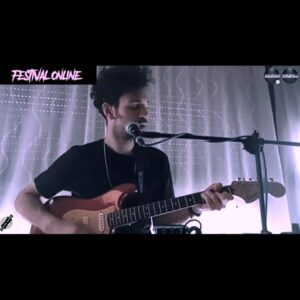 —During the first confinement, you did a Quarantine session for Darkitalia. How was the experience? Have you also been hooked to virtual festivals?
—Carlos: I've seen a few things. I did a live acoustic set and then I was DJing one day. At first it was cool but then I got lazy.
—Espe: The magic of having people close to you, of being infected by the drug that music gives you, is not there.
—Carlos: At the beginning it was cool but then, like everything else, it got overexploited. For my concert, I took the bases and from the computer's Ableton I used a program to stream. It took the sound directly from the computer.
—How has Covid affected you? I guess you couldn't present the album as you would have liked. Were you able to rehearse? You were also going to play at the Cold Transmission Festival, weren't you?
—Jaime: Quite badly because we each live in different places. Carlos in Guadalajara, me in Tres Cantos and Espe in the center. And one of us was always confined and we couldn't meet the three of us. We have dedicated this time mainly to composing, but each one on his own,
—Espe: When you play with a band you don't go for the money or the fame. For me it's about having fun with them, to play gigs, to have a motivation. And this pandemic has killed me. There were plans, but we kind of lost our enthusiasm. Not being able to schedule anything because you don't know if you're going to be able to do it. Now we don't schedule concerts because we don't know how it's going to go, and that has affected me. The group is like the daily gasoline you need.
—Carlos: We had everything booked for the festival, the flights, the airbnb. Everything was booked for nine days. It screwed us up pretty bad. It looked like it was going to happen and we were very excited but in the end we were told that it was cancelled. The things we were most excited about for 2020 were cancelled. For this year's edition there is still nothing confirmed, although something has been said on social networks.
  —You are going to play at the Polar Shoegaze Sessions mini festival in March, do you see it possible?
—Jaime: If we don't get cancelled two days before the concert, yes. We will play the most shoegaze songs since it's a shoegaze festival, and we will play two new songs that we hope to release soon.
—When will the new album be released? You recorded it in October at Studio Brazil, right? What can you tell us about Bad Habits?
—Jaime: The idea is to release an EP. Before that we will release a couple of singles and then we will add two more singles so we will have material for an EP. We are a little bit blocked by the videoclip issue because the idea was to release two videoclips and present them at the same time. But the cameraman is confined…
In these two songs we are finding, we believe, the style we are looking for. The songs are more similar to each other, they are not as different as in the previous album. It still has the electronic essence of DILK, melancholic and dark, but it also has more shoegaze touches, more guitar and with more distortion.
—Carlos: The voice has also changed, the tone of the voice is not so low, I sing in a more neutral tone, even sharp. It's even more punk. I feel more comfortable singing that way, it's less forced on my part and it gives it a pretty cool vibe.
—Espe: I'd like to release it for the concert.
—Jaime: At the moment it will be digital but we are planning to release it on vinyl as well.
—Have you thought about a vinyl edition of Hardship?
—Carlos: We have thought about it.
—Jaime: The record company saw it more convenient to release it in CD format, although I don't know who buys CDs nowadays. We prefer vinyl because whoever buys it at a concert sees it more as a collector's item, since your music is on networks, Spotify…, And as a collector's item, a vinyl is cooler than a CD. Or a cassette, which I love. Maybe in the mid-term.
—Anything else you can tell us about future projects?
—Jaime: Recently we were talking about searching for our essence, even trying new components, new, more organic sounds.
—Carlos: Trying with a drummer, something more organic, not so many atmospheric synths, keep them but without so many layers.
—Jaime: And above all make it more direct, not with so much pre-recorded, take analog synths. Everything more organic, more natural.
Translation: Joanne Gagnon