I was a Desperate Journalist. I still remember with anguish those days, after graduating, completely lost, looking for a job and sending a lot of CVs. That's why the name of the band caught my attention but it was their incredible post-punk that made me love them. We talked with Jo Bevan, singer of this band from London that is going to release their third record this month. They are going to be the first band on Sunday 16th at W Festival. The best reason for getting up early on a Sunday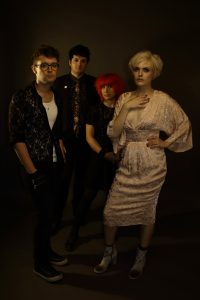 —You and the bass player of Desperate Journalist played in a band called If… What happened with the band? Did you choose the name of the band because of the movie If…?
—The band was called If… and it was in fact after the film. We essentially ran out of ideas so thought it was time to stop but it was an interesting experiment at the time – I was determined to be the female Mark E. Smith but it didn't really work out quite so well.
—And the typical question about the name of the band and the Cure. "Desperate Journalist in Ongoing Meaningful Review Situation" is the name of a song by The Cure. Apart from the name of the song, did you find something special in the music of that song?
—We liked the fact that the lyrics were taken from an unfavorable review of the band's first album, and the sarcastic tone. Also it's a relatively obscure track so not immediately noticeable as a reference.
—A lot of young bands are taking inspiration from bands from the 80s, like the Smiths, The Chameleons or the Cure. Do you think that the 80s are the new 60s?
—I think that every generation has a large proportion of bands inspired by the music their parents enjoyed in their youth.
—During the promotion of your albums, did you ever come across any desperate journalist?
—There was one person who reviewed a gig of ours in the early days who took our name as a personal insult. They probably should have done a bit of Googling before getting so upset.
—Your first releases (the EP Cristina, and the singles Happening and Organ) were all of the self-releases? How did you record them?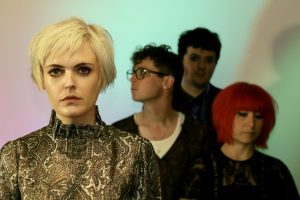 —Yes, they were. We are very lucky to have a friend in Keith TOTP, who generously offered us free time in his super fancy recording studio in Soho. Which was nice.
—Desperate Journalist is your first album published in 2014, now just 4 years ago. How do you see the record after these years? Do you listen to it?
—I think we learned a great deal from the recording process of the first album, as we didn't really know what we were doing. I find it fairly awkward to listen to as I think we've come so far as musicians now, but I'm still proud of it.
—The band designs the artwork of the albums and gets involved in the creation of the videos. Is it a way of having full control of what's coming under the Desperate Journalist's name or another way of expressing yourselves? You studied graphic design, right?
—I design all the artwork myself, yes. I went to art school because I idolized Peter Saville and wanted to design record sleeves, so it's a chance for me to do so with completely free reign.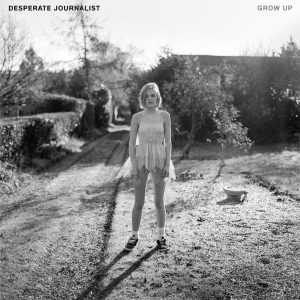 —Your last album, Grow Up was released last year, in 2017. Do you think it's a more complex album (compared with the first one)?
—It is a lot more complex both musically and emotionally. It was recorded during, and all the lyrics are in fact about, an extremely difficult time.
—Which other modern post-punk bands you are interested in?
—Preoccupations, Omni, Lithics and Drab Majesty are some that immediately come to mind.
—In most of our latest interviews with new bands, we end up talking about The Sound. I read that you liked them, why?
—I just think they were a really economic band – urgent and affecting without too much embellishment. The way their songs have no "fat" is an inspiration for us in the way we write and refine our music.
—How is the relationship of the band with the goth scene? Has the band been invited to any goth festival?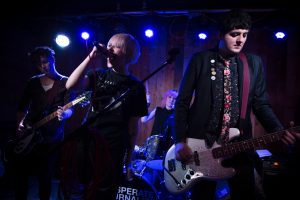 —We have played a few goth festivals, which have always been entertaining experiences as I really don't think we are a goth band at all. A lot of goths seem to like us, though, which is fine by us.
—Where do you find inspiration for your lyrics?
—Whatever I feel strongly enough about at the time, which is usually anxiety of some sort and/or romantic drama.
—I would say that there is some humor in your lyrics, or at least irony, as in Why are you so boring. What's this song about? Talking about lyrics, you said that you liked Momus, what do you think of his way of writing?
—That song is about irritating men with no sense of self-awareness and too great a sense of entitlement. There's a lot of it about.
I do like Momus a lot as he's relentlessly idiosyncratic and smart. "The Complete History of Sexual Jealousy Parts 17-24" is a brilliant sophisticated pop song. After listening to a whole album of his though I do sometimes want to whack him on the nose with a rolled-up newspaper for being quite so pretentious.
—I've read really good reviews of your concert in Madrid last year. We are friends of the promoters, Indypendientes. How do you remember the experience?
—We had a fantastic time and they treated us very well indeed. Thanks Indypendientes!
—How is your relation with Fierce Panda, your label?
—They're both very enthusiastic and very hands-off in terms of what we actually put out, which suits us fine!
—What are your plans for the future?
—Our third album, In Search of the Miraculous, will be out in February. I'm really looking forward to everyone hearing it and to playing the new songs live – it's a much more hopeful album, and much more epic-sounding than anything we've done thus far.
—What can we expect of your concert at the W Festival?
—Some newies, some oldies, you'll laugh, you'll cry, you'll hurl.
Photos : Nick JS Thompson