Definitivos recorded some punk classics made in Belgium, put Kortrijk  in the musical map and after some changes in the lineup,  they finally split up. But since 2010 they are back with the original lineup and the wisdom and experience that you only get with age. We talk with Rik Masselis, drummer of the classic Belgian act. They will play on Saturday at the W-Fest. Definitely punk. 
—You started playing with P.I.G.Z, one of the first Belgian punk bands. What can you tell us about your days in this band? There is only one single released, right?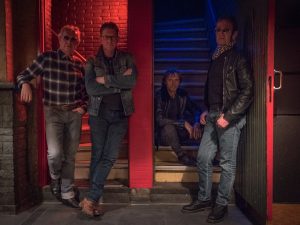 —Our first gig with P.I.G.Z. was as a support for The Runaways. Our second gig was the First Belgian Punk Contest, which we won. As a result, we were able to record a 12": Bloody Belgium/Shall I/ Stooges. We played quite some gigs with The Kids, and were support band for Iggy Pop. But due to interior struggles the band only lasted a year.
—Definitivos was the name of a brand of Portuguese cigarettes, why did the band choose that name?
—After the P.I.G.Z. split a friend who came back from holidays in Portugal gave me a pack of Definitivos cigarettes. My first thought was: If I'm ever in a band again, that should be the name. So, in fact we had the name before the band.
—How was the beginning of the band? We talked with Red Zebra last year and they said that seeing The Kids live was very important for them, did you like them?
—Of course, we like The Kids, they had a great impact on many Belgian bands. They remain one of the best live bands in our country. Other influences for us were bands such as Ramones, Undertones, Buzzcocks. Later Gang of Four, Killing Joke, etc.
—Thanks to W-F, we are learning a lot about Belgian punk/post-punk. Last year we also saw Struggler and this year your band. Which other bands do you recommend us?
—Red Zebra is definitely still going strong, but also Siglo XX. As for the new generation Whispering Sons.
—The band first single shares name with the first Pere Ubu album, did you like them?
—Oh yeah. Their song was released before ours, but it was coincidence it had the same title, because we were working on it long before recording it.
—How was The Modern Dance, your first single, received back in the day?
—We were about to split when we recorded The Modern Dance, it was all or nothing. We chose the same studio as Red Zebra did for "Can't live in a living room" because we liked the sound of it. If you listen to both songs you might hear the similar sound. 🙂  Once we released the single it was an instant success, and had to do a second pressing as soon as possible.
 —The band toured with DAF, their music was very different from yours. How was the tour? How did the public reacted?
—The public reacted very positively to our music, even if it wasn't what they might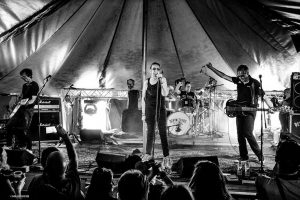 have expected. Even Herman Schueremans was impressed, and wanted to book us as a support for Bow Wow Wow, but we lost track of our singer Lucien, and had to cancel the show.
—How was Kortrijk in the eighties? Your second single is about your city, right?
—Courtrai was a boring city when we recorded our second single. Nothing really happened until places like Limelight and On the Beach brought bands such as Killing Joke, The Sound, A Certain Ratio, Tuxedomoon and many others to town.
—Courtrai Tonight/ Take over was produced by Serge Feys from TC Matic, how was working with him? Do you think he influenced in some way your sound?
—When we entered the ICP studios, we were very impressed. The Stranglers and OMD had just finished their recording sessions. But Serge was a very 'down to earth' guy, who made us feel comfortable. And yes, in some way he influenced our sound, because we used the same drum-kit and amplifiers as TC Matic.
—Do you vote Sp.a? We are asking this because Philippe De Coene was for time the singer of the band. How was being in a band with him? 
—Each member votes for his own persuade. Frank was a candidate for Sp.A elections. And being with De Coene was different but very funny.
—The music of Definitivos changed a lot in your third single, Sight Seeing, released in 1985. Do you think it's due to having new members in the band or just music was going in a different direction?
—Both, Philippe and Dominiek came with new ideas, but the music scene had changed as well. Serge Feys added some keyboards which also changed our sound.
—In your web page it's written than depression hit the Belgian music scene and the band came to an end? What really happened?
—I guess we just felt like 'ok, this was it'. Nobody's interested in us anymore. Philippe started a career as a politician, and we felt like something different.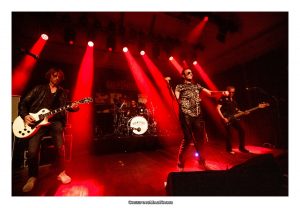 —How was your life after the band split up? Did you play in other bands?
—Philippe and Marnik left, and the three of us started to play something more like power rock, and changed the name to The Whydads. We recorded an album That's Why and toured with bands such as The Scabs, Aroma di Amore, La Muerte……The tour was called 'Harde Tijden' (Hard Times) and that was what it really was. Then everybody got married and raised a family, and that was the end.
 —What made the band come back in 2010?
—In 2007 we saw that on an internet site 'Killed by death' there was still a lot going on about "The modern dance". Somebody suggested that maybe it was time for a reunion. Frank, Dominiek and me got together again, and with a younger singer we did a few gigs as Relatinos. Later we decided it was time to bring Lucien back on stage, and we made our comeback on a monster truck driving through the streets of our hometown.
—The compilation of that year called Courtrai Tonight included a lot of songs recorded in 1984 but never released, can you tell us the story around these tracks? Why the band did not release the songs in the 80s?
—It was a demo for a mini lp, a record company got interested, but as we changed the lineup, it was impossible to release those songs.
—Since 2010 you have been touring, right? How is the public responding?
—Yes, we are touring again. I guess at first people were curious to see if 'the old guys' still had the touch. We were surprised to see that our fans are very loyal, and that younger people also come to our gigs. Getting original guitarist Peter back gave the band a boost over the last year.
—Last year, the band released a best of, called Courtrai Moderne: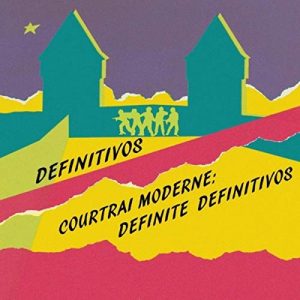 Definitive Definitivos with a new song. Plus, the band has released a new single, 18:38. Any plan of recording a full album?
—There are no plans for further recordings, but never say never.
—Lucien, the singer, broke one of his arms recently, right? Is he OK now?
—Lucien is a tough guy. He's recovering, and should be ok for W-Fest.
—What can we expect of your concert at W-Fest?
—We celebrate our anniversary with an overview of 40 years Definitivos: From "The Modern Dance" to "18:33".  Some songs have been re-arranged, others are played in their original form, plus maybe 2 or 3 covers.
Photo credits: Cover – Tom Der Stede / First and second photo – Gregory Vlieghe / Third photo – Creeping Mac Croki