I remember a comic strip where a Goth and a rapper look at each other, thinking: -What a weirdo!!. At the moment, I thought it was quite fun, as those two universes were quite distant, but nowadays, there are a few artists who have managed to mix both aesthetics in a singular way. And without any doubt, one of the most interesting projects is DALHIA, a sensational French duo that started three years ago. They are playing next Friday 4th March for the first time in Spain. It will take place at Cadavra Lounge in Madrid with Alegría! as a support act.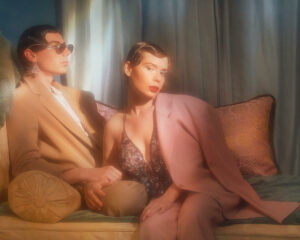 —DALHIA was created in 2019 by you, Rachel and Simon. How did you meet?
—Originally, it was me (Rachel) who created the project. I really wanted to represent the energy of rock'n'roll through electronic music. I was searching for someone open-minded, who wanted to experiment artistically, and I met Simon in Paris. We quickly decided to work together.
—How did you decide to mix hip-hop with darkwave? There are some artists that have taken Goth Culture and fused it with hip-hop as Ghostmane or the full horrorcore scene. Are you interested in any of this?
—I really like Ghostmane. I find it very powerful to mix two kinds of music in order to create something singular. To my mind, hip hop and dark wave are quite coherent together, and it allows for the exploration of many different universes and emotions.
—Your music has been repeatedly described as melancholic. Do you consider yourself melancholic people?
—Melancholic, not really. In my opinion, sadness and its whole palette of feeling, is just a part of life, which inevitably ends up in the music as well.
—Rachel, you are a declared feminist, do you think that the music industry is still sexist? Has the band experienced any sexist behaviour?
—I think the music industry is still very sexist. When I was a young musician, sexist aggressions were very frequent: being insulted, prevented from playing, having beer thrown our faces… And today, it unfortunately still happens. Many men still feel that women can't be technically competent.
 But happily, I do think that things are changing, and that some men are modifying their misogynistic ways of thinking. It's really important for women, but equally for men to embody feminism.
—What can you please tell us about the recording of your first EP Hide My Face? Was it difficult to get the sound you wanted?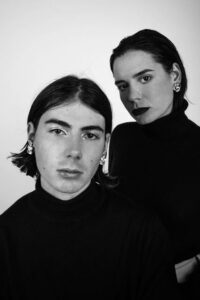 —We recorded the 1st EP at home. We produce all our own songs, with Simon and I each working on mixes independently, until we arrive at a sound we both really like.
—How do you see the violence of your lyrics? Do you use it as just part of the hip-hop culture? Or is it an expression of anger?
—There is an aspect of violence in the lyrics, and it's a reflection of what preoccupies our minds. Violence is also a part of life. It's important for us to let it express itself through our music.
—How is your approach to beat making? Contrary to most hip-hop bands, you have a drummer.
—Yes, because we aren't entirely a hip hop band. We like to modify and fuse different genres. For me it was important that we would have a live drum kit on stage, like the rock'n'roll bands.
—Also, in your lyrics, I find some conflict with the previous generation, or maybe it is a conflict against the status quo. Any experience that marked you in this aspect?
—Right, sometimes people from previous generations are painfully narrow-minded and stuck on old stereotypes. And I just don't accept that.
 —"Sublimation" is your take in modern RnB. Would you like to do more music in this direction?
—I would love to. I like the finesse of RNB, and the power of its melodies.
—You have made a cover for the benefit album entitled Sick Sad World: Can you please tell us a bit more about this? And why did you choose to cover Tokio Hotel?
—I was a huge Tokio Hotel fan when I was younger. I don't reject the bands I have liked. To me it's important to retain curiosity as an artist, even if that means we sometimes talk about corny bands.
The playlist was made during the first lockdown, and it was a great way for the bands to maintain their creative energy, and make some fun tracks.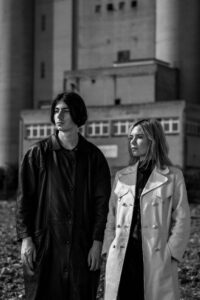 —What are your influences hip-hop-wise? Hip-Hop has always been kind of big in France (definitely more than in Spain).
—In modern RNB / hip hop, I like The Weeknd. Really love his synth parts and vox melodies. In France, I love: Casey, Virus, or the eternal old school Diam's.
—Rachel, you have cited Etienne Daho as an influence. What do you like of this artist? Do you like other French artists?
—I adore Etienne Daho so much. We are definitely influenced by the French Touch and all the movements post-French Touch. Artists like: Air, Phoenix, Sebastien Tellier, Christophe… We like the sounds that are part of that French electronic heritage.
 —How has the band lived these Covid days? Do you think it was more difficult to start a band in such a situation?
—It was definitely harder to start at this time. The hardest thing was not being able to go out and see other artists live. For us it's important to share music together with others. It was also hard not being able to play our first EP Hide My Face live.
—Simon, you are also part of Bad Pelicans, right? It's quite different from what you do with DALHIA, more garage rock, right? What can you please tell us of this?
—In both bands I like the power of the expression, and above all the stage presence.
—Rachel were you in any other band before creating DALHIA?
—I was playing in a rock band, but I was getting bored of rock'n'roll, so I started to work on Ableton Live.
—What can we please expect of your concert in Madrid?
—We are excited because we have a brand new live set and we can't wait to start a fire here with our awesome sound engineer, SATAN !