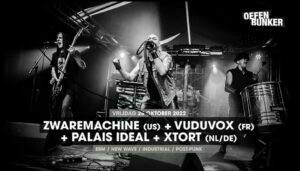 One of the bands we were most looking forward to seeing at the winter edition of Sinner's Day was Zwaremachine, as being Americans they don't usually play much on the old continent. But unfortunately, the festival had to be cancelled, leaving us with three days with no plans and flights to Belgium. Luckily, we saw that the electro-industrial band had taken advantage of their appearance at the Belgian festival to play other gigs in the surrounding area and without hesitation, we looked for the best date for us.
Tonight, they will be playing with our friends from Vuduvox, Cold Transmission band Palais Ideal and Dutch industrialist Xtort. Honestly, that's a great line-up, but sadly we have our flight tomorrow, so we won't be able to assist. But we recommend you to go to the Oefenbunker in Landgraaf to see these four great bands. We remind you that we have interviewed and reviewed Zwaremachine's albums and that Vuduvox have also appeared a few times on our website.
The second date of the mini tour, Saturday 29 in Nijmegen, is perfect for us, as we will be arriving tomorrow morning in Brussels. Tomorrow, together with Zwaremachine, we will have again Xtort and German electropop band Alphamay, so things are looking promising. We will try to tell you how the concert went and take some photos and videos.
On Sunday I guess the whole scene will be going to see Laibach in Arnhem, as the concert is sold out. But if you want to have a good Halloween on Monday, there is a party in Brussels with The Ultimate Dreamers and Partikul that looks really good.