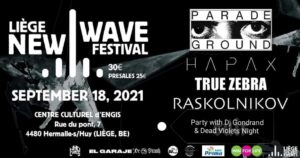 El Garaje de Frank co-founder and resident DJ, Dead Violets Night is going to have a quite busy September as she has been already booked for three gigs. The first one will be at the Liège New Wave Festival, on the 18th, where she will play a closing b2b set with DJ Gondrand. That will be after the concerts of Parade Ground, True Zebra, Hapax and Raskolnikov. We would like to remind you that the festival will take place without any Covid measures, so we will be able of enjoying the gigs as we used to do in the good old times. Another of the advantages of the festival is the length of the concerts that are always at least one hour long, so we will see four full sets. And, come one, it's Parade Ground 40th anniversary, we should be there to celebrate it.
Only two days later, she will be back in Madrid for another DJ-set, this time for Melting Pot Radio. It will be streamed but also some public will be able to come and see her live. Melting Pot is situated at Eugenio Salazar Street 48 in Madrid, and apart from the vinyl shop, they also do distribution (i.e., the records of Spanish label Barro are distributed by them). In their radio we can listen to some 100% vinyl DJ sets of a great variety of styles.
And on the 23rd, Dead Violets Night will be back at Bizarro, the popular night that takes place in Specka organized by Nöle. Together with Violaine and the once resident of Stardust, the line-up will include Santo, one of the founders of the legendary club and a real guarantee of good music. After the Summer one-month stop, Bizarro will be back on the 16th with some really good names: Nico Deadwax and Lamari (whose DJs skills can be checked in the set he did for us). And the last party of the month will be with our friend, HB1K, boss of Xtraperlo Records and Gon Posse. The bizarre thing will be to stay at home.