This summer I met some friends to have a drink and they surprised me with a present: The Neon Judgement's TV Treated/The Fashion Part, a single where both sides are just perfect. And as a gift, it was just perfect for me. And this new EP by DD Sanchez, the duo of Dirk Da Davo and Mexican bass player Sanchez is just another perfect present, this time for all of us who fell in love with the music of both bands starting with Neon, The Neon Judgement and also Neon Electronics.  
This is the second collaboration between both musicians after the 4-track digital EP Z released on Dancedelic-d in July 2019. Now, they have released this half an hour EP where Sanchez proves to be the perfect companion for Dirk Da Davo in the creation of the dark tex-mex that the Belgian musician has been developing since Horny As Hell. The record has been recorded in Punta Mita, Mexico and is impregnated of this feeling of strangeness that Covid-19 has brought to our lives. You can find the EP here.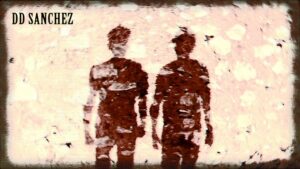 The best song of the EP is "Where Stranger Pass By", a funny tex-mex track, really addictive with a dirty and provocative guitar work. If you were lost on a highway in the deepest of the American western and you finally could find a bar, it wouldn't matter how dodgy it looked as far as the radio were playing this song. The EP continues with The Door's classic "People are strange", a song some of us listened for the first time thanks to the Lost Boys movie. The original already contains that feeling of being lost in a godforsaken place. The rhythm of the track is incredibly playful and deceitful so when you think that it's going to get faster, it returns to the previous beat. Coyotes or crying wolves appear at the beginning of the almost instrumental "Grow Strange", a slow and disturbing track with distorted voices. In some moments of my life, it will be my favorite track of the EP. We continue in the strange mood with another instrumental "How Strange Can You Get" with elements of the melody of "People are strange", but more suitable for the dance floor and also some sounds that work as a link with the first tune. Next, there is an instrumental take of the first track, that proves that even without vocals, the song is extremely catchy.
As bonus tracks, we can find two songs from their previous EP: "Rainbow" and "Shine The Light", the first one more danceable, the second deliciously strange. And the album comes to an end with a radio edit of "When Strangers Pass By", for those who never have enough.