VIDEO – Fatal Casualties' "O.N.G."
Today we present the new video of Fatal Casualties: "O.N.G." where we can see how the Swedish artist Tomas Lacke creates a abstract painting just for the track. In the video we see how the painter and sculptor paints "Mitt rum" while we hear the new song of Fatal Casualties.
Fatal Casualties were active during 1986 to 1991 and they reunited in 2010. They have published a couple of albums that can be heard in the Bandcamp of the Seja Records label. You can also read our interview to the band here.
---
CD – Yahatahachiman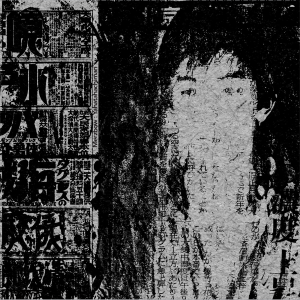 What a great surprise to see that Other Voices Records has reissued on CD Yahatahachiman, originally released in 1983 by the Japanese artist Merzbow, one of the pioneers of noise music. 1983 was a very busy year for Masami Akita (who worked with Kiyoshi Mizutani until 1989). He released Material Action 2 N.A.M., the Dying Mapa trilogy and Mechanization Takes Command among many others. Yahatahachiman contains five tracks, one of them of more than 20 minutes, representative of the early period of the Japanese artist, before he started being interested in Death Metal and Grindcore. It's a very unusual album in the discography of the noise master and he never really liked it because it had too many guitars and synths for his taste. This remastered version was published before as an LP, included in the Lowest Music and Arts 1980–1983 box and originally as a cassette released on Merzbow own label ZSF Produkt.
Merzbow is one of the most personal and prolific musicians of the last decades. He has recorded more than three hundred records and worked with artists like Wolf Eyes, Alessandro Cortini, Boris, Richard Pinhas, Thurston Moore or Jim O'Rourke. His live performances are a real challenge for the senses as I could experience during his concert in Milan.
The present release is a perfect way to get initiated in the world of this creator of extreme music. It's going to be a limited edition of 200 copies (or 199, after I got mine) and will be available also in digital download.
---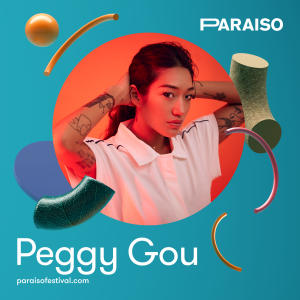 FESTIVAL – New confirmations of Paraíso Festival
Three new artists join the already very interesting line-up of the electronic festival Paraíso, that takes place in Madrid. Starting with Peggy Gou, one of the trendiest DJs of the moment whose name is getting bigger and bigger in all the electronic festivals. We have seen her DJing a few times ( and we will see her again before the festival) and she knew how to deal with a techno session, but also with a house and disco one. Also, she has remixed Shakedown's "At Night," tune that we have heard so many times in Madrid, in all the afters that used to keep us dancing all morning and that we are looking forward to listening again. Together with the Korean DJ, we have Moscoman, owner of the Disco Halal label and member of this new group of musicians from Israel, although he is living now in Berlin. If you are looking for a different, personal session, he is your man. Last but not least, IAMDDB, the new queen of the English underground, that will keep us jumping with her mixture of hip-hop, R'n'B and soul.
13 acts are still to be confirmed, 12 of them will play on the new Nido stage, which will focus on the electronic scene of Madrid. Soon we will publish our peculiar list of recommendations.
---
RECORD – Parade Ground publishes live record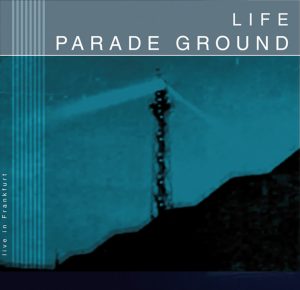 Parade Ground has just published their first live album, where together with six of their classic songs, we can hear five tunes from the next album of the EBM and Coldwave pioneers.
The concert was recorded in Frankfurt, with the help of Patrick Codenys (Front 242) and is a perfect sample of the intensity of the duo's performances. If you have already seen them live, it's a great souvenir and a way of recreating such an incredible experience at home. If you haven't listened to "Moans" or "Strange World" live, it will make you consider, "What have I done with my life?"
The album has been published by VUZ Records sand you can listen to it and buy it here.
---
TOUR – Zwaremachine and I Ya Toyah on tour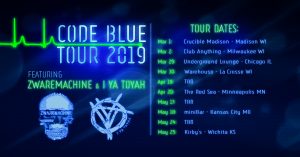 Zwaremachine and I Ya Toyah have announced co-headlined tour Code Blue that is coming to multiple Midwest cities including Madison, Milwaukee, Chicago, Minneapolis, La Crosse, Kansas City and more still not announced! Tour dates start March 1st through May.
In conjunction with the Code Blue tour Mach Fox and I Ya Toyah are releasing a single titled "Smile That Killed A Country" which features both artists as well as Zwaremachine bassist D-bot. This track will be available on bandcamp and performed live exclusively at these shows.
"Smile That Killed A Country" will be released on Feb. 18th 2019 and purchasing this single is a chance to support the artists at the same time that you enjoy a very powerful song.
As we advanced yesterday, we will have the chance to see Zwaremachine again in Europe as the band will be playing at the New Wave Festival in Flémalle-Haute, near Liège on the 21st of September.