One of the difficult things of reviewing records, is that sometimes, one of them really surprises you, finding you out of your comfort/knowledge zone and it's quite difficult to analyze its music. Although their name looks like a Wi-Fi key, xDZVØNx is a Polish duo that, according to their Facebook page, plays "Brytalistic Synths" and that, according to Bandcamp and Discogs, mixes darkwave, glitch, noisepop, post-punk, ravepunk, witch house, techno and Hip-Hop. Surprised? Way more surprising it's the music of the album we are writing about because together with all these styles, we can feel the influence of 8-bit music that it's one of the elements that gives some unity to the album. Regarding the band, we know that xDZVØNx released their first album, titled Tape_1 in July 2018 and after that, they published their EP MAYKO in October last year. And recently they have finished this Everything We Dreamt About, an album that we have really loved but also made us check all the internet looking for something similar, with no result.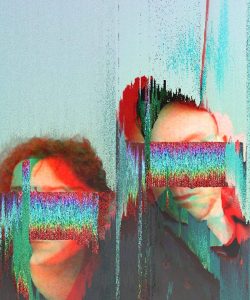 The album starts really dark with the short intro with an 80s vibe "Why I Called You", which more than working as a proper introduction to the atmosphere of the album tries to keep the listener with the low guard so to surprise him with the following track. And that's how "Face By Face", manages to knock you down with its dark electronica with distorted voices, a real bomb with a saturated sound and at the same time very catchy. With a playful rhythm, we arrive to "The Final Boss", where not only the title it's a reference to video games, we can also listen to some sounds that seems originated by a console, something that it's going to be repeated all along the album. The same rhythm continues in the following "Panic", where some faltering voices are heard, given a more nightmarish atmosphere to the song, that after a short stop continues with a second part with more 8-bit sounds and a masculine voice, that sound a bit like modern RnB. We continue with "Pray", with a start more minimal synth/electro but bit by bit the BPM increases until you see yourself dancing without caring about the disturbing synths. A powerful bass line introduces "Bubbles", a ghostly and sensual track adorned with more video games sounds. Just the way the future commercial music should sound. "You Have To Be Alone" is dark electronic with industrial influences with some extreme intensity that takes you to place where only musicians like Anna Von Hausswolff or Lingua Ignota have visited before. Completely different is "I Want to Find This Girl" with distorted voices and a dreamy atmosphere, close to dream pop. Another change of style comes with "Litzmannstadt (feat. Belmondo)" another dark track with Belmondo rapping. The album comes back to the dance floor with the electro sound of "Playground". The Punk Square was still not checked so it's the turn of "I Will Vomit Glitter", punk even in the name and display of raw energy. "No Eyes" starts like synthpop but instead of chorus has some explosions of noise and more video games sounds. "Stupid Smile" could be a hit single in a dytopian future and it's again a difficult track to classify with an ending where can hear the melody of Twin Peaks. The album finishes with the heavy and dark hip-hop of "I am Saint".
Few albums have surprised that much as this Everything We Dreamt About, an impossible mix of styles that manages to keep the coherence inside the album. The new album by xDZVØNx is a work that you have to listen to without any prejudice, with an open mind and ready to be continually surprised.