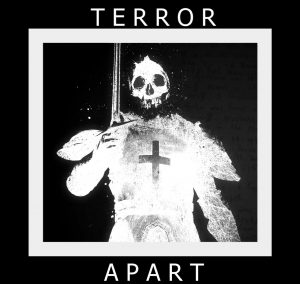 The new reference of Other Voices Record, Terror Apart's Knight Rider is a very limited edition of 50 cassettes. Terror Apart is the project of Anna Leja, whose first reference, also a cassette published in 2001 called Beyond the Blue, was followed by two works of dark ambient and experimental electronics: Standard Deviation and A New Reign. Knight Rider from 2016 was her first long player, that was followed by the album Engulf in 2017.
Knight Rider is a record of industrial music, our favorite style at El Garaje. On the cover, the skeleton of a Templar welcomes us and at the same time reminds us of the Spanish horror saga, "Tombs of the Blind Dead".  The intro starts with some Middle East influences (that remembers Cabaret Voltaire's Three Mantras) and spoken word with distorted voices. Dark, evil but at the same time very beautiful. The next track, "Into the Sun" is morbidly sensual. It's a song that turns you on and the same time makes you feel bad for it. In "Head in", we have some tribal percussions along with the dispassionate singing of  Anna. We continue with "Mammoth", with a very oppressive atmosphere where only a ray of light appears occasionally in the form of some guitars. To continue with the disturbing atmosphere, some samples of crying babies guide us to the end of the song and of the A-side.
The B-side starts with "My House", so far with the catchiest melody of the album, with Anna repeating a litany accompanied by strange noises and a central part that can remind us some works by Swans. It's the track I like the most. Knight Rider continues with the ethereal singing of the ghostly "Glasping Hands" and the cover of one of Eurythmics' first singles "4X4 in Leather" that at the beginning sounds a bit like Dead Can Dance but soon reaches a level in darkness never dreamed by Annie Lennox and Dave Steward. The most experimental and industrial moment belongs to the song that titles the album: "Knight Rider" bursts in noisily and hits you continuously, even with some acoustic whips. If someone thought that because of the inclusion of the song by Eurythmics, this part was going to be more conventional, "Last Frost" shares inspiration with the previous track, but is a strange industrial ritual. The album calls an end with "Feeding Hour", where apocalyptical trumpets accompany some industrial percussions finishing an album that will  haunt you forever.
Only 50 lucky listeners will have this edition. Are you sure that you don' t want to be one of them?