The new reference of the label Other Voices Records is an anthology of Altar De Fey. Original Sin: An Anthology of The Early Years brings you 11 songs recorded between 1984 and 1986, including demos, rehearsals and live recordings. It's going to be a very limited edition: only 300 LPs, 300 CDs and a 25-unit Deluxe Box set with the LP, CD, Tape, a T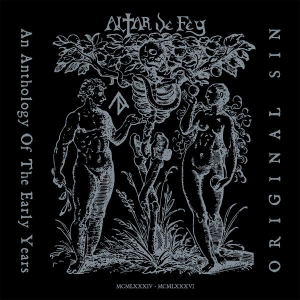 -shirt and a patch. Although the sale is not going to start until August 25, the presale has already started. The album can be ordered here.
Altar De Fey, an American band from San Francisco were one of the first acts of what was later called Deathrock, style forever linked to Christian Death. Altar De Fey did not release anything during the five years the band was active, so this compilation is the only sample of how they sounded. A few years ago, in 2011, the band reunited, this time with only two of the founder members, Aleph Kali and Kent Cates and have recorded two new albums, Echoes in the corridor and The Insatiable Desire… For More.
The compilation, originally published as a cassette four years ago, includes nine songs of the band ("My Bone" and "Veil of Death" appear twice, once in demo versions and together in a live recording from the Club Vis a Vis) and a cover of "She's Fun," original of the San Francisco punk band The Sleepers.