A zebra, and specially a true zebra, symbolizes a lot of things: the meeting of the opposites, the paradoxical being, and the tension of the universe. We guess Kevin Strauwen had some of these things in mind when he named his project True Zebra. Sadly, he won't be at the Liège New Wave Festival due to a hospitalization he commented on the interview. We wish Kevin a quick recovery and we hope to see him live soon.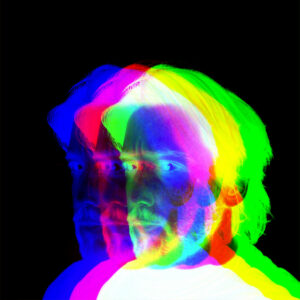 —Last year, you released a couple of compilations, called Moving Sound and Music for Film and Moving Wave and Music for Film with material recorded between 1998 and 2001 and 2008 and 2015. Can you please tell us about this? Did you want to focus your career in soundtracks?
—I've made a few short films in the past and it always resulted in developing the sound world. Making sounds has always been important to me and my choices in life were made with a mind set where I would still be able to make music. So I chose experimental movie during my studies, for example. This always gave me an excuse to create sound. Some songs are from my own projects, old songs, for other directors and made up films. I'm always open to work on film music, it flows pretty naturally but in a world filled with nepotism and the soundtrack world is a difficult factory I don't see it happening too soon. It's already difficult for me to arrange and do everything myself with True Zebra. The administration, selling yourself, organising, reading reviews, … sometimes it's too much for my soul without a buffer. I'm returning to making music for myself and my loved ones. A third soundtrack album will follow one day. There are some unused sections from a dance performance and other songs.
—You describe the sound/spirit of the project as "conceived as rock but with electronic techniques." What bands that have walked this path have influenced you? Depeche Mode with their Songs of love and devotion? NIN? You said that the Downward Spiral was your favorite album, right?
—I remember buying Prince's Batman album and looking at promo pictures of him alone with gear with the sentence: All vocals and instruments by Prince. "Electric Chair" for me still is the best Prince song with such a great mix from Chris Lord-Alge. When I discovered NIN's Pretty Hate Machine, I saw "NIN is Trent Reznor". It showed me again you can do it yourself. Of course at that age I did not realise the management and creative team behind the persons. The reason why NIN is important is because it is the first band I discovered myself without any influence from friends or family. NIN was mine and it opened my view on other genre's like industrial.
Depeche Mode never really was an influence, first album I had was Ultra and I only bought their full discography a few years ago, I was more into Recoil. I've always been more interested into guitars (The Beatles, PJ Harvey, AC/DC, Tool…) and that developed into guitars with electronics. Psalm 69 and Broken was very big for me. Downward Spiral was an orgasm. That era fell into place, underground culture and music it all made sense. When I started my first songs, they were more inspired by freak shows, horror with guitar riffs like Marilyn Manson and Ministry. Later on LCD Soundsystem, Fischerspooner, NIN, Einstürzende Neubauten and Front 242 joined.
—The first name of the project was Uncertain boxed savior, right? Why did you change it to True Zebra?
—Uncertain boxed saviour is the title from a multimedia work I made in 1999. The song with that title is on the first "soundtrack" album. The difference is that the soundtrack UBS was quadraphonic. When using UBS for a few years, I noticed the name was too difficult to remember. UBS -shorten- was easy but the "soul" behind the complete name couldn't be remembered.
—How was the sound of True Zebra (or UBS) when you first had the idea of creating the project in 2004?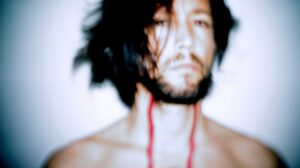 —The idea of UBS started in 2001 being an electronic side project next to .off. the more guitar-driven side (a couple of songs appear on the first soundtrack album).
True Zebra is actually a marriage between the two. I try to make songs I would like to listen to and it can become diverse. I used to have different names for different projects but one day I decided why the trouble. Be simple, be organic, be basic and tell chapters. Everything is possible in those chapters.
—You have named Fischerspooner as an influence. How have the authors of Emerge been important for your music? Do you think that this influence is more strongly heard in your first album or there is a bit of Fischerspooner in every all your works?
—When staying in Los Angeles for a year everything I worked on was rock and Industrial was always looming. I returned in the summer of 2001 and I saw Fischerspooner's "Emerge" clip on a German music channel. That just blew me away. Goodbye was the euro dance. This was minimalistic, great look, a song and alternative. No Swedish hit factory. One of the first songs written in response to the electro scene was EX (SEX). I wanted it to be very minimal. The first ep was also very much influenced by Alec Empire's Intelligence and Sacrifice.
—How do you see your first album now, eleven years after its release?
—I think I finished recording early 2009. Released it first as the debut album by UBS. "Releasing" was just sending out copies to receive gigs and try to get some press. I still understand the album, where I was at that time. "Conversion" is probably the least favorite song but I still know what I tried to do. Getting some Wendy Carlos influence in there.
—How has your experience as a sound engineer helped create the sound of True Zebra?
—I'm a very different mixer now than I was yesterday. I don't think I have a very hip/popular/standard sound but what I can achieve now I'm really liking it and is different from what's out there. It's always a learning process and very philosophical for me. Reduct and construct.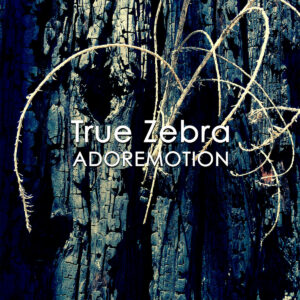 —I think that there is a big improvement in Adoremotion where you kind of find your proper style. Back in the day you said that it was an album about emotions and that it was more electronic and at the same time more guitar driven. Is it easier for you to express your feelings with electronic or with rock music?
—Lazyness sometimes results in more electronic music. I was in a less emotional turmoil back then. Emotions can block me.
I like good drums, bass synth, heavy guitars and good vocals. I don't ask much 😉
—How did you get the idea for War of the words? You sampled Los Angeles noises and put them into your song. Were you interested in any artist specialized in Field recordings?
—My favorite second home is Los Angeles. I sampled it because I was staying 6 weeks, a relation just ended and trying to find focus again I told myself to at least write one idea per day. Out of those fragments 2 or 3 songs evolved. I still had to release Adoremotion a few weeks later. The Adoremotion artwork is from LA, a burned tree from a forest fire. A lot changed in 2014 and the years after. No job, no place to stay, relationship gone, another one suddenly broken off… for me I can hear it in War of the words album. The noise, being lost, the start of destructing of the iconification and my least favorite mixing job. It's unfocused because I was getting lost, didn't know how to do things anymore.
—A question taken from your own Bandcamp. When forced to choose, will True Zebra choose fulfillment of his sexual will over logic?
—The battle is the main focus but you should always go for the deepest connection which is the unexplainable. The album is about that. Connection you can't describe. Was it just good sex? Was it love? Was it trauma triggers? It's none of the above. It's a battle utopia.
—Idiorhythmic is so far your last work. Did you work in a different way compared with the previous albums?
—The emotional battle was the most difficult one. Releasing it was also a burden. It's different for me because this is a switch to a new era.
—According to you, Idiorhythmic is full of songs about the collapse of the self and the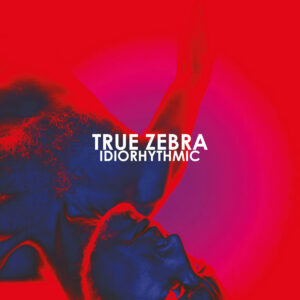 resulting disconnect with love. How autobiographical are your albums, especially this last one?
—The core and soul on this album is the most autobiographical one. A concept and some rules come up early but many times I have no full comprehension what's it about until later, even after it's released. Words come out during an improvisational vocal melody search. Subconscience rambling. "Idiorhythmic" had a theme and concept from the start, that's the title. It's a story and progress. This is more together than the other albums. Every song on every album has some words and meanings from me but I'm still investigating others and myself as a voyeur. It's difficult to say this sentence is about me because the first half might be but the second isn't.
—Weird Sex was the remix album of Idiorhythmic with Implant, Intens and other artists. How did you choose the producers you wanted to work on your songs?
—I actually wanted to do a remix album with only female musicians. Onrust was first on my list and to my joy she said yes but it was very hard to find other musicians. Some didn't have time, one didn't want to be on an only female album and most of them just did not reply. Because the original album was already difficult for me bringing it out to the open I switched to my other idea, the men would get a remix with 3 singles turned into the album. I adore Crash Course in Science and was thrilled they said yes. Implant, Intens and Hantrax are amazing and I knew they would bring it someplace else.
—How did you select the songs for 123, True Zebra's compilation?
—At that time, there were the songs I mostly performed or were popular in reviews.
—You are also part of The Juggernauts, a band that we should interview in the future as they are going to play at Darkmad and Sinner's Day. Can you please tell us when did you start working with them?
—I filled in on a gig or 3 doing some keyboards. That evolved into me doing drums when Glenn left. It's a very relaxed and fun club house.
—How has the pandemic affected your career?
—What career? 😉 Whatever happens, I will always make music.
—What are your plans for the future?
—I haven't decided yet as plans/concepts change. I might want to do more mixing albums but nothing finalized concerning True Zebra except it will be music for myself and loved ones. A recovery from life, a pandemic and a last minute scheduled operation for me. We got to move on.