The Sea At Midnight, a dreamy darkwave project from California, inundated our lives just a couple of years ago, leaving a trail of melancholy behind. His first album, released during the awful 2020, was one of the only positive things of that year, as we saw in it a ray of hope in the middle of the general sadness. Today finally, it's Vince Grant who talks about his music in this interesting and deep interview. His new album will be released on the 1st of April, but meanwhile we can listen to his latest EP Oceans. 
Header photo: Anastasia Paveloff
—In the past you played in some bands, as you have commented in some interviews. Can you please tell us more about this? Did you record any material with them?
—The first band I joined was when I was in college. I had no musical experience. Didn't play an instrument and had no formal vocal training. Did take a folk guitar class in high school, but I was terrible. Had no aptitude for it and didn't particularly enjoy it either, so after that class ended didn't continue playing. Years later in college I was at a show and a guy walks up to me at the bar and says, "I want you to be the singer in my band.". I was completely taken by surprise. Had no idea who this person was and had never sung in a band before. To have a complete stranger ask me to be the singer in their band was so random and it threw me off for a second. After getting my bearings, responded that I didn't think I was the person for the job as I'd never sung, at least in public, but he said that they were an original band and needed someone to write the lyrics. He asked, "You write poetry, don't you?" It was actually more of a statement than a question. At the time I was fond of wearing a khaki-green trench coat around campus a la Ian Curtis with a Joy Division pin, so think he had me pegged as a wannabe poet. He also told me the other guys in the band had seen me at shows around town and wearing tee shirts on campus of bands they liked, so they thought I'd be a good fit. Replied that I did in fact write poetry and he said why don't you just bring your poetry book to the rehearsal space and have a go. A few days later showed up at their rehearsal space with my poetry book and there was a microphone, two guitar players, a bassist and a drummer. They played their original songs and I sang what would become the basis for my first lyrics out of my poetry book. After that initial jam session, they said I was in and that was how this whole musical journey began for me. It was sort of songwriter by fire as here I was in my first band and immediately thrust into the role of lyricist and writing songs from that very first rehearsal.
After college I moved back to Chicago, where I'm originally from, and joined another original band as just the singer. Their songs were already written, so they didn't need any help in that area. My band from college had played a few shows with them in Chicago and they asked me to join as they needed a new vocalist. After college, at the age of 23, I bought my first guitar and started writing my own songs while in this band. Eventually I brought some of my original compositions to them and we started playing a couple of them live.
In regards to recordings of my earlier work, back in those days you recorded "demo tapes" and everything was on cassette. Was in two bands later on that put out EPs on CD. This was all in the pre-streaming stone age. Think there are a few old cassettes and CDs somewhere in my parents' basement.
—You were living in New York and Los Angeles in the late eighties and beginning of the 90s. How was your life back then?
—After the band in Chicago broke up, had a batch of songs I'd written and wanted to form a band to play them. I'd been showing them to my brother Chris, who's a great guitar player, and he wanted to be in the band with me, but we both wanted to move on from Chicago so we headed to Los Angeles. We arrived in Los Angeles in 1989 and it was wild. At the time hair metal was all the rage in LA and the dominant musical scene. Guns and Roses were huge and the Sunset Strip was like Mardi Gras every night. Bands were playing every night and packs of rockers roamed the strip going in and out of the Whiskey-A-Go-Go, the Roxy, Gazarri's, the Rainbow. We got there in May and that first summer we busked on Venice Beach playing my songs. We both played acoustic guitar and Chris played some harmonica as well. We got an apartment in Venice and it's amazing to think that back in those times a couple of broke musicians could afford to live in Venice Beach. For a couple of guys from Chicago suddenly living six blocks from the ocean, it was pretty surreal. People who saw us busking on the Venice boardwalk booked us for acoustic shows at bars, coffee shops and parties. Once we were on the local acoustic circuit, we started meeting other musicians and formed a five-piece rock band. I was the songwriter, but live was just the frontman, only playing acoustic on a couple of the slower numbers. Our band became somewhat popular and for three straight years we played over a hundred shows per year and did some regional touring. On one of those tours, we played 48 shows in 52 days. During this time we also opened up for the Gin Blossoms and other bigger acts like the Sidewinders. I was a huge Plimsouls fan and we also opened for Peter Case a couple of times. We also recorded an EP which came to the attention of IRS Records and they ended up distributing it. There was talk that it was a test and if we did well might be signed to the label, but they closed up shop within a year.
Eventually the band broke up and unfortunately by that time I was pretty much an alcoholic. My brother told me, "I'm tired of you drinking your pay checks" and he decided to forge his own life in California without me. I had a fascination with New York, specifically the East Village. I'd been there before and had fallen in love with it, so when my brother and I split up I headed for New York. Back then New York was still dirty and somewhat dangerous. It was before Times Square had been turned into a tourist Disneyland. It was all peep shows, seedy bars, drug deals. There were cab drivers who refused to go there at night. Once again, like Venice, it's crazy to think you could afford to live in the East Village back then on not much money. It was all musicians and artists of every stripe. I had my own large studio apartment off Tompkins Square Park. Iggy Pop lived around the corner from me and I'd see him walking around the neighbourhood.
In New York I didn't want to be just the singer anymore. Wanted to play electric guitar live. I temporarily joined a band as the singer/rhythm guitar player and then set about forming my own band. I'd met some musicians in the East Village and we played a couple of parties with my songs. After about a year in New York, my brother and I were talking again. I'd temporarily cleaned up my act and he decided to move to New York and join me. We put together a band, made a demo tape and started playing bars and clubs all over the city. It was incredible. There were so many places to play back then. Being a gigging musician in New York was one of the most memorable periods in my life.
My brother didn't particularly care for New York and we eventually moved back to Los Angeles together and put another band together, but after a couple of years I really missed New York and moved back once again alone. Never ended up putting a band together, although I did regularly play solo acoustic shows, many at the venues I'd played in my previous time living there. Unfortunately, this coincided with rents skyrocketing in the city and everything was becoming prohibitively expensive. Times Square became what is is today, Greenwich Village got cleaned up and money was in the air. After a while I literally could not afford to live there anymore. At the end of that stay, I'd moved out to Brooklyn and this was before the mass exodus out there from Manhattan and Brooklyn was far from the thing it is nowadays. There were no venues to play at, no record stores, no nightlife except for the local bars that had been there forever, so one more time I moved back to Los Angeles and my brother and I started yet another band. We put out an EP on CD and ended up playing gigs regularly all over Los Angeles. After a few years of playing out, recording, etc. the band eventually split up. Think that collectively we were burnt out physically and mentally. Tired of banging our heads against this industry wall that we couldn't get through or seem to scale while all the while working day jobs to stay afloat.
—For an American, you have named a lot of English influences (The Cure, Joy Division, Echo and the Bunnymen, New Order, Siouxsie and the Banshees). Any Goth American band that have influenced you?
—I liked Christian Death, Swans and the Cruxshadows quite a bit. To me, early REM was a goth band. They are the quintessential American Southern Gothic band. The musical equivalent of William Faulkner. I loved the early REM releases, especially the first two albums and EP. They lost me around the fifth album, but every year I go through an REM phase and listen to those early releases. There is something other worldly and timeless about those first records for me.
—You met Chris King after reading an add in Craigslist. You already knew his band Cold Showers, what did you like of their music?
—First and foremost, the songs are amazing. They're this perfect mix of darkwave, coldwave and shoegaze. In addition, Chris King's production is so lush, dark and dense and I love his guitar playing. It's so creative and distinct. Coupled with Jon's unique voice, they have such an unmistakable sound that really resonates with me.
—In an interview, you said that, at that moment, you thought your days in bands were over. Why? Were you tired of working with other musicians?
—I wasn't tired of working with other musicians. More like I was tired of the grind of being a musician. Working during the day to make ends meet and trying to play music on nights and weekends. Also, spending most of my disposable income on music expenses, while not making any money from it. Plus, I was getting older and I'd never had a career, just a series of jobs to make rent while pursuing music, and the realization that the music dream had probably sailed hit me pretty hard. I sold all of my equipment, quit playing music entirely and at one point didn't even own a guitar for five years. Even stopped listening to music for a couple of years because it was just too painful. I felt like a complete failure and spiralled into a deep depression that went on for a number of years. Felt like I'd wasted my life or something and needed to make up for lost time. Studied to try and get into law school, then went to night school for a year to become a nurse and then to night school to pursue something in the criminal justice field, but my heart wasn't in any of it, which further exacerbated my depression.
—Your song "Melancholia" is about that depression you are talking about. Do you consider writing about it as part of the therapeutic process?
—Writing about depression is definitely part of the therapeutic process for me. I write songs to cope with all my afflictions. The lyrical themes of many of my songs revolve around depression and my struggles with alcohol and drug addiction. Sometimes all three.
—Back to Chris King, he brought Brandon Pierce in, right? He is doing the drum programming, how is working with him? He is more a rock drummer, isn't he?
—Chris King did bring in Brandon Pierce to do the drum programming on the debut album. It was an absolute joy working with Brandon. Playing in bands throughout the years and dealing with so many musicians, Brandon was by far one of the best experiences I've ever had collaborating with another musician. In addition to being immensely talented and wonderfully creative, he's an incredibly nice guy. On top of that, he has a wonderful sense of humor and he didn't display an ounce of ego. He always wanted to do what was best for the song and he genuinely seemed to want me to be happy during the process. The way we worked was Chris and I would record an acoustic version of the song and email it to Brandon. He'd send us back a drum track and then Chris and I would proceed to build the song from there. The first acoustic version we sent Brandon he wrote me back one line, "Do you like Killing Joke?" I definitely said and in almost no time he sent back this incredible drum track. It was just perfect. On another song we sent he wrote us back, "I'm feeling New Order/Manchester vibes on this one." I said go for it and once again he sent back a killer drum track. You can see how easy it was to work with Brandon. I absolutely love all his drum tracks on the debut.
On the new album, Chris did the drum programming. He had been doing a lot of the drum programming on his own stuff and for other clients, so he asked if he could make a first run at them, but if I didn't like them or he felt he didn't have the right idea we would get Brandon involved again, but we ended up using all of Chris' tracks. I didn't realize it while recording the first album, but turns out among his other many talents he's highly skilled at drum programming. He'd bring in awesome templates and then he'd ask for my input, so I had the chance to be much more involved with editing the drums and making creative decisions on things like fills, cymbal placement, patterns, etc. on the second album. It was a lot of fun. For instance, he would bring in a track with say two different patterns on a part and ask me which one I liked best. Or we'd experiment with using a ride cymbal on a section versus a hi-hat pattern. Things of that nature. It was really cool to help.
—In the name of the band and also in a lot of your songs you have used the sea as a metaphor. What does it represent to you?
—I've often wondered myself what it represents for me and why I'm so drawn towards it both physically and metaphorically. It's raw natural beauty just speaks to me for some reason. It's immense power and vastness. The way it looks so different at certain times of the day. Sunset, sunrise, under moonlight. Lit up under a full moon. It has many moods. It can be calm, flat or have gentle undulating waves that flow in to shore in a regular pattern as if it's in an almost meditative state, or it can be stormy, angry with thrashing waves. It's endlessly fascinating to see it under different light and weather conditions. It stirs my emotions and makes me feel things in an intense way sometimes.
—Was it easy to compose your first album? How long did it take you?
—Sometimes the songwriting process is easy and seems to come effortlessly. At other times it's slow and tortuous. Honestly can't remember how long it took me. Didn't think I was composing an album when I wrote those songs. Thought I'd never record again and was just writing songs as a creative outlet to release my emotions. When I first met Chris had no intention of recording. Then we decided to do a single together. Two songs. After that we decided to do a five song EP and then we kept going and ended up with an eight song album. There wasn't ever a thought that I was writing an album. It just organically came about.
—I think that what makes The Sea At Midnight a project so special, it's that you can feel real emotions in your songs. Something that sadly doesn't happen too often. Is it difficult for you to put your feelings, show your soul in your compositions?
—It's not difficult at all for me to share my feelings in my compositions. To honestly explore my emotions is the primary reason I write songs. Sometimes it's in a therapeutic way to deal with what psychically ails me and other times it is to express positive emotions such as joy.
—For some of us, your music has been the soundtrack for this pandemic days. Do you think that in a way the songs have the same feelings of sadness and hope most of us shared at the time?
—I do tend toward melancholy. It seems to be the way I'm wired. I've never shied away from sadness. It intrigues me. As I said previously, a lot of the songs portray me grappling with lifelong depression, but there is also something inside of me, a little voice, that won't concede complete defeat. On many of my darker songs, there is still a glimmer of hope.
—Some of the songs are also about your struggles with alcohol and drug addiction. Do you think they can help other people with the same problems?
—People have actually told me many times that my songs have helped them deal with problems around alcohol and drug addiction. Others have even remarked it has helped them understand loved ones better that struggle with alcohol and drugs. The same with depression.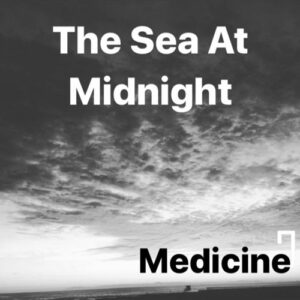 —"Medicine" is about ways we cope and deal with emotional pain, as you said in an interview. I guess you refer both to drugs and painkillers. As a person who had a difficult past, as you have confessed, do you think that they can sometimes be necessary or is it better to face the pain?
—There was a certain time in my life that drugs and alcohol were necessary to deal with my emotional pain, but then they turned on me and made it worse. The substances I was using to blunt and escape my pain almost killed me. At that point the only way out of my addictions was to face the pain. I can't speak for anyone else, but for me personally it was a matter of life and death. Either face the pain or risk dying if I kept drinking and using drugs.
—"Edge Of The World" is one of my favorite songs of the last years. You said that it's about remorse for the things you did in the past. So we could say another side of your songs is about making amends. Do you think the song has reached people you think you have wronged? Are they feeling better thanks to the song?
—I made direct amends to the people I hurt and wronged. Some people I made amends hear "Edge Of The World" and knew what it was about right away. They didn't specifically say they felt better because of it, but I could sense from some of them that they appreciated it. They could tell I was bothered, at times haunted, by my actions and some remarked on the sincerity of the sentiments. I never explained the meaning of the song to anyone I had or needed to make amends to, or used it as a way to make my amends. Putting a song like that out into the world definitely holds your feet to the fire, though. You can't sing one thing and then act otherwise.
—You have named as favorite writers, authors as diverse as William Gibson, Steve Erickson and Denis Johnson. Do you think they have influenced in any way your way of writing? Are you interested in fantasy and sci-fi literature?
—The way I see and perceive the world is why I've had an affinity for those writers. It's why they speak to me. When I was younger was very interested in sci-f and fantasy. Loved the Dune series, Lord of the Rings, "Stranger In a Strange Land", The Hobbit. Later on authors like Ray Bradbury, Isaac Asimov, Philip K. Dick. Then on to more modern authors like Andy Weir. Think discovering William Gibson tilted me in the direction of cyberpunk and I can't read sci-fi anymore that takes place in space. Not with the fascination of Bezos, Musk and Branson and their forays. That's all based on leaving a dying Earth behind. I'm more interested in how we are going to face almost certain climate catastrophe. The last few books I've read have explored this theme, "Ministry For The Future" by Kim Stanley Robinson, "Cloud Cuckoo Land" by Anthony Doerr, "Termination Shock" by Neal Stephenson, "A Children's Bible" by Lydia Millet, "The City Where We Once Lived" by Eric Barnes, "Road Out of Winter" by Alison Stine, "Leave The World Behind" by Rumaan Alam, and I'm currently reading "Anthem" by Noah Hawley. Alison Stine has a new book out called "Trashlands" and think I'm going to dive into that next. I've been an avid reader my entire life. It can be a wonderful source of entertainment and escapism, but now I look for books that face the pain we've inflicted on the Earth and what that means for us as a species.
—Your first album was remastered only a few months after the released. Can you tell us why?
—Yes, I noticed when my songs were played on the radio or featured on playlists they came on at a lower volume than the song before them and that the song after them would also be louder than my track. Chris thought it was a mastering issue and recommended getting in touch with Patrick Hills at Earthtone Recording Company. After consulting with Patrick, he thought there was sonic headroom to push the tracks louder, so I had him remaster it. The tracks came back from Patrick with a significant volume boost.
—You are going to play in the Darkness Calling Festival. Is it going to be your first concert with the Sea At Midnight?
—It is actually going to be the first concert of The Sea At Midnight. Chris King is going to play guitar, Brandon Pierce is going to play drums and my nephew, Michael Baron, is coming in from Chicago to play bass. Pretty much my dream lineup. I was going to play guitar, but I'm just going to sing. Feel like dancing and enjoying the music. Hopefully, the audience will too.
—Is "Oceans" a song about sex?
—Ha! Well, I've never specifically thought of "Oceans" as a song about sex. I distinctively remember writing it. Came home from work on a Friday and was feeling lonely. Had a crush on this woman at work and really wanted to ask her out, but I didn't have any way of getting in touch with her, so knew I'd be thinking about her over the weekend until I could see her again on Monday. Know I wrote the bulk of the lyrics on Friday night and it was finished by the end of the weekend. Felt writing it that it was about exploring the depth of my feelings for her. That emotionally I was being pulled towards her.
—And "I can't wait" seems like a love song, like "Afterglow" from the first record. What's your approach to this kind of song? More generic or do you think in someone when you are writing them?
—Sometimes they are more generic and I'm not specifically thinking of anyone in particular while writing them and at other times they come from real world inspiration. "I Can't Wait" is actually from my little sister's perspective. I went to visit her in Ohio where she was going to college and she was really missing her boyfriend at the time, now her husband, who was back home in Chicago. The opening line, "Well I'm stuck here in Ohio and it's snowing on April Fool's" really happened. I woke up in my hotel room intending to go for a run and when I opened the curtains it was snowing. Huge snowflakes slowly drifting down. You could hardly see anything. And it was April 1st. And my flight got cancelled.
—What can we expect of your second album?
—It will still have that, for lack of a better term, The Sea Of Midnight sound from the first album, but we have expanded the musical palette, so to speak, and we've done some different things production-wise as well. Francois wrote in his review of the first single "Oceans" that there is more of a shoegaze sound with prominent distorted guitars, which was completely on the mark. During the recording of the second album both Chris and myself were listening to a lot of shoegaze, in particular Swervedriver, and I was listening to Catherine Wheel quite a bit, so we felt like playing more distorted guitar parts and pushing them in the mix. There are female background vocals on that song as well courtesy Marisa Shirar, which is a first. Also, there is saxophone on the record. I was listening to a lot of early Furs while recording the album and I was struck that one of the pioneers of postpunk had a full time saxophone player, so sax is featured on a few songs, which is another first.
One of the biggest production changes was I wanted the vocals more up front on this album. Think on the debut they are a little buried. That was my mistake. It was a stylistic decision, but on this record I really want them to be more prominent in the mix.
—Any possibility of another physical edition of the first album only released on cassette? And the new one?
—The first album is actually available on cassette from Velouria Recordz. You can order it from their Bandcamp page. I'm not sure I'll be able to afford a physical release of the new one. My music is entirely self-funded. I pay for all the recording, mastering, promotion, etc. and it gets to be pretty expensive. Plus, I just purchased a bunch of new musical gear. A new guitar, a bunch of guitar pedals, pedalboard and other equipment. I'd like to get a new amp too, so not sure after the recording and mastering there will be a budget left over for a physical release of any sort.