As we commented in our W Festival chronicle, Red Zebra was one of the bands that surprised us most. We thought that it would be a great idea to speak with Peter Slabbynck, their singer. Red Zebra is one of the institutions of Belgian punk/post-punk (even if punk and institutions do not go along very well). They also are a great band to see in concert, as you can see in the three live albums they published. Next year, we'll see them again, that's for sure. Is only have one doubt: how would I look with a mohawk?
-First, your band was called The Bungalows. Why the change of name? How was the music of this first incarnation?
–The Bungalows was indeed the beginning of Red Zebra. But it was a silly name. So when things started to get more serious, I changed it to Red Zebra. I'm still very happy with that name. It's a real animal, a kind of fish.
-Did you have any relation with The Kids, another famous punk band from the country?
-When I was like 16 years old I discovered punk and I knew I wanted to make this kind of music. It suited who I was. The first punk concert I saw was The Kids. It felt so good to hear and see them perform. I knew I made the right choice. I think they were a great example for many young punk bands in Belgium. Later I would perform regularly with them. And we still do. The latest concert of Red Zebra was with The Kids!
-You said that Bruges is quite a conservative city. How was being punk there in the seventies?
-Well, it was kind of strange that Bruges had a real punk scene. You would never expect this in a city that lives of tourism. But it was a very good thing for us. We had immediately a nice bunch of fans. But it was hard for us to break out of the city, but we did it. And thanks to our manager we started to play in other cities. The first concert he fixed for us was the support for The Cure in Ghent. What a start.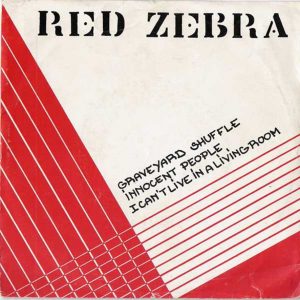 -Your first single, "I can't live in a Living Room" ended up being your biggest hit. Were you conscious of writing something unique?
-Not at all! It was on the b-side. But a deejay with some influence started to play the song and so things got started. The force of the song is the mixture of an unusual riff and the funny title. But apparently the song translated a feeling that lived in many people. But for me it's our best song. And we play it at every gig. It has become a kind of anthem.
–Bastogne, released in 1981 is considered your best record. What can you tell us of the process of recording this album?
-At the time we had an excellent bass player. It's like he made guitar riffs on his bass. He was at the beginning of most of the songs of Bastogne. I love that record. Everything feels right on it. And the producer, Jean-Marie Aerts of TC Matic, captured that feeling and added a great atmosphere. And it was recorded in a very good studio, the best at that time in Belgium.
-And Maquis, released in 1983, is your only LP from the classic period. Why it took you so long to release a full album?
-Well, we lost it a bit at that time. We didn't know very well in which direction to go. It was the end of the new wave. We wanted to keep the spirit of Bastogne but at the same time do something new. It worked out for some songs but not for every song on Maquis. And at that time we had to replace our bass player. That was a great loss when we started to record the album. But those things happen.
-Your band has split up a couple of times, first in 1986 and later a few years ago. Is it difficult to play with the same people?
-Yeah, Red Zebra is a story of ups and downs, just like real life. But I don't wanna look back. I'm very happy with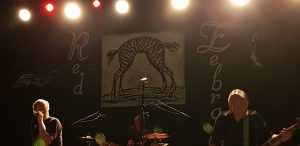 the band I have now and I hope to go on for many years. Soon we're gonna start working on new songs. That's gonna be a challenge but we're ready for it. And hopefully it will lead to a new album.
-Your cover of "Agent Orange" from your last live album is great. Have you thought of releasing a studio version?
-Good question. But no, this idea has not come up to me. It's a good suggestion, I keep it in mind.
-You have played twice in the W Festival and are playing again next year. How did this relation start?
-When W started Red Zebra was not playing anymore. I had this electronic version of Red Zebra, called EX-RZ together with guitarist Frits Standaert. We did this thing like for 7 years and Frits is now the guitarist of Red Zebra. We wanted to play at W. So Erik agreed that we would perform 3 songs after the concert of the last band, as a surprise for the public. A nice gesture.
-Do you think that W is filling a space in the festival scene?
-Sure. It has become a real gathering for all who love this kind of music. And more and more people from outside Belgium are coming to the festival. So it will grow even more, I suppose.
-I know that we still must wait for almost a year, but what can we expect for next year's concert?
-No idea at all. But we had a great gig this year. Although we played in the afternoon, the public went wild. I guess someone put something in their drink. It was a concert I will remember for a long time. So I'm really looking forward to next year.
-You said that you are a fan of The Sound. What happened to the cover band that you spoke about a few years ago?
-It's quiet now around New Dark Age, as I concentrate on Red Zebra. I hope to do some gigs again next year. Last year we did some gigs in Spain and that was great experience.
-So you are working on new songs. Don't you think that this decade deserves a Red Zebra album?
-I agree totally!