Lebanon Hanover are, without any doubt, one of the most important bands in the modern goth scene. The duo has revitalized the Coldwave in five albums full of beauty and coldness that they manage to transmit even in the interview. They will play at the W Festival on Friday 16th August. Fuck global warming, thanks to them the world is getting colder.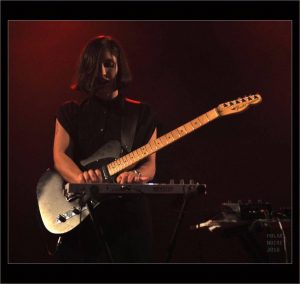 —Lebanon Hanover is a place in the States, why did you choose this name for your group? Have you been there?
—Larissa: I have been driving by car through that place in 2010 and liked its abstractness.
—How did you meet for the first time?
—William: We were Last.fm neighbours and a few weeks later, we met in Sunderland.
—You recorded your first songs near Newcastle, you Larissa said that the place was "lifeless." How do you think that a place where you live can affect the music you make? You are living now in Germany, but before you lived in the UK, do you think it changed your way of making music?
—L: Sunderland and Newcastle have a rough atmosphere. It affected us a lot. There were times we were being threatened on the streets and frightened to leave the house. So ultimately, we were staying indoors drinking tea and making music which led to quite a productive period.
—Do you channel a special mood to write your songs or do you think they are representative of how you normally feel?
—L: I normally feel exactly how it's mentioned in the music.
—I could not find Lebanon Hanover on Allmusic, and that's really puzzled me. Maybe because your label is Greek?
—W: I never heard of Allmusic, maybe because we're not familiar with it.
—When speaking about your music, the French Coldwave is always mentioned. Were you interested in bands like Asylum Party, Marquis de Sade, Martin Dupont or Charles de Goal?
—L: I like these bands but Trop Tard, Guerre Froide and Trisomie 21 are my French favorites.
—Mainly at the beginning, I can see a clear influence of The Cure, mainly because of the sound of the bass. Was Simon Gallup an influence for you?
—W: Maybe deep down somewhere, yes.
—How do you choose to sing in English or German o in both like in "Hall of ice" or "Gallowdance?"
—L: On "Gallowdance" I felt the urge to use my native language. It makes the Germans feel the song extra hard. Generally, I am a word aesthete and I'm always looking for beautiful words. Some are more beautiful in either German or English. For instance, Eiskunstlaufen is way more pretty than ice skating.
—The band started with a split with La Fête Triste released on an only 55 limited cassette edition. How did it happen? I read that you are not precisely friends of La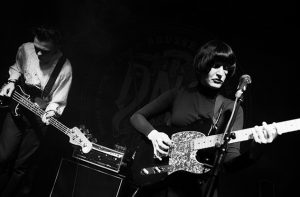 Fete Triste. Any plan of a reissue?
—L: It was the first offer of a release we had. I probably wouldn't do a split again but at that time, we were so small and desperate for any output, something physical.
—There is some humor in the names of some of the songs of your first split, like "Schwarzenegger tears." Is it the same for "Fuck 2010, Fuck the Future, Fuck Everybody," or were you just angry?
—L: At 22, I must have been very angry.
—After five albums what do you think now of The World is Getting Colder, do you still listen to it?
—W: It is a great encapsulation of a period where all was new. It will always have a certain energy to us, but it's true I also do not listen to it.
—L: I don't listen to it anymore.
—I see that Why Not Just Be Solo from 2012 is a big step forward. How was the recording of the album? You still play a lot of songs from this album.
—L: Like on all our first three albums, it's classical LH bedroom recordings. Its still speaks to me with its somber honest lyrics and feelings.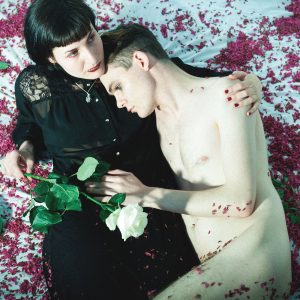 —Tomb for Two was released only one year later. Do you think that the songs are catchier? At least "Hall of Ice" is one of the catchiest song you ever recorded.
—L: The tracks are quiet, reduced and combined with melodic wavy synth sounds so definitely catchier than Solo and Abyss.
—Besides the Abyss from 2015 is the first album recorded in a professional studio, do you think it helped you giving more freedom in the process of writing the songs, knowing that later it was going to be easier to record them having more resources?
—L: It was a big help having the studio resources, like the saxophone, the semi acoustic and the synths we didn't have access to back then. The writing process was not much different in comparison to the previous albums, as William and I produced and built the album and its structures in the usual way.
—In your EP from 2016, Babes of the 80s, both the cover and the music seem less gloomy. Was it a dancefloor-oriented project? Also there are a couple of remixes, one by She Past Away and the other by Italian artist Tobias Bernstrup. I think that I read that you are not very interested in remixes, right?
—L: 80s Italo is tremendous! We are interested in remixes it all depends on who does it and also on the style.
—And Let them be Alien is your last album, from 2018. Was the EP from 2016 an influence in this record? I think it's brighter than your previous albums and some rhythm are less minimal.
—L: Actually, we wanted to make a classical old school LH piece that sums up our work from 2010 to 2018.
—You played last year at Montreux Jazz Festival. How was the experience of playing in a more mainstream festival? Was it a chance to reach a different public?
—L: I loved it but not sure whether we reached many different people, though. They were all on the big outdoor stage whereas our stage was an intimate indoor one.
—You have been touring around the world lately, any funny anecdote?
—L: When the receptionist of the hotel in Moscow recognized us, he prepared a curtain to shoot a photo with us and brought us a Kino vinyl the next day. A memorable experience!
—For each of you, which song makes you feel prouder?
—W: "Petals," "True Romantics."
—L: "Saddest smile".
—You make your own videos, where do you find the ideas for them? How do you record them?
—L: I take my ideas from daily life of places that I find. Sometimes, I visualize a video directly after the making of the track. Not all of these ideas were turned into videos, though. They were all filmed on very low budget with the help of friends using VHS or simple pocket cameras.
—How is your relation with Fabrika Records? But you release your CDs with another company, Dead Scarlet Records. Is it difficult working with two different labels?

—L: They are more than friends. We have been growing together, there is a giant bond. Fabrika Records is a vinyl label. But since there was a demand for CDs also, the same people run Dead Scarlet which is for CDs.
—You have released a cassette version of your last album, is it a romantic or a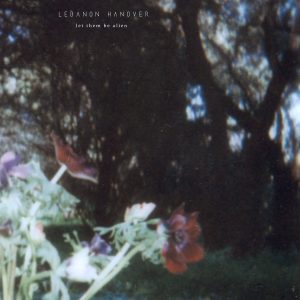 nostalgic thing?
—L: We both own tape players.
—Qual is the other project of William. You released a second album last year, right? How do you choose to release a song under Lebanon Hanover or Qual?
—W: Usually, we release the tracks we have in time, and as present and as fresh as possible. Qual and Lebanon Hanover are two separate projects. So it depends, we can release tracks either with one or the other.
—How is the fact of being a goth in the 21st century?

—L: I am not goth that would be far too easy.
—W: I am goth by nature.
—What can we expect of your concert at the W Festival?

—W: Our hearts.
Photos (in order): © Caroline Bonarde, Polar Noire, marquis(pi)X