With their impossible mix of electronic, punk and rock, their outrageous looks and, of course, their love missile, Sigue Sigue Sputnik came into our lifes in those colorful eighties. Now, with some many bands finding inspiration in those years, it' s necessary to have the pioneers present. We talk with Martin Degville, singer who is keeping the Sputnik legend alive. At the end of the interview, he says that he always puts a great show: we can confirm it as we have seen them twice in the lastest years. And we will be able to confirm it again, at the end of April at the DarkMad Festival.
—The story says that Tony James saw you first in your shop YAYA, right? The shop was also very important during the first days of the band. Can you tell us more about the atmosphere of this place and how it was?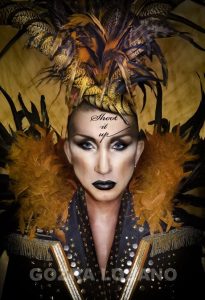 —Yes, the shop was a hub of great activity, we designed clothes for the individual, the male and female and the cross genders, we played loud rock music, Bowie, Roxy, Marc Bolan, Suicide, Elvis, punk, Velvet Underground. We had many celebs and other musicians that came in to buy our wild outfits, like Johnny Thunders, Blondie, The Banshees, Adam Ant, Duran Duran, to name but a few. We styled lots of people. Tony used to come into the shop every Saturday afternoon with Magenta Devine who eventually became our press agent for SSS. It was also here that I met with Guitarist Neal X. We used to hang out and that's how I eventually became the lead singer and style warrior of SSS.
—How was living with Boy George and what can you tell us of being part of the Rum Runner Club?
—It was crazy living with George, we partied non-stop for many years in Birmingham. The Rum Runner and Barbarellas were the clubs to go to and get down and dirty. It was a truly wild time for everyone, we could be free and be ourselves and get creative with art and fashion and music. It was truly a great era to grow up in.
—You were very important in the final look of Sigue Sigue Sputnik, right?
—Yes, the image was very important to the band. Myself and Yana Ya Ya, who became the 6th member of the band, designed this total sci fi glam look to meet each band member needs and personality. Nothing was contrived and for us it was the more outrageous the better. We never used any stylists and the record company didn't bother us with the image, in actual fact, I think they never got it and left us to our own devices. The aim was to shock and SHOCK we did….
—What are your influences as a singer? Elvis? Alan Vega?
—Elvis, Sinatra, Alan Vega, Iggy Pop, Bowie, Ferry. To me, it was about the delivery and style of the voice that interested me. I wasn't bothered with highly technical power vocalists they seemed boring. Someone screaming obscenities down a mic really was much more up my street.
—How was the writing of "Love Missile F1-11?" You wrote it alone with Neal X using some ideas of Tony James, right?
—Yes, "Love Missile" was written on a Pro One Synth with an 808 drum machine. I think Tony came up with the title and I wrote the rest of the lyric and tune, Neal came up with the riff. That's how it kinda worked.
—I read that the during the first tour there was a lot of violence, especially in the concert where happened the accident with Ray Mayhew (he threw a bottle to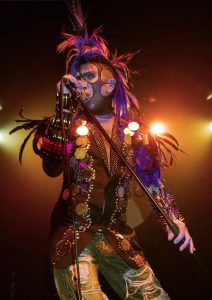 someone in the public). Why does the audience behaved that way
—The 1st tour was very scary, we had certain factors of the public that had no interest in the band but would turn up and cause havoc, it was a bit similar to a football match with opposing supporters. In the end, we had to cancel some shows due to death threats but this only fueled the press onslaught. I think that people generally misunderstood the meaning of ULTRA VIOLENCE, which was a voice-over at the beginning of "Love Missile."
—How was working with Giorgio Moroder? The band did not like the first mixes of 21st Century Boy, right?
—Giorgio was great fun to work with, we recorded the whole album in a studio in London with him, his programmer, a Lynn drum machine and ourselves. We then mixed everything at his studio in LA. "21st Century Boy" was our second single release and although it sounded fabulous, I would have wanted a much harder rocky edge to it.
—What part of the now-classic design of the first album was created by the band?
—We did a tour of Japan and we stole a lot of ideas from all the Mangas, Akira and transformer magazines. Also just being in Tokyo was like a scene from my fave movie Blade Runner. We then had our own art people to bring it all together back in the UK.
—How was working with Peter Waterman in your single, Success from 1988? Do you think it was a mistake to have him as producer?
—It was the worst decision we made. It was really meant to be a sound crossed from us, The Beastie Boys and The Beatles. However, what we got was a cheesy version of Giorgio's "I Feel Love" bass line which we threw out and sacked them. It was left to the sound engineer to finish off the track. I hated that soft bubble gum synth pop they churned out as well—our own mixes of Success were much better and more to the point.
—Nowadays, what do you think of Dress for Excess, the second album of the band?
—The songs on this album were excellent but lacked a theme like Flaunt it. It also didn't help that we used different producers and re mixers for the album, so it lost continuity and direction.
—The band was famous for partying hard. Any good story that you remember from that day?
—Yes, we did party non-stop and I find it very hazy or much too rude to relate to your readers lol.
—The first split up of the band happened in 1989, Tony James said this was due because the band run out of money. What's your point of view?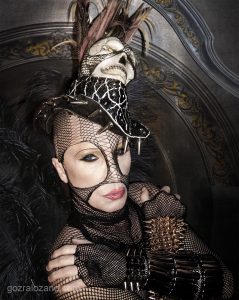 —We never ran out of money as it was always funded by the record company. However, the whole of the staff structure was changed and a new CEO was appointed who hated the band. He dropped us like a shot—even tho we were still having massive record sales. He did apologise many years later….
—Your first project on your own was with Mick Rossi, the World War Four album in 1991. How was the recording of the album? At the beginning it was planned to be an EP that at the end, it ended up as a full record, right? What happened with the planned second album?
—Yes, it was great to work with Mick as he was a good friend and played like my hero Mark Ronson from the early Bowie days. The songs for that album were actually written and was supposed to be used for Sputnik's next album which, of course, didn't materialize. We recorded it in 2 weeks and there was no follow-up.
—You returned with Sigue Sigue Sputnik for a new album Piratespace in 2001. How was working together again?
—It was like old times for a while, all new ideas and impute and, of course, the availability of new technology for sound production. We also wanted to take a step forward and create a more cultured bigger rock sound without losing the sound of Sputnik past.

—Your last album with Sigue Sigue Sputnik was Blak Elvis Vs. The Kings of Electronic Rock and Roll in 2002. Who had the idea of making an album of covers of songs sang by Elvis?
—It was a Japanese record label who contacted us and they asked for an electronic version of all our fave Elvis songs. God, this was bliss as we had free control and could go right back to our roots again plus all the songs were brilliant in their own right and stand the test of time. We had great fun doing this album and I still love it today, it sounds very hip and out there still.
—Why did you leave Sigue Sigue Sputnik again in 2003?
—We did a tour and I guess we realised that we had all moved on in our lives and each had different needs and lifestyles to deal with, and so, arguments set in and the shit hit the fan so to speak lol.
—What can you tell us of the Sputnik 2—The future project? You recorded only the Smart1 EP in 2004, didn't you?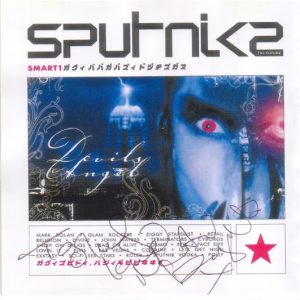 —I semi retired but music had been part of my younger life and I had and still have this urge to be one step ahead and create new sounds and styles. So, I decided to write a whole new bunch of songs and use Sputni2—The future as a platform to revive and re invent myself.
—What can you tell us of your collaboration with Spanish Lluch brothers, Sci-Fi Superstars? The band has released two albums, hasn't it?
—Oh, they are great people to work with, they come from a rockabilly background and contacted me to re-record a version of "21st Century Boy" in this style so I flew to Spain and did just that. We then decided to write a new album together combining both styles, I always love the idea of working with new people with fresh ideas and impute. We still keep in touch and often play shows together, maybe a new album soon….
—In 2011 you released a limited album called Revisited with re-recording of old SSS songs. How did you choose the tracks to remake? And the new mixes, who did them?
—Yes, I wanted to explore a more hardcore version of all the songs I wrote on Flaunt It and take it to another level. The possibilities of re-creating music today are endless and the availability of new synthesis is quite beyond our grasp, so to apply this was an exciting project for me, thus Flaunt It Re Visited was recorded. After this was done, it was just a matter of re mixers showing interest to re mix and produce some mind-blowing versions.
—As SSSE you have released an album of new songs, Electronic DNA, in 2013. How would you present it to old fans of SSS that haven't listened to it yet?
—I looked back on my past and decided to write a new pure unadulterated electronic rock and roll album, with monster synth-based riffs, heavy space guitars, thundering drum loops, great vocals and great tunes. It provokes energy and anger and love, and sounds like nothing else on this earth. In fact, it quite defines what I'm about but then again, I'm always changing…. EDNA will be released in Japan 2019 and I will be touring to promote it as well as being invited to the 2020 Olympics where I will be performing tracks from that and all my past work
—How is going to be your concert at the W-Fest?
—Martin Degville ALWAYS puts on a great show!!!! See you there for a spectacular show—Time to PARTY!!! xxxx