Finally, concerts and festivals are coming back, and slowly we can see that some events are being organized again. So, we want to inform you of two really good gigs that are coming to Madrid and Barcelona. First, we want to talk about one of our favorite artists, EBM legend Signal Aout 42 who will play wih Armageddon Dildos on the 20th of May 2022 in Madrid and one day later in Barcelona. A couple of months before, on the 11th and 12th of March, it will be the turn of Kirlian Camera, who are coming with Sigue Sigue Sputnik Electronic.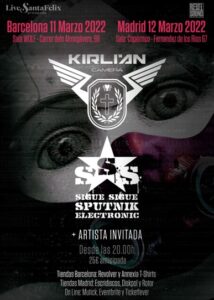 Signal Aout 42, Jacky Meurisse's project is one of the key names in the development of EBM and has written classics such as "Submarine Dance," or the legendary "Dead is Calling" one of the songs played a few weeks ago in the club Specka during a selection of classics of the 20th century. The band (including Olivier T. also in Vuduvox) also gave a great concert during the first DarkMad, and as the main act, we hope to be able to enjoy a longer setlist. We will tell you more about the concert in the next months. Together with them, German EBM duo Armageddon Dildos has released a few albums full of energy. Their first records were released in the prestigious label Zoth Ommog while their last works have appeared on Alfa Matrix.
Kirlian Camera are the biggest "dark" band from Italy and we were lucky enough of seeing them live when we were living in that country. They had a lot of changes in the line-up of the band and that's why they have a wide range of albums that can please almost every taste. With the incredible Elena Alice Fossi as frontwoman and Angelo Bergamini's musical experience, their concerts are always great. Together with the Italian band, we have Sigue Sigue Sputnik Electronic, where we can find the great Martin Degville playing the songs of the classic band. We have seen them a few times in the past and we can affirm that the last one was the best. They played an energetic and powerful set during the last W-Fest that was really well received by the numerous crowd who came to see them. Also, their set is full of classic songs like "Love Missile F1-11", "21st Century Boy", "Rockit Miss USA", "Success" or "Atari Baby". Without any doubt we are going to see two enjoyable gigs. The difficult part now it's to wait till 2022.