If you are looking for new bands to listen to, Cold Transmission has recently released two compilations full of interesting music. In the first one, Spotlight vol 2, we can find a quite extensive sample of the artists that have recorded for the label in their four years of existence. Including popular acts such as ULTRA SUNN, Mark E Moon, IAMTHESHADOW or S Y Z Y G Y X, Spanish band DILK, and some other projects that have caught our attention recently, like Bedless Bones and Night Nail. The compilation consists in two CDs full of really cool post-punk, darkwave and coldwave with up to 38 artists. A part of the proceeds is donated for humanitarian purposes in Ukraine.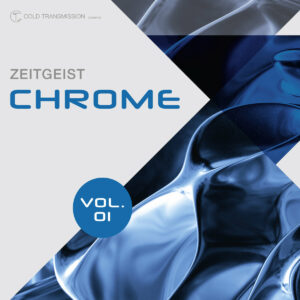 At El Garaje, we have already interviewed four of those 38 bands and we will try to interview a fifth one soon. ULTRA SUNN appear here with one of their hits "Young Foxes". Mark E Moon are included with a demo of "Hearts Keep Bleeding" while IAMTHESHADOW looks back to his first album for the occasion. Madrid-based three-piece DILK contribute with "Bad Habits", one of their best compositions, released in physical format for the first time. Among the rest, we would like to point out a few names: The Secret French Postcards, was one of the first acts of the label and their composition included here is quite good. Italian duo Iamnoone are getting quite popular lately, and you can understand it after listening to the track included. It's the first time that we hear Camlann, but we will pay attention to future releases as we have really liked their song. The "dark Japan" vibe of White Mansion has arisen our curiosity too. Instead, last year I bought the second LP of duo Palais Ideal and quite like it, although their contribution to this album is from their third one. Reconvert was another of the projects that released material with Cold Transmission during their first days and represents the more experimental side of the label. For fans of post punk/darkwave there is plenty to listen to in the compilation, like Cold Field, Cruel Reflections or Cirque d'Ess. S Y Z Y G Y X appear in the compilation with "Cold Touch", a digital single from last year. Bedless Bones contribute with a remix from their first work that is not included in the remix album After Malaise. We have heard a lot of praise of the last album of synthpop act La Mécanique, and here you can check that it was deserved. Cult of Alia, the project of a member of Creux Lies is another act to follow. Carlo Onda is an artist that we already knew as Violaine has played some of his tracks in the past, his track included here is also worth of a mention.
Instead, the new Zeitgeist series (let's remember that Cold Transmission started with these compilations) is more a treat for vinyl lovers who are interested in the more electronic side of the label. In Zeitgeist Chrome Vol. 01, there are ten tracks, two of the exclusive of the album and one (ULTRA SUNN's) previously unreleased. Cold Transmission label has been characterized by its international approach, reaching even the Latin American scene, as we can see here with Mexican Sundata and Colombian NOROMAKINA. Also, we can find again La Mécanique, in this occasion with a remix of a track from their last album made by Pedro Code (IAMTHESHADOW). The compilation also includes tracks by Dead Lights, Cult of Alia, A Sinister Light and S Y Z Y G Y X.