The Autumn Shadow festival will take place next 21st of November in the Belgian city of Liège with a line-up that includes She Pleasures Herself, German darkwave band La Scaltra, Danish deathrock act Lifeless Past, 32 OHM from the Netherlands and the post-punk with a brit-pop twist of Reservoir. It will be one of the few opportunities of seeing live music, and really good music. Tickets can be purchased here. 
Last year, we saw Portuguese darkwavers She Pleasures Herself live twice, it was a time when doing things like this was possible. Both concerts were excellent, and now they even have a new song, "Bury Me". La Scaltra have released three albums, the first one, entitled Cabaret from 2016 and the last one, The Third Eye from last year. Without any doubt, three good reasons for going to the festival. Lifeless Past released their first long play last year and also a compilation of their first songs. 32 OHM debut was the EP Leidenschaft released in 2008 and this year they were going to release a new EP but due to the pandemic, it won't be published now. Last but not least, local band Reservoir will add some pop sensibility to the edition.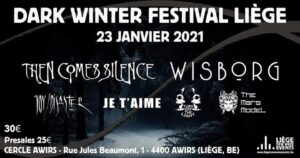 The organization has already planned three events for next year: January will bring astonishing Dark Winter Festival with Then Comes Silence (finally we will be able to see their new songs live), Wisborg, French bands Joy/Disaster and Je T'aime (we already interviewed them in an exclusive interview for the festival), Turn Off The Light and The Mars Model (with an EP released on the prestigious label Wool-E Records). If on the 23rd of January, you are at the festival and don't see us, you'd better look out, you are probably in the wrong place! In April, el 23 the line-up, so far, includes Date at Midnight, Your Life On Hold, Der Klinke y We Are Waves. And next year's New Wave Festival will have an incredible line-up: Parade Ground with their anniversary tour, the powerful Hapax, True Zebra with their new masterpiece, Raskolnikov, Suir, and DI'ove. We will have to move to Belgium, won't we?